Taking to Twitter, the BJP in Andhra Pradesh had said that the chief minister fooled voters by visiting temples and likened him to Congress leader Rahul Gandhi by saying that it was a ploy to woo voters. However, as the truth emerged, the BJP withdrew its claims and said that few party leaders mistook an electric lamp for a traditional ceremonial lamp.
Amaravati:  Andhra Pradesh chief minister and YSR Congress Party (YSRCP) chief Jagan Mohan Reddy landed in a controversy after he was reportedly seen refusing to light a ceremonial lamp in the US. The state BJP unit took to Twitter and slammed the chief minister.
In a tweet, Andhra Pradesh BJP said, "Jagan Mohan Reddy @ysjagan refused to lamp light before inaugurating a program in US. He just fooled AP Hindus for votes, by visiting temples. He was a Hindu for Votes, like RaGa. Script was well written by @PrashantKishor Bengal can learn now (sic)."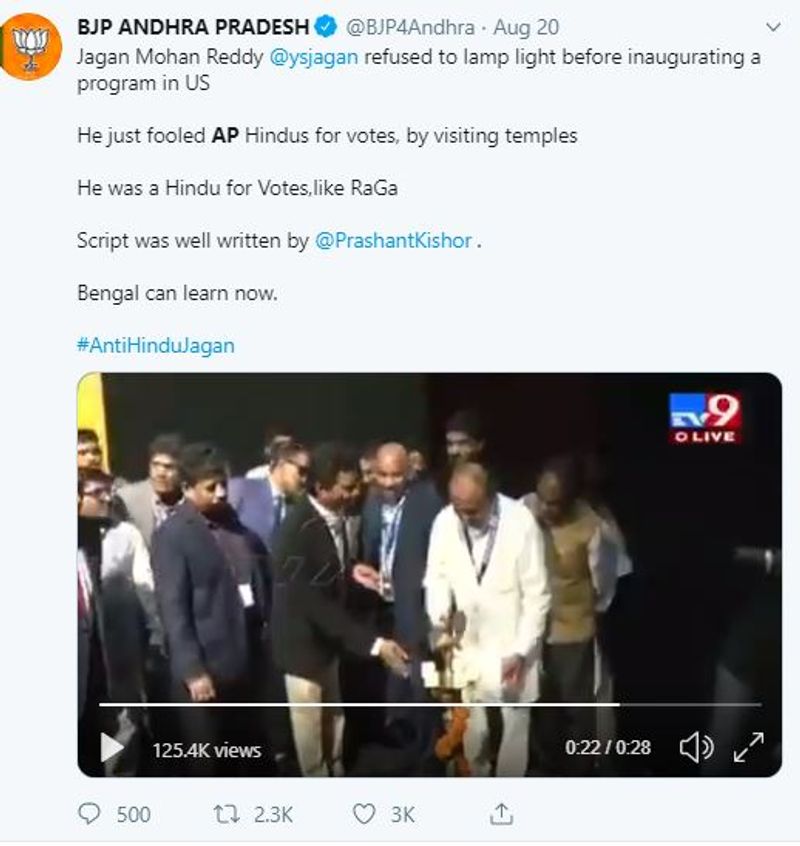 However, the YSRCP defended the chief minister's actions and said that the lamp was an electronic device and was used only to symbolise Hindu tradition in the event and that is reason Jagan was not seen lighting the lamp.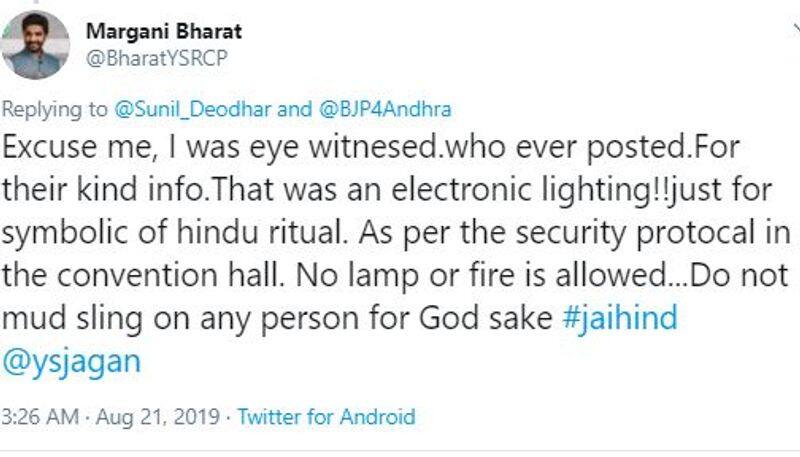 In a Facebook post, the YSRCP said, "We (YSRCP) and the people of Andhra Pradesh know that BJP is a communal party. You (BJP) don't have to prove it all over again. Jagan respects all religions and staunchly follows the principles laid out in the Constitution of our Country about equality of religions and respect to every individual."
Speaking to MyNation, Krishna Saagar Rao, Telangana BJP chief spokesperson owned up to the mistake made by the party and said, "in view of new facts emerging that there was an electric lamp which was not necessary to lighted, we retract the statement made against CM Jagan Mohan Reddy regarding the event."
Adding that the BJP realised that there was some misunderstanding about the entire event that unfolded, the chief spokesperson retracted earlier statements made in relation to it saying, "Some of the party leaders (BJP) did not realise that in the United States as protocol to avoid fire accidents during large congregations, instead of using real lamps, they use electric lamps".
The Andhra Pradesh chief minister was on a visit to the US to admit his daughter to a university but was scheduled to hold a few meetings with US officials as well.
Read Exclusive COVID-19 Coronavirus News updates, at MyNation.
Last Updated Aug 22, 2019, 2:16 PM IST