With his awe-striking use of words, Modi has managed to reach out to the masses. Be it his recent 'NARA' acronym or his 'Sabka Vishwas' slogan, Modi has left a deep impression on the minds of the citizens
Bengaluru: Prime Minister Narendra Modi and mnemonics have become synonymous. No political pundit can gainsay it. With his remarkable knack to connect situations with his phenomenal neologisms (coinage of words), Modi has gone down as a leader with a distinct ability to connect with the masses.
After winning robust numbers in the just concluded Lok Sabha election, Modi summoned his MPs and addressed them in New Delhi.
During his address, Modi came up with one more acronym "NARA" which when expanded would be 'National Ambition Regional Aspiration'.
He didn't stop at that. He came up with an addendum "Sabka Vishwas" to the existing slogan "Sabka Saath, Sabka Vikaas". "Vishwas" which means trust was aimed at taking everyone along.
Here's a list of famous acronyms coined by PM Modi himself.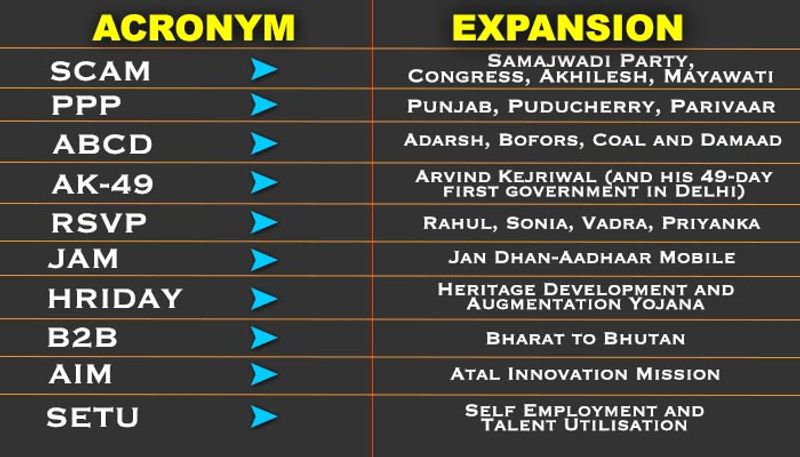 Be it his election rallies or his Mann Ki Baat shows, Modi has been able to penetrate to the last possible point through his witty phrases and sentence constructions.
Professor KE Radhakrishna, vice-president of the Karnataka Congress does acknowledge that Modi is a master communicator, but wants him to implement them into action.
"Modi is a master communicator. He is a theatre personality. He has an instinctive flair for language. 'Nara' in Hindi means noise or slogan. This acronym should not remain as noise alone. It should be implemented. Last time, Modi used 37 slogans, but only one was implemented. His slogans are good, but they should not be a 'slogun' to destroy and demolish people," Radhakrishna said.
Read Exclusive COVID-19 Coronavirus News updates, at MyNation.
Last Updated May 27, 2019, 3:33 PM IST