Mamata Banerjee's minister for urban development and Kolkata Mayor Firhad Hakim isn't happy with 7-phase Bengal poll which will fall on Ramzan and wants single-phase elections like Gujarat
Mamata Banerjee's minister for urban development and Kolkata Mayor Firhad Hakim isn't happy with 7-phase Bengal poll. Hakim reasons, "Gujarat experiences so much riot, but there you have the election in one phase. But Bengal is peaceful. Yet we have an election in 7 phase. Why?" So is it true, that Gujarat experiences more riots than Bengal? Here's a fact check for the Bengal minister.
If riots are taken from the standpoint of communal animosity, Gujarat hasn't witnessed a single communal riot since 2014. In fact, the only major communal riot since 2002, has been in 2006 Vadodara riot, regarding the municipal council's decision to remove the dargah (shrine) of Syed Chishti Rashiduddin.
Also read: Why Mamata hates Bengali movie Bhobishyoter Bhoot
Talking about Bengal, the state has witnessed at least five communal riots, if not more, since 2014. Some of the key riots in Bengal in recent times being the horrific Kaliachak riot in 2016, Dhulagarh riots, off Kolkata in the same year and Baduria riots in 2017.
Now, let's make a deep dive into the communal tinderbox Bengal has been of the recent past, that Bengal minister seem to be oblivious of.
1. Kaliachak riot
People practising Islam protested the remark of Hindu Mahasabha leader Kamlesh Tiwari made on 2015. In protest of the allegedly derogatory remarks made in Uttar Pradesh, against the prophet, thousands gathered in Bengal's Kaliachak to riot and arson. Video available shows an estimated 10,000 mob shouting slogans. Kaliachak is just miles away from the Indo-Bangladesh border and has been a favourite hub for illegal Bangladeshis. In fact, a police station too was torched during the riot, along with an estimated 500 houses belonging to Hindus. At least 30 were injured during the riot.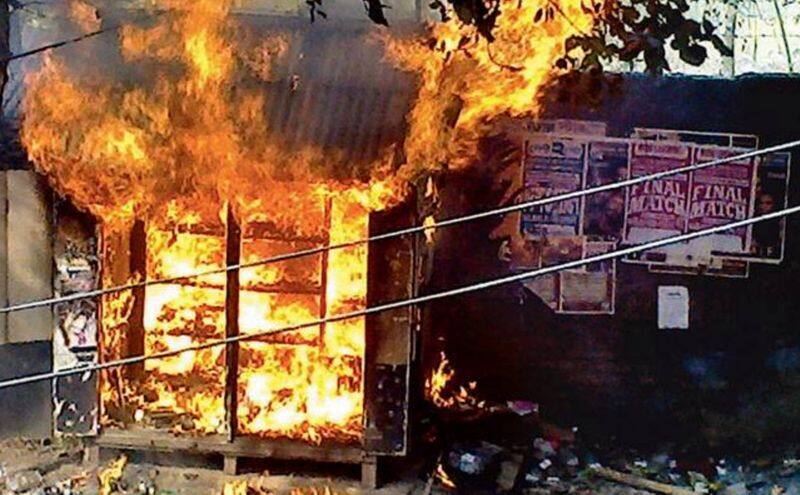 2. Dhularagh riot
On December 13, 2016, the procession to mark the birth anniversary of Prophet Muhammad had arguments en route and altercations turned heated arguments near the Annapurna Club at Dewan Ghat.  What followed was arson and pillage of houses and shops nearby. The news spread and so did the targetted violence against houses occupied by the Hindu community. Though some alleged, few Muslim houses were targeted in a counter strike as well. Rapid Action Force (RAF) stood like sitting ducks as violence and arson spread. So much so, many people belonging to the Hindu community left their village, in anticipation of violence. Bengal CM Mamata Banerjee downplayed it by calling it "small matter".
3. Baduria riot 
The latest communal skirmish in Bengal took place in North 24 Paragana's Baduria, which is about 60 km from Kolkata. The Baduria riot that took place on July 2  in 2017 was due to a "blasphemous" Facebook post by a 17-year-old boy.  The riot led to the death of an RSS worker, which left around 25 people injured. Out of the 25 injured, 20 were policemen. The irate mob torched around 12 police vehicles. If that wasn't all, they looted and ransacked several houses in the area. In fact, a local temple too was vandalised.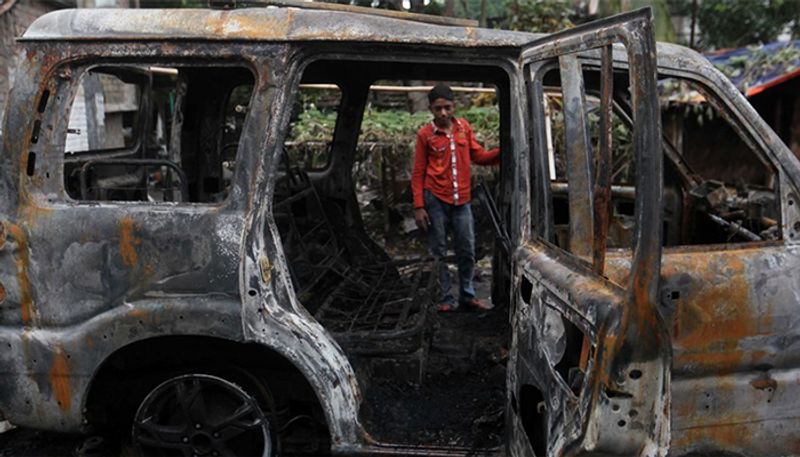 4. Khardah riot
On 7th April 2017, a procession of Ramnavmi was passing through Khardah, in front of Bari Masjid. In spite of police deployment, it is alleged that the procession was attacked with stones.  A video even surfaced on social media showing that the people were attacked with local bombs. Soon, the matter evolved into a full-fledged communal riot. Interestingly, there was an unwritten ban on the media from covering the incident.
5. Hazinagar clashes
It all started with a Muharram procession and a group going to submerge a Durga idol crossed paths. Hazinagar witnessed large scale violence after heated arguments between these two groups. Several shops were ransacked and gutted. People even hurled burning tires at each other. Incidents of stone-pelting and bombing were also reported. The clash left several people injured. An estimated 30 homes and many commercial properties were damaged. 
Well, these are not all communal riots that took place in Bengal, but the biggest and most violent of them, since 2014. In fact, there was a riot in Deganga area as well.  Another "offensive" post in an instant messaging platform created communal tension at Mohammad Bazar in Birbhum. There was another incident on June 14, same year, of similar communal tension. This time, it was in Malda, again. 
Gujarat didn't have a single communal riot since 2014. Yes, it did have anti-north Indian sentiments running high recently. But it didn't result in riots and it was proven how it was politically manufactured, with videos of incitement from leaders of opposition making its way to the social media.
Bengal is a politically sensitive state. In the [panchayat polls, the opposition couldn't even file nomination in as much as 33% of the seats. In fact, the Calcutta high court had to step in and in an unprecedented move, allow filing nomination through WhatsApp. This political violence is what led the election commission to ask for polls in seven stages in Bengal. Firhad Hakim's claims don't stand ground, in front of MyNation fact check.
Read Exclusive COVID-19 Coronavirus News updates, at MyNation.
Last Updated Mar 11, 2019, 6:23 PM IST