The Karnataka high court has rejected the anticipatory bail application of Mustafa, an administrator of a WhatApp group, in which a member Shabbeersab had shared the slogan 'Pakistan Zindabad'
WhatsApp group administrators, beware! If anti-national text, picture or video is being shared on your group, it can land you in trouble. The Karnataka high court has rejected the anticipatory bail application of an administrator of a WhatApp group in which a member had allegedly shared the slogan "Pakistan Zindabad" to flare-up communal violence.
This is not the first time people have gotten into trouble for posting content that could hurt someone's sentiments. The gaining popularity of social media websites and messaging service WhatsApp has also increased the accountability and responsibility of the moderators. These platforms have been misused in the past to spread rumours and an anti-national agenda of some miscreants.
Details accessed by MyNation show that a case of sedition (section 124-A of IPC) was registered against Shabbeersab, Chandbash Kalkeri and Mustafa.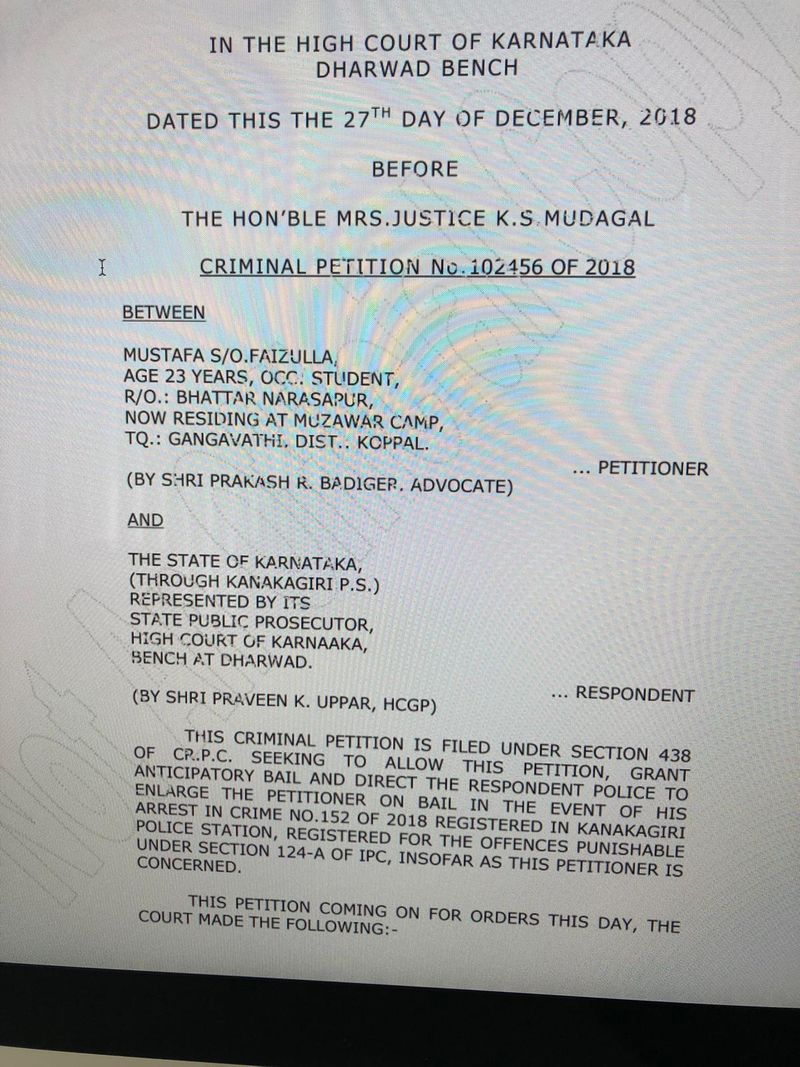 According to the complaint, Shabbeersab had posted a photo taken along with his nephew Chandbasha Kalkeri with a slogan stating "Pakistan Jindabad" on August 14, 2018 to show his hatred and disaffection towards India.
The police arrested two persons in this connection. The high court, on November 2018, had dismissed their bail application.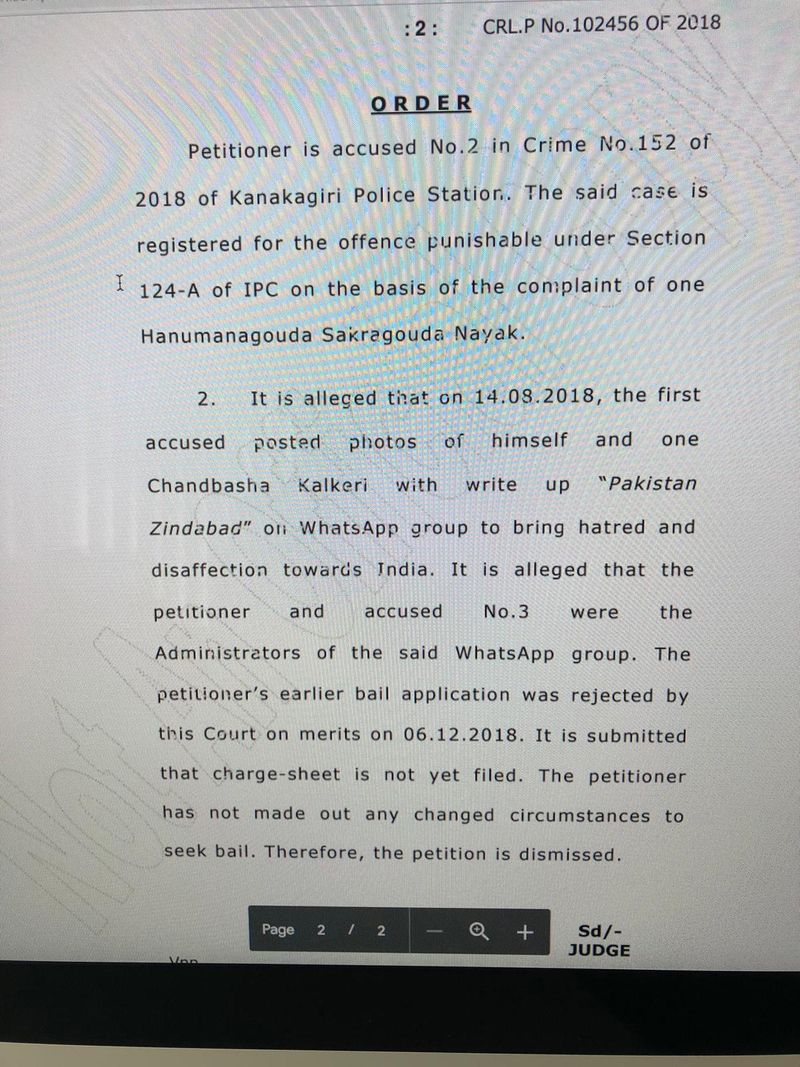 Seeking to cancel the bail application, the state had alleged that this message through WhatsApp account is clearly a statement provoking people for violence. The act of the accused, the prosecution said, amounted to commission of the offence of sedition.
Justice NK Sudhindra Rao had observed it was necessary to state that the slogan may be of a line or two but the intention and effect, when observed, is "grievous". The court had noted further that the accused had destroyed his mobile phone set in a bid perhaps to erase evidence.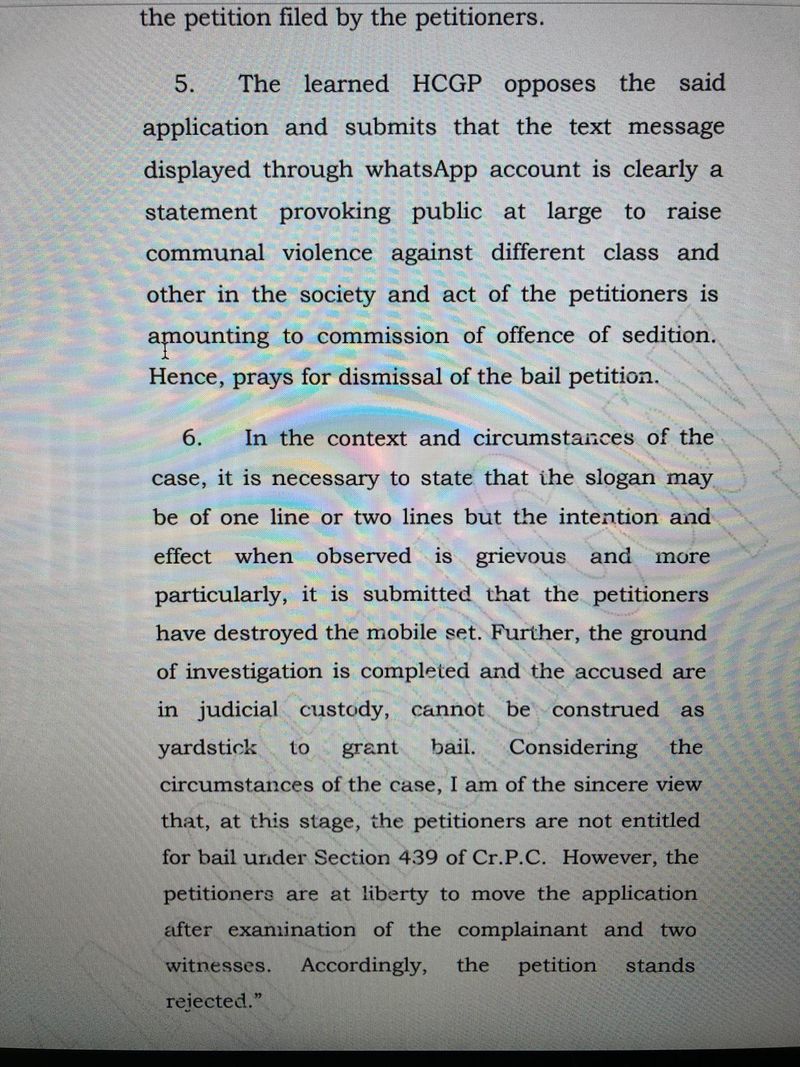 Mustafa's first bail application was dismissed on December 6, 2018. It is alleged that Mustafa and another accused were the administrators of the WhatsApp group. On December 27, 2018, Mustafa's second anticipatory bail was dismissed by Justice KS Mudagal, too. The judge observed that there was no change in the circumstances ever since.
Explaining how big the problem of not controlling content on WhatsApp is, Mumbai-based cyber crime lawyer Prashant Mali said, "If WhatsApp admins don't behave responsibly or take action against miscreants, they stand as abettors of the crime. They are equally responsible for it."
Mali added that, unlike anywhere else in the world, WhatsApp is being used in India to spread hate speeches, communal messages and pornography. "Indian group admins are not educated or aware but this case will create deterrence among WhatsApp group admins on how law works and what risk s are involved." 
In the past, several such cases have come to light. Last year, police in Baghpat of Uttar Pradesh arrested a man over alleged "anti-national messages" posted on a WhatsApp group of which he was the administrator. The FIR said Naeem had added close to 30 Muslim youth from Baghpat in the WhatsApp group, which also had a few "Pakistan-based" numbers. Police said that messages disrespecting the national flag and symbol were being created and shared on the group.