Though the Karnataka government had accepted the IAS officer Vinay Kumar committee report, it was kept secret. The report has come out now and explains that former general secretary of AIADMK, VK Sasikala, was (still is) given special treatment.

Bengaluru: Retired IAS officer Vinay Kumar-led high-level inquiry has found serious lapses and falsification of records in Bengaluru Central Prison at Parappana Agrahara. The inquiry was held after allegations of special treatment given to former general secretary of AIADMK, VK Sasikala, inside the jail. 
Sasikala is serving four-years imprisonment in the disproportionate assets case. The Karnataka government had received Vinay Kumar's findings on the same, and had directed the Anti-corruption Bureau (ACB) to register a case. But the findings of the report were kept a secret. 
Now, the report is out and the findings explain how some prisoners were being provided with special treatment. 
The issue came to light then Deputy Inspector-General of Police (Prisons) D Roopa wrote to the authorities alleging that preferential treatment was being given to Sasikala. Even after the court clarified that Sasikala was not given any such privileges of recommending A-class treatment, the prison authorities did not take any steps to withdraw the privileges. 
Now, with the report out, it is proved that Sasikala was being given preferential treatment. D Roopa has reacted on the same.
"When the prisoner gets VIP treatment, it sends a message to the other prisoners that it is fine to do anything because money and position matter the most. If you have that, you can change the system according to your wishes. This doesn't serve the very purpose of them being sent to jail," said D Roopa, inspector-general of police.
The report mentions that corridors were barricaded on both sides for Sasikala and her relative Ilavarasi's use, five cells were allotted for their belongings, the other four cells where Sasikala and Ilavarasi were not lodged, were not allotted to anyone else.
The presence of pressure cooker and finding of turmeric powder also did not have any explanation.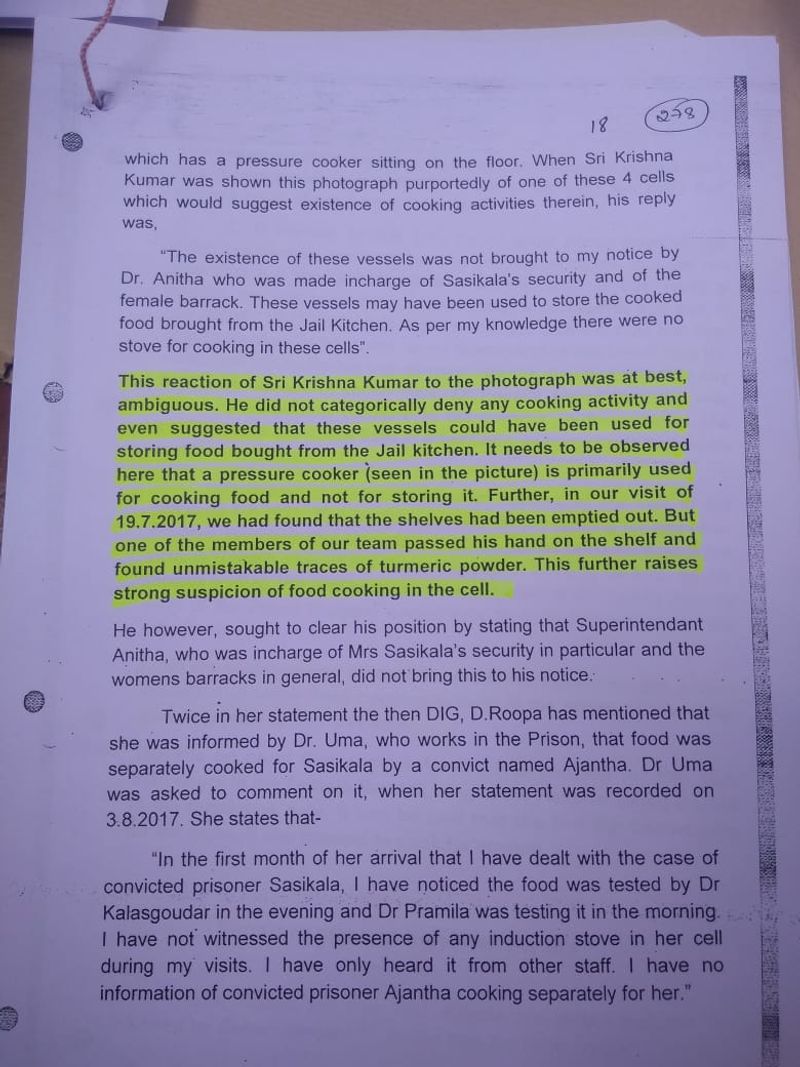 A separate register was maintained for Sasikala since February 2017. 
All these findings are proof that Sasikala is being given special treatment. As the reports are out, will the authorities take necessary steps (and as the court had ruled) to treat Sasikala as a common prisoner?
Read Exclusive COVID-19 Coronavirus News updates, at MyNation.
Last Updated Jan 20, 2019, 8:37 PM IST