Morphing images, making intemperate remarks, being slanderous, etc are as much Divya Spandana's strengths as brazening it out is her forte
New Delhi: Twitter meltdown of Rahul Gandhi's aide Divya Spandana To Divya Spandana, social media head of the Congress, Prime Minister Narendra Modi at the feet of the Statue of Unity looks like a bird dropping. This was not the first atrocious tweet of the woman given the charge of projecting a favourable image of India's oldest party. She is a repeat offender. But more about it later.
Is that bird dropping? pic.twitter.com/63xPuvfvW3

— Divya Spandana/Ramya (@divyaspandana) November 1, 2018
The Twitter message posted at 9:21 AM on Thursday was so outrageous, even a star anchor of the usual suspect among defenders of the offenders, NDTV's Nidhi Razdan, could not desist from issuing a mild rebuke.
Actually you can't afford to take that position. You are a public figure, you represent a political party with an official designation. So the people of India DO deserve to know what you meant https://t.co/gELDg8Bgyn

— Nidhi Razdan (@Nidhi) November 1, 2018
Another usual suspect Rajdeep Sardesai wouldn't be left behind in asking the lady to exercise some restraint.
Now they piggyback on him. Hilarious.
Apologise for what Rajdeep? For having a sense of humour or for others not having it? Journalists should seriously focus on pressing issues and stop being sermonisers- https://t.co/Njzms26WdG

— Divya Spandana/Ramya (@divyaspandana) November 1, 2018
Spandana's tweet with a morphed image of the Prime Minister where the latter is depicted painting the word "chor" (thief) on the forehead of his wax statue is still fresh in public memory.
#ChorPMChupHai pic.twitter.com/Bahu5gmHbn

— Divya Spandana/Ramya (@divyaspandana) September 24, 2018
Days before that, Spandana had shared the mischievously edited 29-second clip from an interview of Modi with Rajiv Shukla that had actually more than an hour long, broadcast years ago by Doordarshan in two episodes of the programme "Ru Ba Ru". The clip ends right after Modi, who was then a general secretary of the BJP, saying that he had studied up to the high school. In that interview, Modi had elaborated later that he had pursued higher education in the subsequent years, a pursuit that ended with a postgraduate degree in political science. Obviously, that part of the interview is not convenient for the Congress.
बड़ी मुश्किल से विडियो ढूंढा है, ये 1998 का इन्टरव्यू है जिसमे साहब खुद कह रहे है हाई स्कूल तक पढा हूँ, लेकिन आज साहब के पास ग्रेजुएशन की डिग्री है जो 1979 मे किया था !! pic.twitter.com/zr2DLBDv6i

— Divya Spandana/Ramya (@divyaspandana) September 18, 2018
What makes the tweet above shameless — rather than misinformed — is the fact that this is a settled debate. Scores of Twitter users, like the one quoted below, had shared the subsequent seconds and minutes of the video where Modi is heard clarifying that he obtained his BA and MA as an external examinee.
@shilpitewari NARENDRA MODI interview with RAJIV SHUKLA even before he became CM of Gujarat , clarity on education https://t.co/DuGW3k5ctC

— Neena Sinhaa (@NeenaSinha) May 9, 2016
The former actress Ramya, who had announced she was quitting the film industry in 2013, seems not to have had enough drama in her life. Ramya aka Divya Spandana was an MP from Mandya constituency who replaced Deepinder Hooda, the founder of the Congress's IT wing, in May 2017. While we Indians do have a semblance of a sense of humour left in us to laugh at Spandana's comical takes on petrol price rise, demonetisation and any other policy decision of the Modi government that the Congress objects to, she is often caught oblivious of the line she must not cross.
#MehangiPadiModiSarkar #BharatBandh pic.twitter.com/pRsiMyH4Nf

— Divya Spandana/Ramya (@divyaspandana) September 10, 2018
One doubts, of course, that the Congress will be embarrassed about Spandana's 'excesses'. After all, once she took over the charge of the party's social media department, suddenly 'people' from across the world started retweeting Rahul Gandhi's tweets! Did you say those were bots? What's that?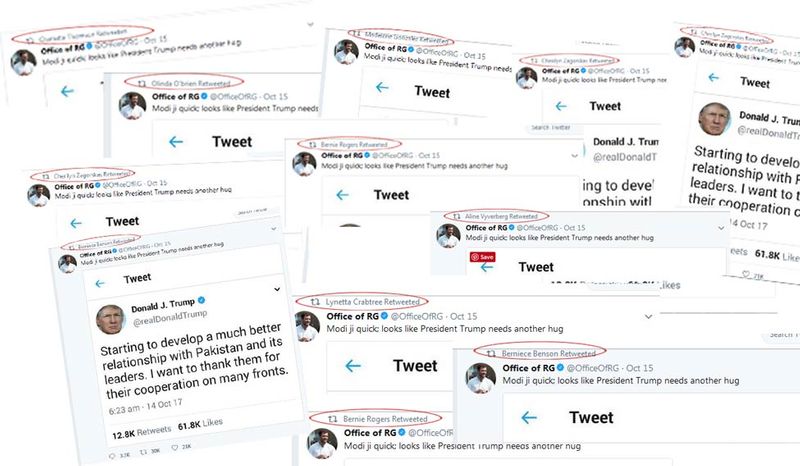 We, the outraged people, must get lost — Divya Spandana brazens it out.
When you're done huffing & puffing take a breath & hold a mirror to yourselves. My views are mine. I don't give two hoots about yours. I'm not going to clarify what I meant and what I didn't cos you don't deserve one.

— Divya Spandana/Ramya (@divyaspandana) November 1, 2018