In what can be seen as a first, Twitter chief executive Jack Dorsey has written to the Parliamentary committee of information and technology (IT) thanking the committee. The letter comes after the committee summoned him for representing its case in face of a volley of allegations that called the online platform "biased".
New Delhi: In a letter written to the Chairman of the committee Anurag Thakur, Dorsey is learned to have written, "I thank the Parliamentary Committee for the opportunity to present our views on such important issues relating to safeguarding citizens rights online in India". 
Jack Dorsey is believed to have requested the parliamentary committee to allow Colin Crowell to represent the micro-blogging site. Sources say the request has been approved by the parliamentary committee. Colin Crowell is Twitter's Global Head of Public Policy. The matter was taken up strongly, soon after the committee was petitioned by many organisations. 
Also, the 'Youth for Social Media Democracy' (YSMD) — an outfit which espouses a right-of-center ideology on Twitter — protested outside Twitter's office in Delhi's Lado Sarai. The protestors alleged that the social networking service behaves in a politically biased way towards the left and center ideology, something Twitter vehemently denies.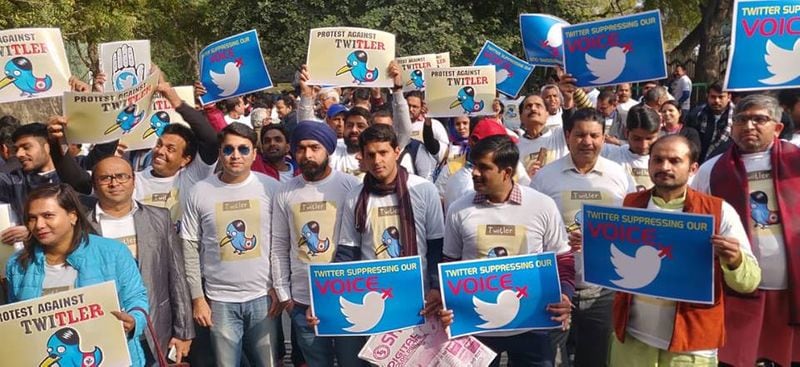 Earlier, the group also met Anurag Thakur to raise their apprehension of Twitter using its clout to allegedly influence the crucial 2019 general election.  In fact, Youth for Social Media Democracy said in a press release, "The instance of such strong political biases during an election year is an attempt to influence India's elections, which violates the right to free and fair elections, which is a fundamental ethos of Indian Democracy."
Following which, the online platform where much of the political exchanges take place has been directed by Thakur-led committee to ensure that no one tries to influence India's national election. 
Individuals privy to what happened in the committee proceedings tell MyNation, "The committee was definitely not very satisfied with the response provided to it. Twitter has been granted ten days more to submit in writing so that it can satisfy the precise points raised by the committee."
Also read: Anurag Thakur-led parliamentary committee summons Twitter officials to probe complains of being biased
Read Exclusive COVID-19 Coronavirus News updates, at MyNation.
Last Updated Feb 25, 2019, 5:23 PM IST