Biplab Kumar Deb has long accused the Manik Sarkar regime of having turned Tripura into a drug hub and a transit route for drug trafficking. Police records show a dramatic increase in the seizure of contraband, such as heroin and marijuana, since the BJP chief minister took office. CPM says no addition to the treasury by seizures.
Agartala/New Delhi: After 'udtaa' Punjab it is 'udtaa' Tripura. Police statistics accessed by MyNation reveal that the small hill state, which recently changed political stripes to drub a quarter-of-a-century long left rule to push the saffron BJP into power, has emerged in the same period as the new drug hub of India.
What the figures of seizures of narcotics, such as heroin, 'ganja' or marijuana and brown sugar, along with cough syrups and hallucinogenic tablets show, comes as a sort of corroboration of the allegations made by current chief minister Biplab Kumar Deb. Deb has long accused the Manik Sarkar regime of having turned Tripura into a drug hub and a transit route for drug trafficking. The comparative data of seizures also points to a dramatic increase since the BJP government took over reins of power in the state.
"I will never forgive Manik Sarkar for having destroyed one whole generation of Tripura's youth by forcing them into drug addiction. While he maintained a very clean image so that none could ever suspect him, he also made Tripura the drug hub of India, bigger than Punjab. The then police and local administration was under threat by left goons to act against it. But, now that we are enforcing the law, the reality has come out," Deb told MyNation.
Since March 9, 2018, when Deb took oath as chief minister and September 5, the police records show a whopping seizure of over 40,000 kg of 'ganja' or marijuana and nearly 2000 kg of deadly heroin. This is accompanied by nearly 80,000kg of cough syrup bottles and nearly 1.5lakh tablets. This comes along with over 600kg of contraband brown sugar.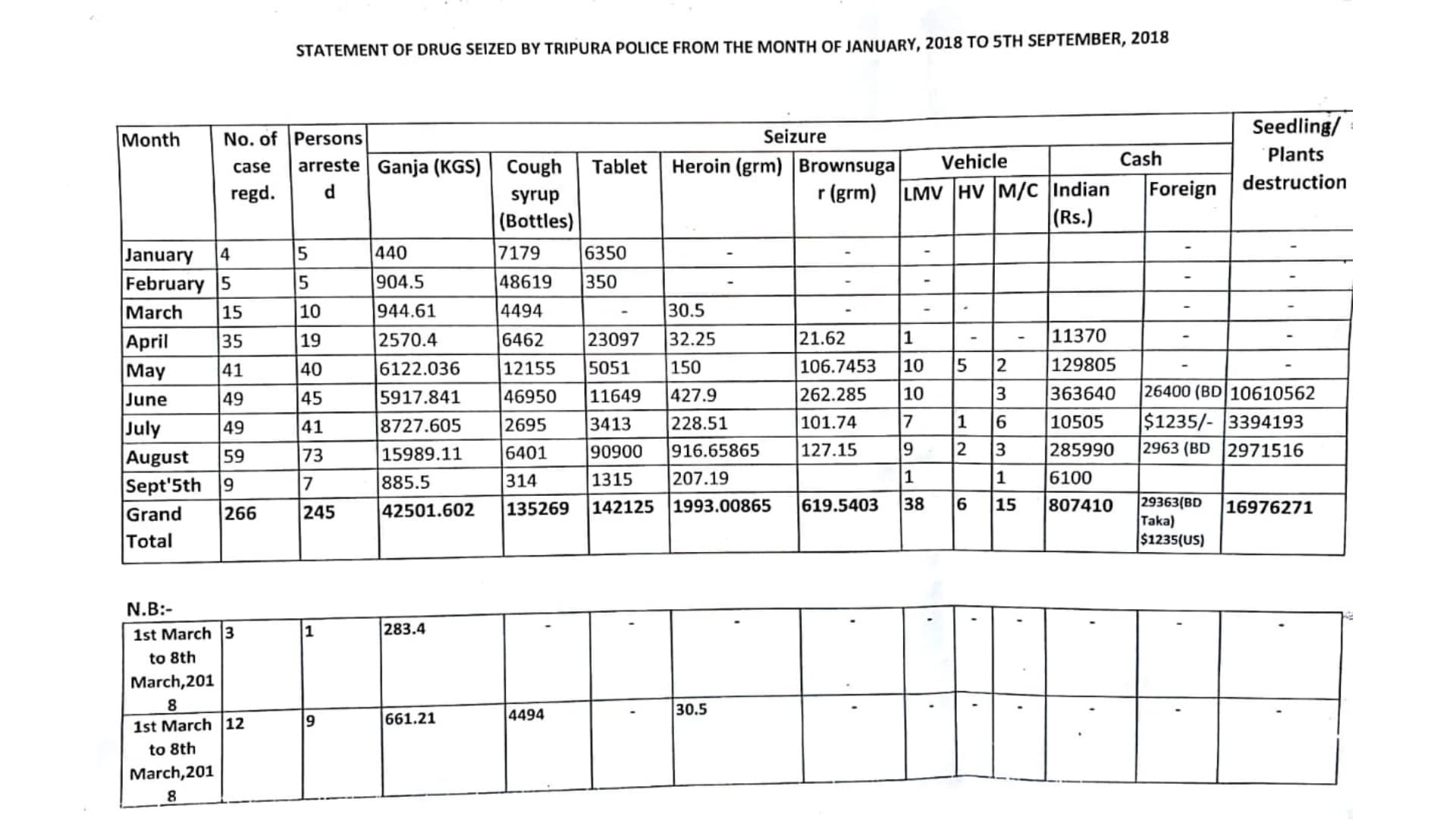 The figures for the last one year of the left rule under Manik Sarkar rather suggest not such an alarming scenario, which again fits the BJP allegations that Sarkar regime had patronised the drug trade and made millions of it, apart from plunging an entire generation of youth into the abyss of drug abuse.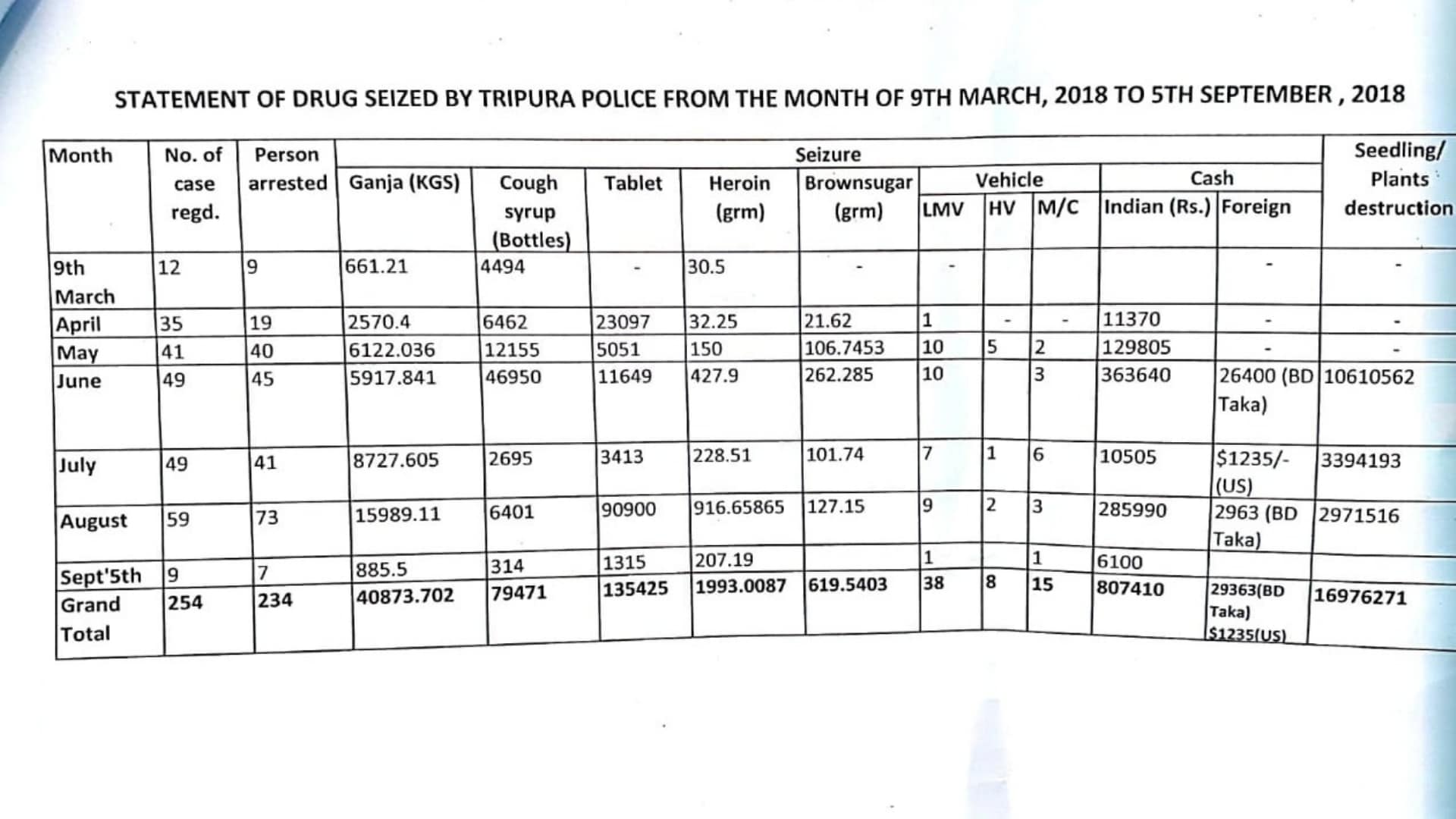 In 2017 only around 8,500 kg of ganja was seized against just nearly 60kg of heroin. Interestingly while the BJP rule has seen a seizure of nearly 1.5lakh tablets, Left rule in 2017 shows no seizure of tablets at all. While in the past six months nearly 80,000 cough syrup bottles were seized, in 2017 under Sarkar's regime, only around 12,000 bottles were seized.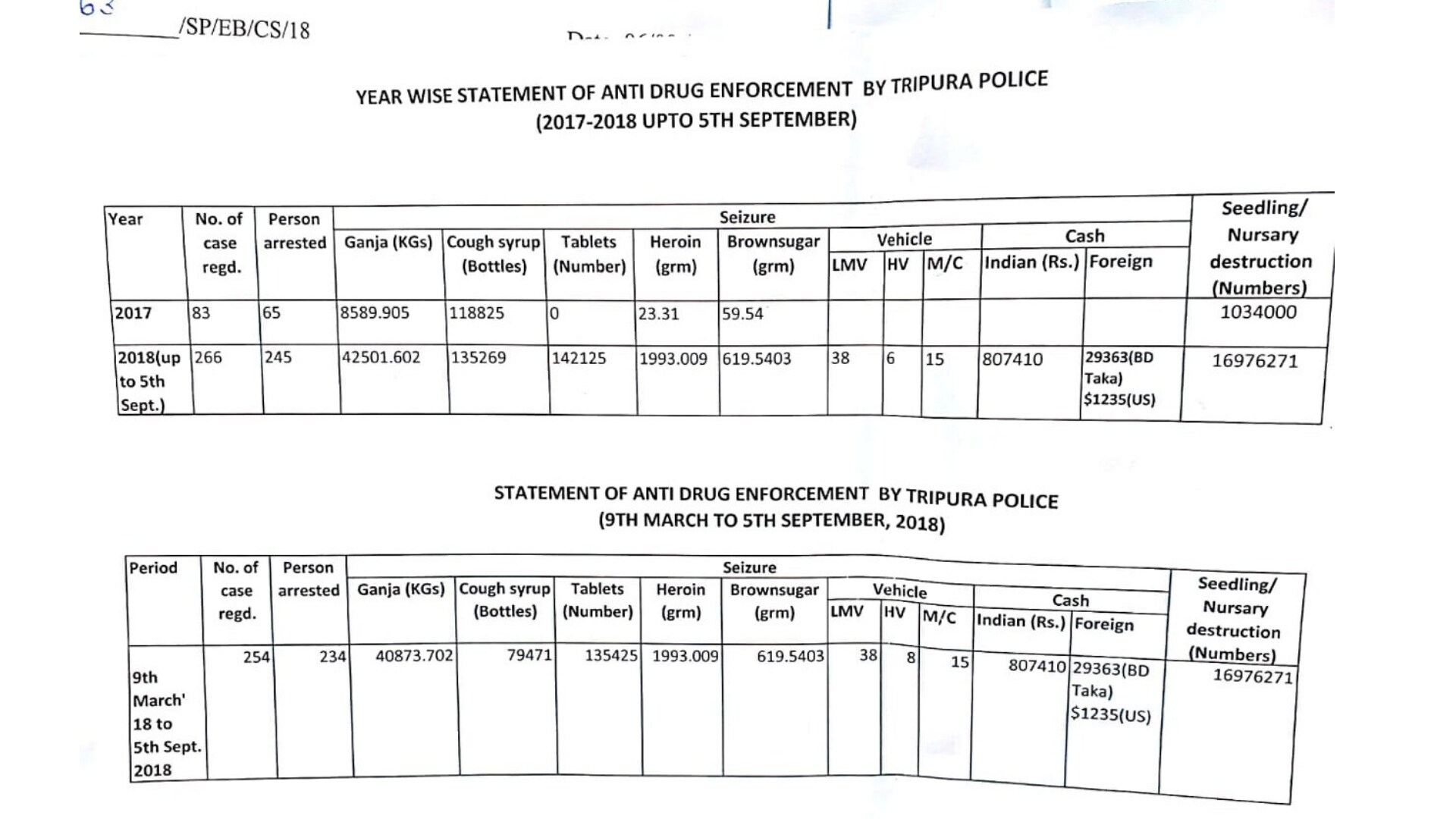 The CPM, however, rubbished the charges, claiming the seizures would not bring assets and money to the state treasury. "These accusations are bogus. People have no clue what is coming their way in the BJP regime in the future. Will these seizures augment the treasury?" said Bijan Dhar, Tripura secretary of the CPM. 
Another startling disclosure made by police records is that there has been a rise of 1,541% in the search and destruction of seedlings and nurseries used for harvesting 'ganja' and other narco plants.
While in the last year of left rule in Tripura, only 83 drug-related cases were registered and 65 persons arrested, the six months of BJP rule has seen the arrest of 234 accused in 254 cases registered by the state police.
Read Exclusive COVID-19 Coronavirus News updates, at MyNation.
Last Updated Sep 19, 2018, 9:22 AM IST