India should not drop its guard seeing terrorists of ISIS, Hizbul Mujahideen, Lashkar-e-Toiba, etc targeting one another; they are all from the same extremist, anti-Indian stock — is the message from Kuldeep Khoda, the former Jammu and Kashmir Police chief (served in the period 2012-15), who spoke exclusively to MyNation's Gursimran Singh
Srinagar/New Delhi: Terrorism in Jammu and Kashmir is not a new thing to government and the security forces. But the recent change in the trend of terrorism has hit raised the level of alert among both security agencies working in the Valley and the political executive in New Delhi.
From the very start of Islamic terrorism in Jummu and Kashmir in 1989, security forces, largely comprising personnel from other States, have been the prime target of the terror outfits operating in the Valley. But in the recent past, terrorists have switched their modus operandi many times. From targeting non-Kashmiri security forces, the terrorists have switched their target to the local police after killing of Hizbul Mujahideen commander Burhan Wani in 2016.
Terrorists have issued warning messages to officials of Jammu and Kashmir Police to refrain from leading anti-terror operations from the forefront. After a series of failed attempts to terrorise the State's police, terrorists took recourse to a new plan of abducting relatives of policemen. A video of Hizbul Mujahideen terrorist threatening policemen to 'quit Operation All Out or be ready to face dire consequences' was accessed by MyNation.
In a recent development, terror outfits have started targeting local Kashmiris by branding them as informers of the security forces. Terrorists have also started targeting active terrorists of other outfits operating in the Valley. On Saturday, terrorists believed to be from the Hizb gunned down Asif Nazir Dar, an active terrorist of Ansar Ghazwatul Hind (AGH) since January 2017.
With the killing of Dar by Hizb, many political and defence analysts throughout the country predicted easy days for the security forces ahead as an internal war is believed to have started between terror outfits operating in the Kashmir region.
A senior officer who served in Jammu and Kashmir as part of the nation's intelligence apparatus, said, "After the release of Riaz Naikoo's father in exchange of the life of 11 abducted relatives of policemen, terror outfits have an upper hand in Kashmir. They are trying to gain their lost control and for that there has broken an internal war to rule Kashmir."
To analyse the changing terror trend in the Valley, it becomes more important to understand the deadly three decades history of terrorism in the State. In the data available with MyNation till September 2, Jammu and Kashmir has witnessed 47,234 terror-related incidents in three decades in which 14,846 civilians lost their lives whereas 6,424 security personnel have attained martyrdom. In 30 years of terrorism, security forces operating in the Valley have gunned down 44,772 terrorists.
MyNation spoke to Kuldeep Khoda who headed Jammu and Kashmir Police for a tenure of five long years, 2012-2015. During his tenure, security forces gunned down more than 1,500 terrorists.
The former DGP totally denied the theory of "internal war" between the terrorist outfits operating in the Valley.
Gursimran Singh: Do you see this new trend?
Kuldeep Khoda: This trend is not something for which we need to be happy about or lower our guard in the Valley. This is, in fact, the plan of terror outfits to neutralise those who come close to security agencies or shun the path of terrorism. Moreover, this is not a new trend as far as terrorism in the Valley is concerned, many of the OGW's and local people whom terrorists have suspected to be informers have been killed. In the early 1990s, Mirwaiz Umar Farooq was targeted, too, when he was suspected of getting close to New Delhi despite being a separatist leader.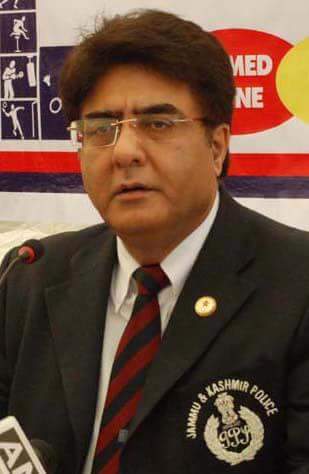 Does this mean that anybody longing for peace is a target of terrorists?
Absolutely, this rather than any "internal war" has been the trend. This is their hard line stand against those going soft on the security forces. This calls for stricter measures against radicalisation that is leading to recruitment of the local youth as terrorists.
The Centre needs to develop a clear strategy on Kashmir to get the desired result. Terrorism has revived after 2012, the rise of Burhan Wani and his ilk indicates a failed policy. Some are trying to brush the issue under the carpet by saying that the situation is normal. It's not normal, but it's becoming the new normal in the Valley.
With the rise of the ISJK, don't you feel Lashkar and HM are struggling for survival and that is why they are targeting ISJK terrorists?
No, whether it the IS, Lashkar, JeM or HM, they are all part of the extremist philosophy. Lashkar, JeM and HM are pro-Pak terror outfits and IS aims for a Caliphate; their overall target is to radicalise youth and provoke religious sentiments.
A terror message accessed by MyNation has Hizb saying, "We have ideological differences, but we are with ISJK". How do you see this?
Absolutely! That's their aim and they have stated as much in the message accessed by you. We have to realise that this is not merely their wishful thinking but they are working on it. They will definitely not target one another. The difference is whether to make Kashmir a Pakistani State or a Caliphate, but overall they are not going to target one another. You should not misunderstand the ground situation.
Why has the IS failed to gain its ground as JeM, HM and Lashkar did?
The IS has been trying hard to increase its foothold in Jammu and Kashmir, Zakir Moosa is in touch with the IS cadre in Syria and Iraq. The only reason the IS not gaining in Kashmir is that they are on the backfoot in both in Syria and Iraq. Had it been otherwise in those two nations, the condition would have been worse. We have seen IS presence when terrorists' bodies were wrapped in IS flags during funerals. We should not act like pigeons that close their eyes on seeing a cat and assume everything is normal.
Do you feel that the Kashmir situation is going to be tougher with the IS, HM, JeM and Lashkar — all operating in the Valley with full force?
The increased violence in the last few years points at what you are saying. Sometimes, we quote the figures of terrorists killed, but we have to see the number of causalities we have suffered. Only 17 security forces' jawans have martyrdom in 2012 whereas the number jumped four times to 67 this year, with 4 months yet to go. This shows how difficult the situation in the Valley is for the security forces.
Do you think we have to go tough against stone-pelting mobs, OGWs and terrorists?
Let's not project things selectively. We have to admit that the situation is serious in the Valley. We ate trying to convince ourselves that the situation is improving, which is far from the reality.
Terrorism is one part of the problem; we have to look into developmental issues as well. There are hosts of issues which are to be addressed. Radicalisation is one of the biggest issues. The madrassas running in the Valley by maulvis from other parts of the country need to be checked.
If we confine the Kashmir issue to killing of and by terrorists, we are building a castle in the air. Terrorism in Jammu and Kashmir is not as it was in Punjab; in Punjab, the local people were driving terrorism, but here we have foreign terrorists. In Punjab, the youth were by and large not radicalised, which is not the case in Jammu and Kashmir. The flow of funds and statements from different countries to Kashmir makes Jammu and Kashmir an altogether different case.