Retired IPS officer in Bengal Gaurav Chandra Dutt, before ending his life, allegedly left behind a suicide note that claims that Mamata Banerjee ordered that he be denied his gratuity, commuted dues, leave salary, etc. it says the chief minister punished him for being loyal to the previous, CPM-led Left Front government.

Kolkata: In a shocking suicide note that is sure to embarrass the Mamata Banerjee government, a 1986-batch retired IPS officer has accused Bengal chief minister Mamata Banerjee for his decision to end his life.
Gaurav Chandra Dutt, who claimed to have been 'discriminated' against for his close proximity with communist leaders under whom he served for a long 20 years, left behind this suicide note.
Dutt cited a series of reasons for this extreme step, the first being the chief minister. He alleged, "CM refuses to close my 2 pending (sic) proceeding cases. One case file is lost deliberately by (the) WB government. In the second case, no corruption case could be substantiated. Even DG requested CM, but she refused to close cases. CM is directly responsible for my action of abetment."
Dutt went on to allege the government did not allow him leaves, mid-career training, or being sent on deputation. "CM knew that due to non-closure of cases my honest earnings/saving/dues meant for retirement can be blocked forever. So she ordered nonrelease of gratuity (30 lakhs), commuted dues (25 lakhs), leave salary (17 lakhs) etc. This vindictiveness of CM is unparalleled for blocking my honest hard earned savings," alleges the retired officer who is now, no more.
Dutt named who all are Mamata Banerjee's "favourite officers" and how they treated him. "The IPS fraternity is such that if the government detests you at a personal level, then all officers toe government line and will treat you like a pariah street dog," claimed Dutt.
The retired officer claimed, in the absence of funds that were held back by the state government in lieu of the ongoing investigation, his family has faced hardships. He named Naparajit Mukherjee, RK Johri, HA Safwi, SS Chakraborty who "used, abused and misused" him. All of them are senior officers who, Dutt claimed, "backstabbed" him.
MyNation cannot verify these allegations and does not endorse the claim made by Dutt.
These allegations can be a big embarrassment for Mamata, particularly at a time when she is eying a bigger role in national politics. Dutt claimed that a "toxic, evil, hellish environment" has been created by Mamata Banerjee in Bengal.
In the backdrop of a Mamata claiming PM Modi created a "super emergency" in the country by abusing institutions, this allegation of Dutt is surely going to give ammunition in the hands of the opposition in the state.
To make his point, Dutt cited the example of IPS officer PK Ray Mukherjee whose dues were released after 20 years.
The suicide is bound to create a massive political row in a state that the BJP looks to aggressively explore for electoral gains. The claims in the suicide note are damaging politically, regardless of what a court of law says about its authenticity.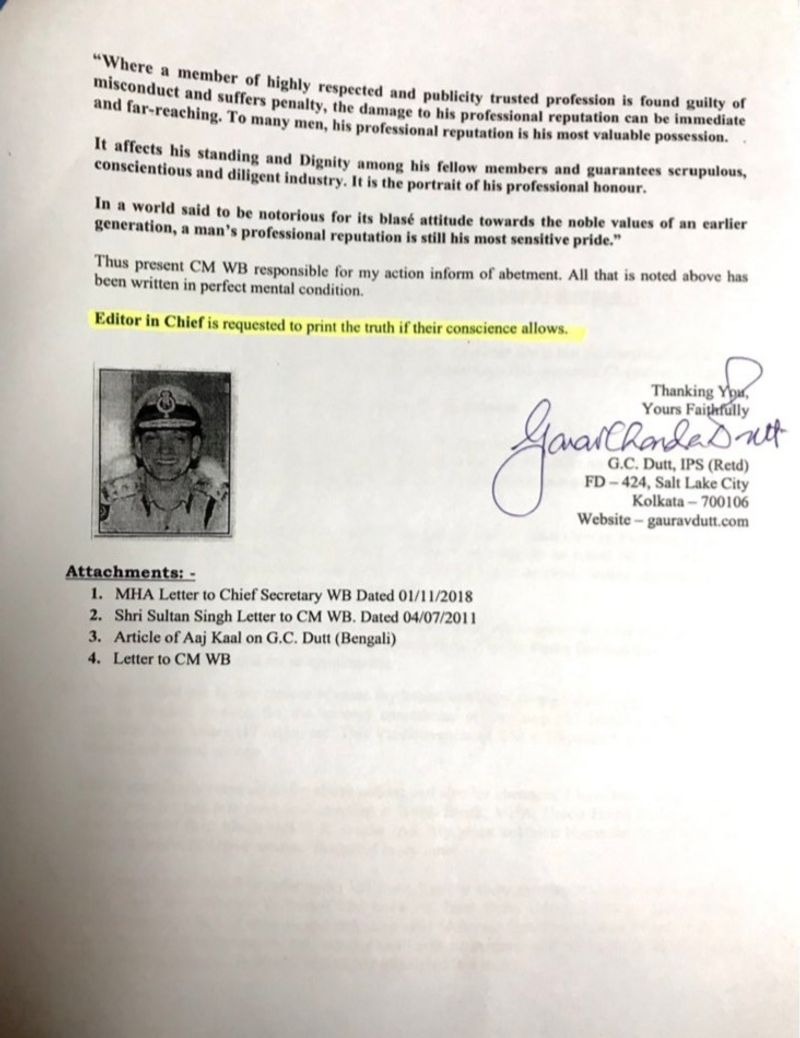 Read Exclusive COVID-19 Coronavirus News updates, at MyNation.
Last Updated Feb 21, 2019, 7:28 PM IST