Snegha also claimed that she got married to a Tamil professor Parthibaraja without revealing her caste or tradition. She further said that she does not wear Mangal Sutra or a toe ring to let people know that she is married
Vellore: A tahsildar in Tamil Nadu's Vellore district issued a "No caste, no religion" certificate to lawyer Snegha, after eight years of struggle.
Snegha (35) claims that she is the first person in India to receive an official certificate as she does not belong to any caste or religion. The certificate says, "This is to certify that, A Snegha Parthibaraja does not belong to any caste or religion."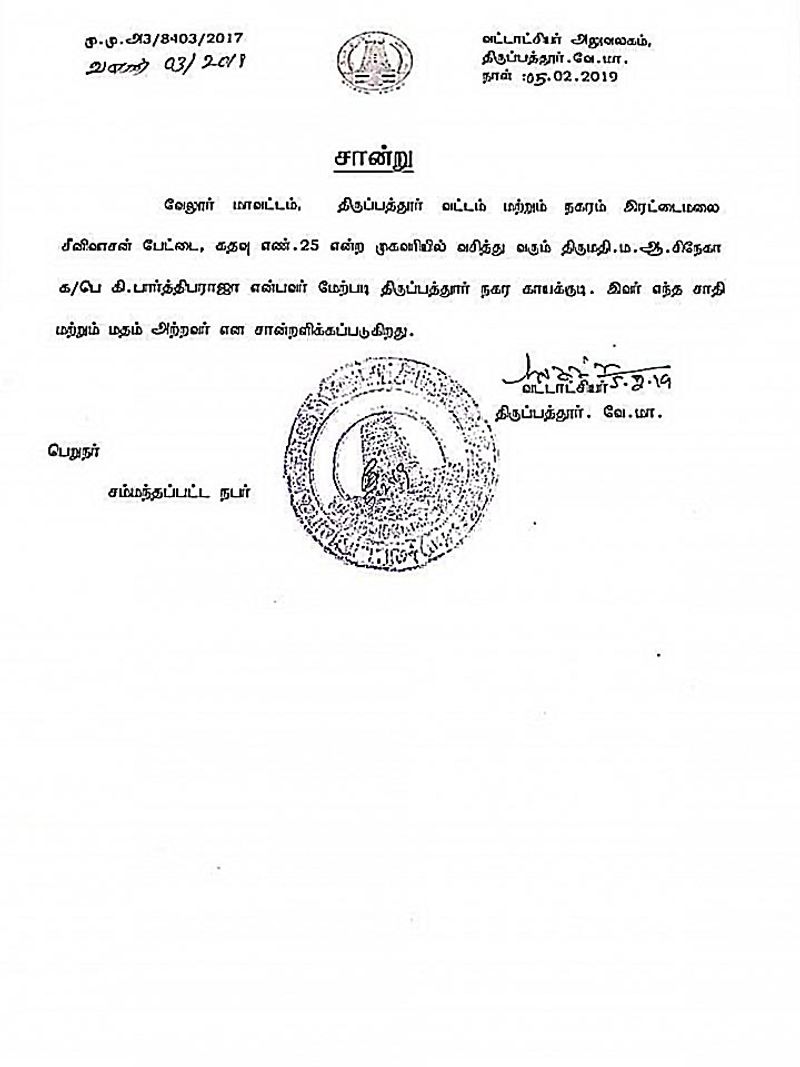 Speaking exclusively to MyNation, Snegha said, "I applied for the no religion, no caste certificate in 2010, but they kept rejecting my application. They said that we do not have precedent previously. Also, they said that we do not have any rights to tell you to belong for a particular caste, but we can only tell to which caste you belong."
"In 2017, I again applied for the certificate, and from then to till date, I have struggled a lot to obtain the no caste certificate. I tried to convince the tahsildar and sub-collector. At last, they gave the certificate by saying that the certificate does not waive anyone's rights." Snegha added.
Snegha further said she left the "caste and religion" columns blank in the school application forms for their three daughters (Aadhirai Nasreen, Aadhila Irene and Aarifa Jessy) and had mentioned only as Indian.
Apart from her struggle to obtain the "no caste and no religion" certificate, her parents also did not believe, support or follow any religion. She also said that her parents too did not specify any caste or religion in her school or college documents.
The lawyer is now all set to obtain the same certificate for her children and her family members shortly. She also said that "one's caste or religion should not allow the other to be divided from a group".
Dear Sneha,

You have actuated a long dormant desire among Indians. Let's discard what never belonged to us. Let's caste away Caste. From this point, a better tomorrow will be more accessible. Bravo daughter. Lead India forward. https://t.co/tdjngFiHWl

— Kamal Haasan (@ikamalhaasan) February 13, 2019
Many actors and politicians such as Kamal Haasan, Sathyaraj, Rohini and other movie directors congratulated Snegha. Kamal also took to Twitter and congratulated Shegha for receiving a "no caste, no religion" certificate.
Read Exclusive COVID-19 Coronavirus News updates, at MyNation.
Last Updated Feb 14, 2019, 1:49 PM IST