Participants in the campaign in Kerala say that they will not donate to the Sabarimala shrine anymore because Hindu places of worship are under Kerala government's control. Many deposit in the hundi paper slips with the message 'Neethi tharanam Ponnu Swamiye' (give justice, Lord Ayyappa)
Thiruvananthapuram: Thousands of people staged belonging to several Hindu organisations staged massive protests in Thiruvananthapuram, Kollam, Alappuzha, Pathanamthitta, Ernakulam and Palakkad districts of Kerala on Tuesday. They raised their voice against the Supreme Court order allowing women of all age groups to enter Sabarimala temple. 
Many activists claimed that they would no longer donate to the Sabarimala shrine because they alleged that Hindu places of worship are under Kerala government's control. Activists believe that the money they donate will go to the state coffers. Instead, they have chosen to deposit paper slips into the hundi (donation box at the temple)) with a message saying, "Neethi tharanam Ponnu Swamiye."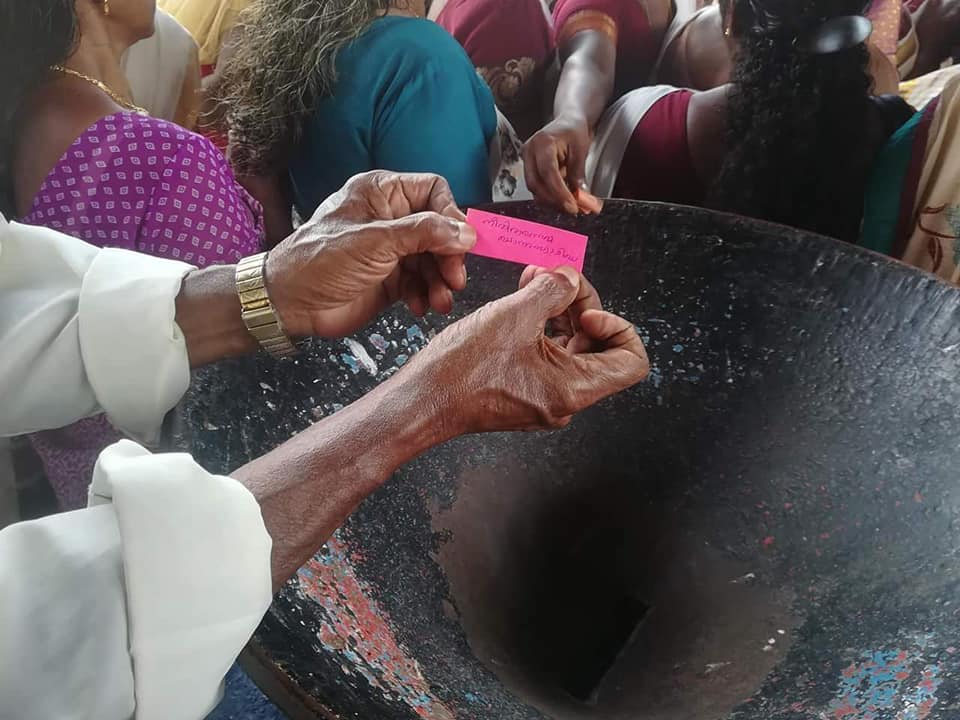 "For the past 5 years, I am going to Sabarimala, and depositing money. But next time onwards, I am not going to deposit money. The money which the pilgrims deposit are going to state government's hands. Even then, they are playing with the devotees' sentiments," said Anjay Nadacherry, a Kannur native. 
At Sabarimala, tradition has it that devotees break coconuts with ghee at a designated place. But, activists condemning the Supreme Court verdict have decided to stop this practice as a mark of protest.
The protestors asked the preservation of old traditions in Sabarimala and held dharna (protest) and indulged in road blockades, as well. The BJP, which initially favoured women's entry, has now come forward in support of these protestors. The party is also gearing up to organise mass protests.
A namajapa yatra (procession with people chanting Lord Ayyappa mantras) led by Pandalam royal family kick-started from Pandalam Medical Mission premise and ended at Valiyakoyikkal temple. The yatra comprised of men mostly. "They shouted slogans stating that the temple belongs to the family residing in Pandalam palace and the thantri (priest in Sabarimala shrine), and they jointly have to decide on the affairs of the Sabarimala temple.
In Kochi, protestors tried to block roads, resulting in an intense situation. Meanwhile, police arrested people who tried to hold protests in Alappuzha. People from Ayyappa Dharma Samrakshana Sena, Nair Service Society, People for Dharma and the Ready to Wait movement (women who are ready to wait and visit Sabarimala temple at the age of 50) also took part in the protest.
The orators during the public meet at the Pandalam temple premises said that those who filed the petition seeking entry of women are not pure devotees, but those women are just fighting for it in the name of gender equality and not worship.
Meanwhile, Thiruvananthapuram also saw two protest marches held by Hindu groups. At 10.30 am, a group of people led by Rahul Easwar's Ayyappa Dharma Sena and other Hindu groups walked from the Hanuman temple in East Fort to the Palayam Martyr's column.
Travancore royal family member Aswathy Thirunal Gouri Lakshmi Bhai on Tuesday gave her first reaction to the Supreme Court order, allowing all women to enter Sabarimala temple. "It was hurting and embarrassing when news broke that women of all age groups have been permitted to enter Sabarimala. With this, beliefs and traditions that were in practice here for centuries will be destroyed," she said.
However, there were reports that Lakshmi Bhai's grandmother had entered the temple during the objectionable age earlier. Lakshmi Bhai clarified terming it a fake campaign. She said, "My grandma Maharani entered Sabarimala only after her uterus was removed."
Also read: Sabarimala verdict: Supreme Court throws open temple's doors to women of all age groups