Behind the triple talaq Bill being sent to the backburner, there was a political huddle over cozy morning tea at Lutyens' Delhi
New Delhi: The much-anticipated triple talaq Bill will only see the light of the day in the new year, courtesy the rigid Opposition. 
As the nation gears up for the eve of new year, inside a cozy room in Lutyens' Delhi, 12 gentlemen representing 11 political parties were preparing to be the party-spoiler for the ruling Bharatiya Janata Party (BJP) and scores of Muslim women who are glued to their television sets since morning.
Who are they?
 
The 11 political parties that do not want the Bill to be passed without being sent to the select committee of Rajya Sabha are: 
AIADMK
 
Akhilesh Yadav-led Samajwadi Party
 
Chandra Babu Naidu-led Telegu Desam Party (TDP)
 
Tejaswi Yadav-led Rashtriya Janata Dal (RJD)
 
Arvind Kejriwal-led Aam Admi Party
 
Pawar -led Nationalist Congress Party (NCP)
 
MK Stalin-led Dravida Munnetra Kazhagam (DMK)
 
Rahul Gandhi-led Indin National Congress
 
Mayawati-led Bahujan Samajwadi Party (BSP)
 
The Communist Party of India (CPI)
 
The huddle was facilitated by Mamata Banerjee-led Trinamool Congress


What happened today?
 
Earlier today, A Navaneetha Krishnan (AIADMK),  Ram Gopal Yadav (SP), YS Chowdary (TDP), Manoj Kumar Jha (RJD), Sanjay Singh (AAP), Vandana Chavan (NCP), Tiruchi Siva (DMK), Ghulam Nabi Azad (Congress), Satish Misra (BSP), D Raja & KK Ragesh (CPI) met over tea. Earlier on December 28, they signed the 'motion for reference of the Bill to select committee' drafted by TMC's Derek O'Brien.


Inside Rajya Sabha
 
It was a stormy scene inside the Upper House today. Before being put on the backburner (January 2), the matter was adjourned till 2 pm, minutes after it was convened, amid heavy sloganeering by AIADMK members over the Cauvery issue. As the house reconvened, TMC's Derek O'Brien animatedly objected it, saying, "All Opposition parties unanimously have decided that this Bill must be sent to the select committee." But amid heated debate, the Opposition stormed into the well of the House, prompting the BJP to allege that it's a well chalked-out strategy to delay the Bill, directly connecting it to the well-being of Muslim women.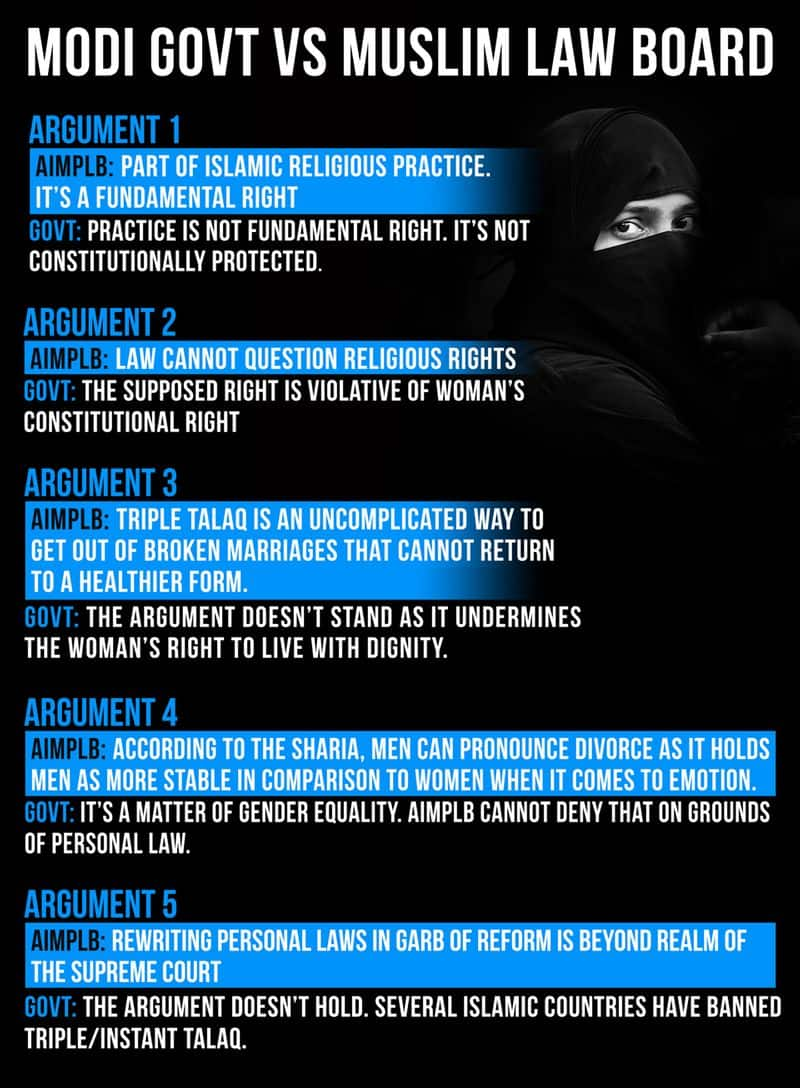 The Muslim Women (Protection of Rights on Marriage) Bill, 2018, criminalises instant divorce by Muslim men. The BJP has a win-win situation at hand, with even if the Bill is not being passed, it will give it a fair opportunity to blame the Congress-led Opposition for the same. This will also be one of the talking points in the political rallies of Prime Minister Narendra Modi in the run-up to 2019 general election.
Read Exclusive COVID-19 Coronavirus News updates, at MyNation.
Last Updated Dec 31, 2018, 3:30 PM IST