The National Green Tribunal has slapped a fine of Rs 50 crore on Karnataka government and has also directed BBMP to pay Rs 25 crore to Central Pollution Control Board CPCB for failure in protecting city lakes and keeping rajakaluves (stormwater drains) clear from encroachments. Namma Bengaluru Foundation has been pursuing the case.
Bengaluru: The National Green Tribunal (NGT) has slammed the Karnataka government and the Bruhat Bengaluru Mahanagara Palike (BBMP) and slapped a fine of Rs 50 crore and Rs 25 crore respectively for their failure in protecting lakes of Bengaluru and keeping stormwater drains safe from encroachments.
Accordingly, NGT has asked Karnataka government to pay a fine of Rs 50 crore and BBMP to pay Rs 25 crore to the Central Pollution Control Board (CPCB). out of this money Rs 10 crore will be paid to Karnataka State Pollution Control Board.
In addition, the Karnataka government has been asked to deposit Rs 500 crore in an escrow account to execute action plan to clear the water bodies of pollutants.
Karnataka government will have pay Rs 100 crore as a penalty in case of failure to implement the action plan.   
NGT had filed a suo moto case against Karnataka government. Numerous warnings by the NGT went unheeded and the state as well as BBMP clearly failed in discharging their duty towards maintaining clean lakes.
Member of Parliament, Rajeev Chandrasekhar has welcomed the verdict of NGT. Rajeev Chandrasekhar had campaigned and fought for the cause of cleaner lakes in Bengaluru.
This is a landmark judgement in fight to #SaveBengaluru from a group of vultures exploitatng #Namma#Bengaluru.

NGT spoke tdy n held the Govt of #Karnataka negligent. Laws hv been violated n criminal prosectn awaits those who hv.

Well done @Namma_Bengaluru@poovayya 🙏🏻🙏🏻💐 https://t.co/9wiMmntyeO

— Rajeev Chandrasekhar 🇮🇳 (@rajeev_mp) December 6, 2018
The Namma Bengaluru Foundation (NBF) that had closely pursued the case for years welcomed the verdict of the court.
In 2016, the Siddaramaiah Government had constituted the committee to create an action plan to protect water bodies in the city and NBF was part of this committee. The committee met multiple times and submitted its report to the government. The BDA did not accept the report and did not publish it on its website until all committee members including the NBF pushed the BDA to do so, say sources from the NBF.
"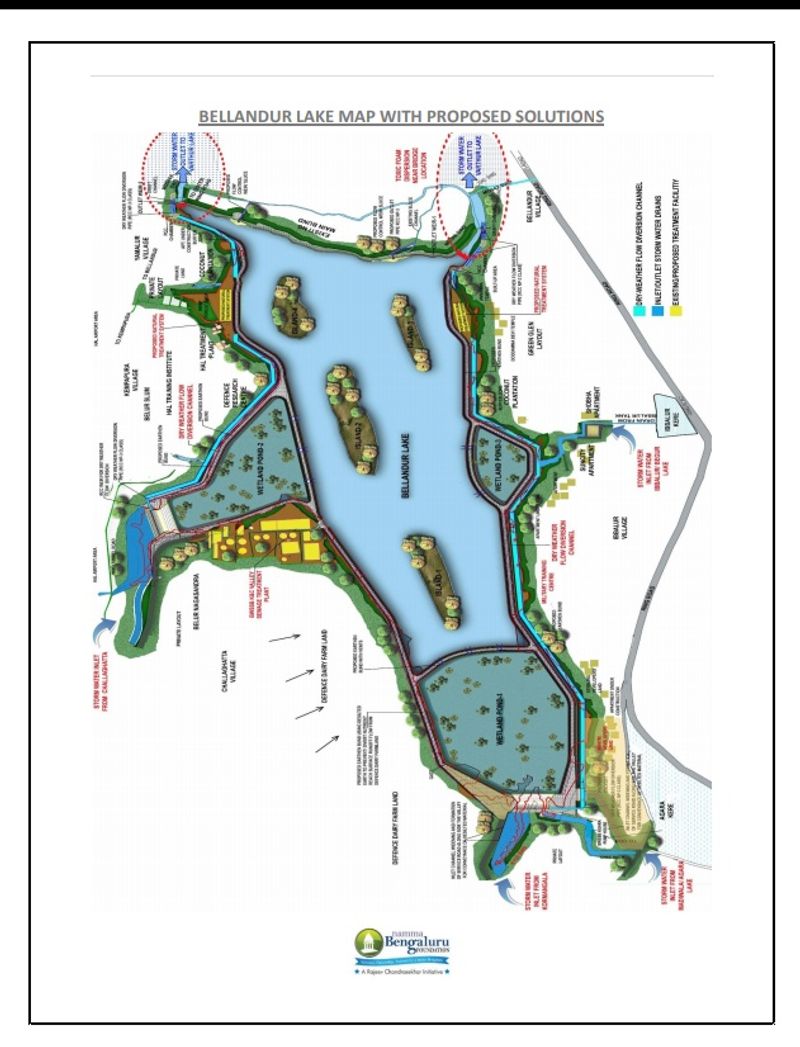 The committee report had suggested various short-term and long-term measures for the rejuvenation of Bellandur Lake. Till date, the BDA is yet to inform the committee on its commitment to implement its recommendations.
On February 21, 2017, the frothing in Bellandur Lake led to a fire outbreak. The NGT principle bench (Delhi) filed a suo moto case and NBF impleaded in this case soon after the incident.