Exclusive from MyNation's Siddhartha Rai and Manish Raj Masoom exposing CPM regime's allegedly vindictive actions after then DGP Jacob Thomas investigated dealings of state industry minister. He has now been suspended for a second time and banned from travelling abroad to even meet his daughter in Muscat
A left government led by Pinarayi Vijayan is in power in Kerala. Jacob Thomas, senior most police officer Kerala has nailed leftist tyranny. Thomas told MyNation in an exclusive interview that Vijayan suspended him December last year for making a speech against corruption on the International Anti-Corruption Day on December 9. He was then suspended again in March this year for writing two innocuous books in Malayalam, an autobiography and one on capacity building in governance.
And, now he has been banned from travelling abroad, even meeting his daughter who lives in Muscat.
"
"My suspension letter cited my speech from December 9 at Thiruvananthpuram, but in reality, as the Director of Vigilance and Anti-Corruption Bureau, I had investigated the industries and sports minister EP Jayarajan after having received a complaint from BJP leaders. Jayarajan had to resign as I had found him guilty on charges of nepotism. I was also investigating another cabinet minister from Vijayan government," Thomas told MyNation.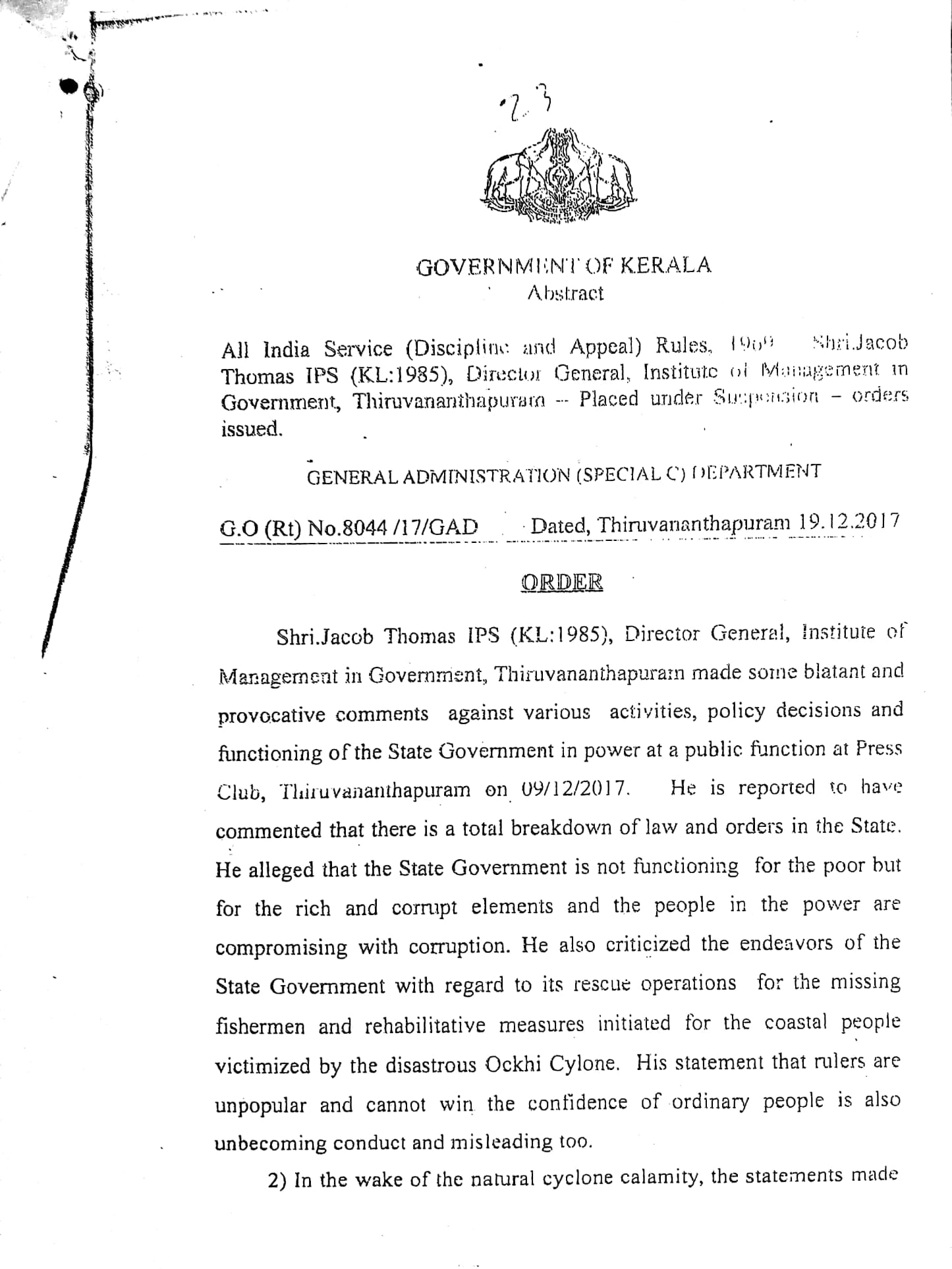 The chief minister had called him home, Thomas recalled, and had told him to go on leave. "What do you do when the CM tells you to go on leave. You go on leave."
According to the suspension letter of December 19, 2017, Thomas had allegedly made "some blatant and provocative comments against… functioning of the State government."
"He is reported to have commented that there is a total breakdown of law and order in the state. He alleged that the state government is not functioning for the poor, but for the rich and corrupt elements and the people in the power are compromising with corruption," the letter said. The second charge sheet against Thomas, based on which his suspension was continued, cited his two books in Malayalam as being in contravention of The Police Forces (Restriction of Rights) Act, 1966.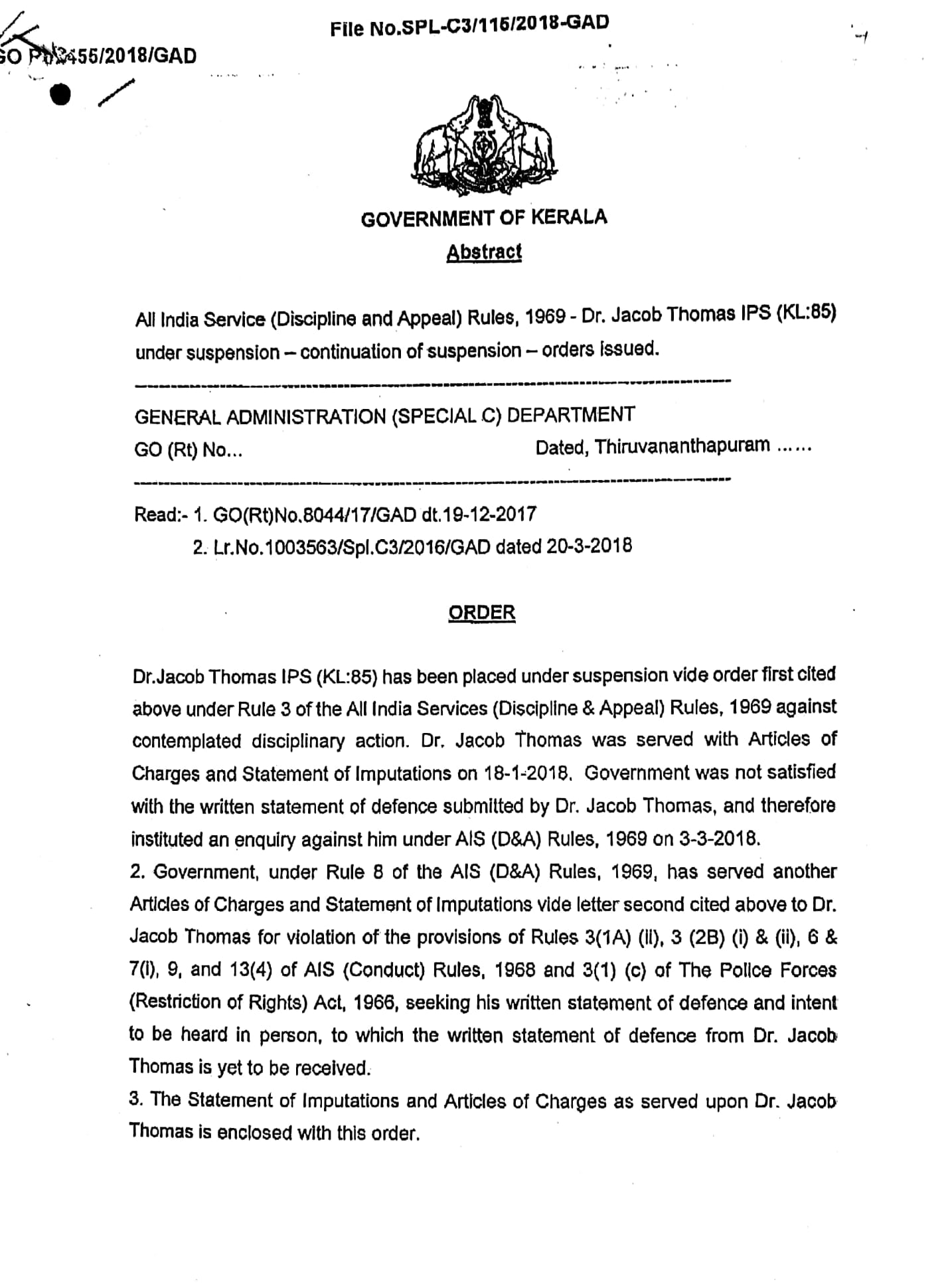 "One book is my autobiography, about my life and not about politics. It is a literary work. Another is on capacity-building, which I wrote as I was the head of the Institute of Management and Governance. As per the service rules of All India Services, we can write literary and scientific books," said Thomas.
In April this year, Thomas was also barred from travelling abroad — even to see his daughter in Muscat. According to a letter from Kerala chief secretary in response to Thomas' request to travel to the US, Switzerland and Canada to visit relatives, "In terms of existing instructions, prior permission of competent authority for private visits abroad is required; a mere intimation in this regard shall not suffice."
"Furthermore, a disciplinary inquiry has been instituted against you and the same is continuing…Your travel abroad will further delay the proceedings in the disciplinary case," the letter read.
"I am practically in jail. I am in jail for doing my job and fighting corruption. A regime that swears by the right to expression and right to dissent has curtailed all my rights. I can't speak; I can't write; and now, I can't travel," Thomas said.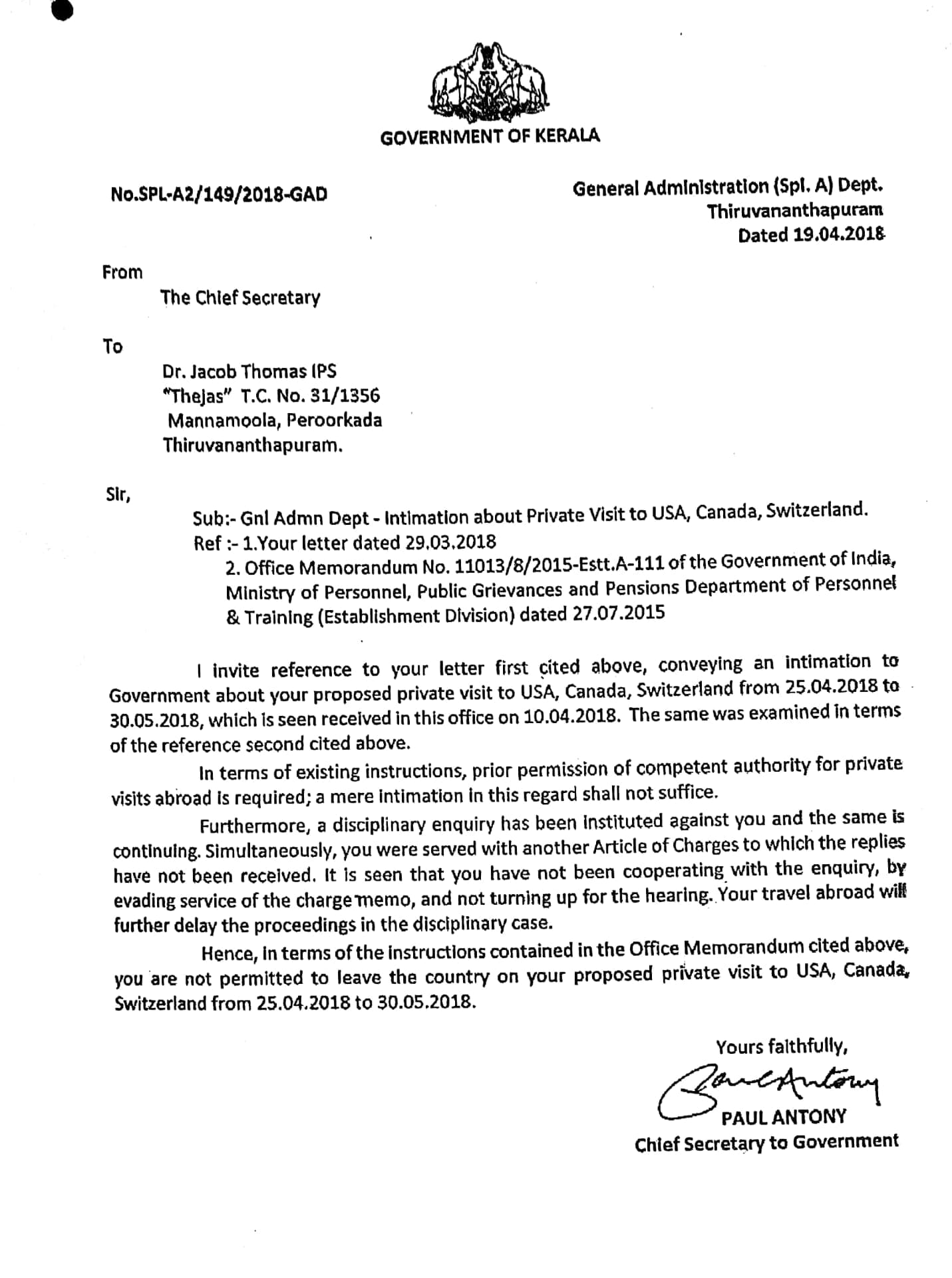 To his anti-corruption credentials, Thomas was declared a whistleblower for unearthing corruption and security was requested for him from the Central Vigilance Commission by a secretary-level officer of Kerala in 2005.
Read Exclusive COVID-19 Coronavirus News updates, at MyNation.
Last Updated Jul 30, 2018, 12:16 PM IST