Blackberry Messenger chats with Qureshi from 2013, which landed ex-chief Singh in trouble, contain allusions to Congress leaders 'K Nath', 'AP' and 'Shinde'. Who these could be is anybody's guess.
New Delhi: The Congress is out to milk the CBI controversy to target the Narendra Modi government, but it has much to answer for itself when it comes to Moin Qureshi, the middleman who is at the heart of the muddle. Qureshi is now responsible for landing four top shots of the agency in soup — AP Singh, Ranjit Sinha, Alok Verma and Rakesh Asthana.
Blackberry Messenger chats with Qureshi from 2013, which landed ex-chief Singh in trouble, also contain allusions to Congress leaders "K Nath", "AP" and "Shinde". Who these could be is anybody's guess. MyNation contacted leaders who might have probably been referred to but did not get a response.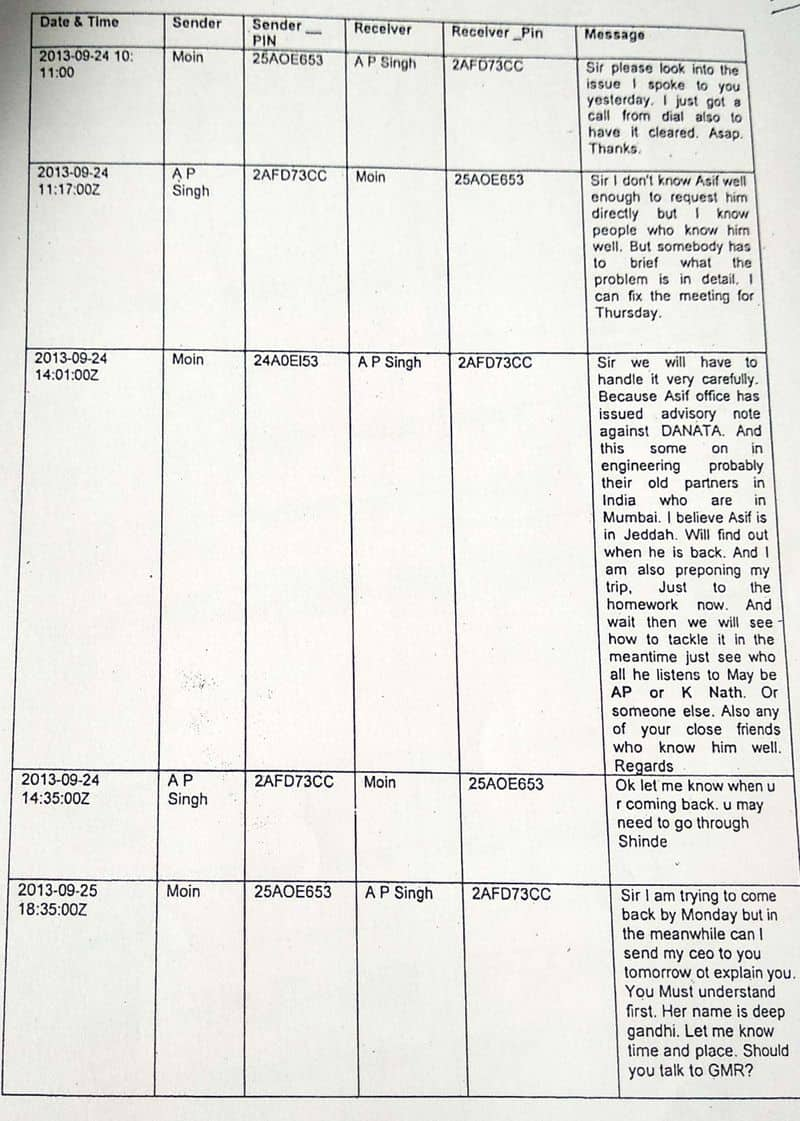 In the conversation, Qureshi was batting for their help through Singh to get a contract for baggage handling facilities at the Delhi international airport for Dnata, a Dubai-based airport logistics company he was fronting for.
BJP targeted Congress chief Rahul Gandhi over the issue. "Why is Rahul Gandhi so hellbent on avoiding Moin Qureshi and Aircel-Maxis issues? What is the magic glue that has made strange bedfellows out of disparate elements like Subramanian Swamy, Prashant Bhushan, Arun Shourie, P Chidambaram etc? Rahul Gandhi must answer how he has come to join this brigade. 
Also read: Moin Qureshi: The man behind the CBI vs CBI brawl
How do two officers, one from ED and the other from CBI, have so much in common that they have come to be defended by these elements?" BJP spokesperson Shazia Ilmi told MyNation.
The CBI filed an FIR against Qureshi, Singh, Qureshi's aide Aditya Sharma, industrialist Pradeep Koneru and other "unknown persons/public servants" in 2016 after a recommendation by the Enforcement Directorate. The BBM chats were used as evidence.
Also read: CBI vs CBI: What Alok Verma said in his petition before Supreme Court
However, Dnata had been blocked off by the NDA-1 government of Atal Bihari Vajpayee as Intelligence Bureau (IB) had linked Dnata to Pakistani elements. Qureshi is seen talking to Singh with regard to reaching out to these Congress leaders to fix then IB chief Asif Ibrahim into clearing Dnata.
While there are several references to on one 'K' in BBM messages exchanged between industrialist Pradeep Koneru, also named in the CBI FIR, with Qureshi, a clearer reference to the obvious Congress neta appears in BBM chats between former CBI chief Singh and Qureshi from September 24.
Qureshi sent a message to Singh saying, "Sir please look into the issue I spoke to you yesterday. I got a call from DIAL also to have it cleared. Asap. Thanks." DIAL is Delhi International Airport Limited.
Singh replied: "Sir I don't know Asif well enough to request him directly, but I know people who know him well. But somebody has to brief what the problem is in detail. I can fix the meeting for Thursday."
Qureshi responded: "Sir, we will have to handle it very carefully. Because Asif office has issued advisory note against DNATA. And this some one in engineering probably their old partners in India who are in Delhi. I believe Asif is in Jeddah. We will find out when he is back. And I am also preponing my trip. Just do the homework now. And wait then we will see how to tackle it in the meantime just see who all he listens to. Maybe AP or K Nath. Or someone else. Also, any of your close friends who know him well. Regards."
Singh then suggested Qureshi that he might have to "go through Shinde". "Ok let me know when you are coming back. You may need to go through Shinde," Singh said in his message.
To circumvent IB's stumbling block, Qureshi floated a front company called the Indian Premier Services Private Ltd and then Dnata picked up a 50% stake in it in to enter the market in 2013.
Read Exclusive COVID-19 Coronavirus News updates, at MyNation.
Last Updated Oct 26, 2018, 7:56 PM IST