Padma awards will honour 112 inspiring personalities that include 12 farmers, 14 doctors and nine sportspersons. The awardees are from across the nation, all segments of society and the government has gone beyond excellence alone, recognising the larger impact and their selfless services
New Delhi: The Padma awards 2019, announced on eve of the Republic Day, will honour 112 inspiring personalities that include 12 farmers, 14 doctors and nine sportspersons, officials said.
The awardees are from across the nation, all segments of society and the government has gone beyond excellence alone, recognising the larger impact and their selfless services.
The list of four Padma Vibhushan, 14 Padma Bhushan and 94 Padma Shri awardees was prepared from a record 50,000 nominations, which was a 20 times increase since 2014 when the government had received just 2,200 nominations, a Home Ministry official said.
Farmers


 
As many as 12 farmers were selected from nine states for the Padma awards, including Kanwal Singh Chauhan for babycorn and mushroom, Vallabhbhai Vasrambhai Marvaniya for carrot and Jagdish Prasad Parikh for cauliflower.
 
Progressive farmers who have been adopting technology and scientific methods in cultivation are Bharat Bhushan Tyagi, Ram Sharan Verma, Venkateswara Rao Yadlapalli.
 
Traditional farmers who excelled by conserving old, traditional seeds and promoting organic farming are Kamala Pujhari, Rajkumari Devi, Babulal Dahiya and Hukumchand Patidar.
 
In the animal husbandry sector, the awardees are Sultan Singh for fisheries and Narendra Singh for dairy-breeding.
 
Doctors


 
The 14 doctors to be honoured were from 11 states, serving the poor and fighting diseases affecting the common man.
 
They are — Omesh Kumar Bharti (rabies), Sudam Kate (sickle cell), Ramaswami Venkataswami (reconstruction surgery of burns), Pratap Singh Hardia (cataract and myopia).
 
Serving the poor with quality healthcare at minimal, and often zero cost are doctors Shyama Prasad Mukherjee (Jharkhand), Smita and Ravindra Kolhe (Melghat, Maharashtra), R V Ramani (Tamil Nadu).
 
Serving in the remotest areas of India are doctors Tsering Norboo (Ladakh), Illias Ali (Assam), Ashok Laxmanrao Kukade (Latur, Maharashtra).
 
Best doctors from India's premier medical institutions who will be honoured with the Padma awards are: Jagat Ram (Director of PGIMER, Chandigarh), Shadab Mohammad (King George Medical University, Lucknow), Sandeep Guleria (Indraprastha Apollo hospital and AIIMS, Delhi), Mammen Chandy (Director at Tata Medical Centre, Kolkata).
 
Sportspersons


 
Nine leading sportspersons from nine disciplines are Bombayla Devi Laishram (archery), Prashanti Singh (basketball), Harika Dronavalli (chess), Gautam Gambhir (cricket), Sunil Chhetri (football), Ajay Thakur (kabaddi), Bachendri Pal (mountaineering), Sharath Kamal (table tennis) and Bajrang Punia (wrestling).
 
Others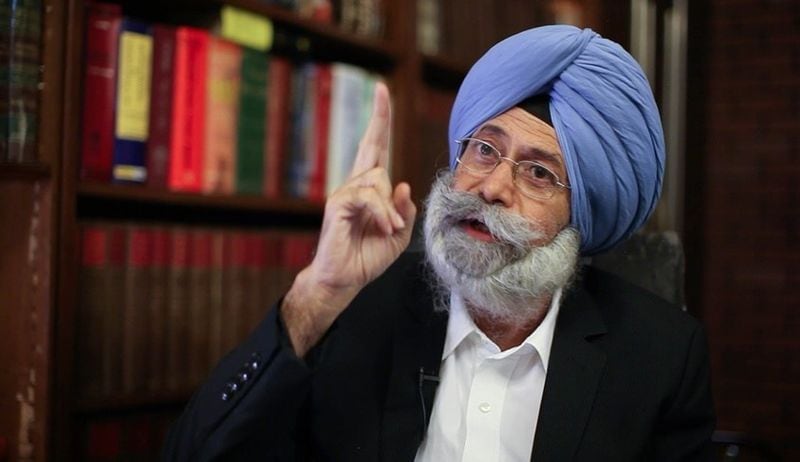 This year's Padma awardees also include socialist leader Hukumdev Narayan Yadav, tribal leader Kariya Munda, Sikh leader Sukhdev Singh Dhindsa, grassroots Mahadalit woman leader Bhagirathi Devi and Sikh lawyer fighting for justice for 1984 riot victims Harvinder Singh Phoolka.
 
India's friends abroad who are going to be honoured are President of Djibouti Ismail Omar Guelleh, who had played an instrumental role in enabling the rescue of thousands of Indian citizens from war-torn Yemen and anti-apartheid leader and current minister of South Africa Pravin Gordhan.
 
Archaeology and architecture – ranging from veterans like KK Muhammed and Dilip Chakravarty, to the cutting-edge of Sharada Srinivasan and Bimal Patel.
 
Scientists – across disciplines, ranging from Nuclear Physics (Rohini Godbole) to Space Science (S Nambi Narayanan), Quantum Cryptography (Subhash Kak), Agricultural Science (Baldev Singh Dhillon) to Grassroots Innovation (Uddhab Kumar Bharali).
 
Civil service – from former CAG, VK Shunglu to foreign secretary S Jaishanker. 
 
Industry leaders — from India's masala king Mahashay Dharam Pal Gulati to infrastructure Czar Anil Manibhai Naik. World leaders in hardware (John Chambers, CISCO) to software (Shantanu Narayen, Adobe) were also awarded.
 
Yoga – centenarian global yoga guru Tao Porchon-Lynch.
 
Spiritual leaders – Swami Vishudhananda and Bangaru Adigalar.
 
Gau Seva – true symbols of empathy and love, from German citizen Friederike Irina to Marathwada's Shabbir Sayyad and Mathura's Ramesh Babaji Maharaj
 
Social workers


 
Education – people dedicating their lives to educating children of the Mahadalit Musahar community of eastern India (Jyoti Kumar Sinha), rural poor across northern India (Darshan Lal Jain), and remote tribal communities of central India (Mahesh Sharma).
 
Environment – from a 106-year-old who spent her entire life planting trees in Karnataka (Saalumarada Thimmakka), to a younger 38-year-old standing up against the Timber Mafia in Jharkhand (Jamunu Tudu), to a preserver of ancient Indian Tribal heritage in Jharkhand (Bulu Imam).
 
Divyang — two women powerhouses working for the welfare of the disabled, Muktaben Pankajkumar Dagli of Gujarat, and Draupadi Ghimiray of Sikkim.
 
Conviction and service – from a poor farmer single-handedly carving out a 3-km-long canal with a hose and a crowbar to bring water to his village (Daitari Naik), to a poor tea-seller building a school for slum children from his life's earnings (Deverapalli Prakash Rao).
 
Literature


 
Writers across languages – Dogri (Narsingh Dev Jamwal), Bundeli (Kailash Madbaiya), Sanskrit (Mohammad Hanif Khan Shastri, Brijesh Kumar Shukla), English (Gita Mehta)
 
Veteran Journalists from across the spectrum - Kuldip Nayar (95), Nagindas Sanghavi (99), Devendra Swarup (93).
 
Educationist - Ganpatbhai Patel
 
Art


​​​​​​​
Cinema stars – from the veteran Kader Khan, to the critically acclaimed Manoj Bajpayee and Malayali superstar Mohanlal.
 
Theatre legends – from Marathi theatre (Balasaheb Purandare), to Parsi theatre (Dinyar Contractor), and Dalit theatre (Waman Kendre).
 
Dancers – from film legend Prabhu Deva, to French Indian classical danseuse Milena Salvini, to India's most celebrated transgender Bharatnatyam dancer Nartaki Natraj, and Bhavai folk dancer Joravarsinh Jadav.
 
Musicians – from Classical (Rajeev Tharanath (Sarod), Budhaditya Mukherjee (Sitar & Surbahar), Swapan Chaudhuri (Tabla)) to Folk (Thanga Darlong (Rosem Flute), Anup Ranjan Pandey (Chhattisgarhi Tribal instruments), to Contemporary (Sivamani).
 
Painters and craftsmen – from Madhubani (Godawari Dutta), to Rogan (Abdul Gafur Khatri), to Kashmiri Papier Mache (Fayaz Ahmad Jan).
 
Photographers – from Jyoti Bhatt documenting Gujarat's Tribal art, to Anup Sah capturing the beauty of Uttarakhand's mountains.
 
Singers – from folk (Bhojpuri (Hiralal Yadav), Pandvani (Teejan Bai), Jagar (Pritam Bhartwan)), to devotional (Ayyappa Ganajyothi K G Jayan), to classical (Rajeshwar Acharya (Hindustani)) and films (Shankar Mahadevan, Sirivennela Seetharama Sastry).
 
Another official said the Narendra Modi government had transformed the Padma awards' tag of "government awards" to "people's awards".
All of the awardees were evaluated on merit through a robust and rigorous ecosystem from nomination to selection, the official said.
Each nominee is profile-based on a scientific evaluation framework and each profile goes through rounds of quality check, scrutiny and expert consultation.
"This is reflected in the awardees selected. An inspiration to all - the stories of their struggles, dedication, perseverance, selflessness and service script the story of New India," the official said.
With PTI inputs
Read Exclusive COVID-19 Coronavirus News updates, at MyNation.
Last Updated Jan 26, 2019, 5:51 PM IST