No action is expected against Navjot Singh Sidhu either, who sat with the President of Pakistan-occupied Kashmir and hugged Pakistan Army Chief; the BJP said suspending Mani Shankar Aiyar's was a face-saving exercise 'to contain electoral damage'
The Congress has done it again. Its favourite controversy's child Mani Shankar Aiyar, who was suspended from the party during Gujarat election, is back in the fold. An official release of the party today, signed by general secretary Ashok Gehlot, says none less than the Congress President Rahul Gandhi has revoked his suspension.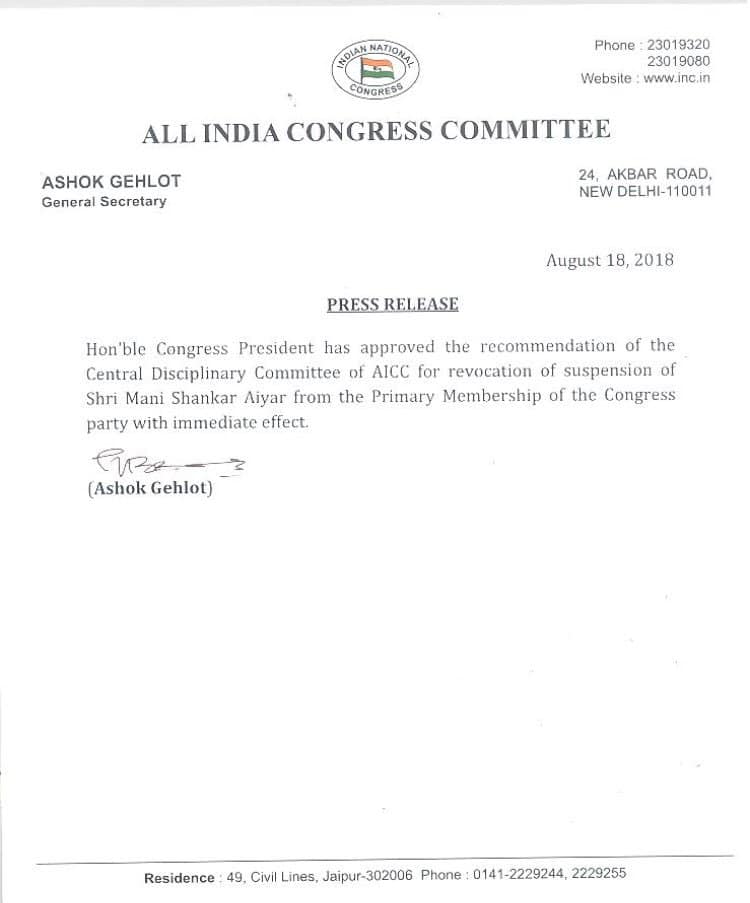 During the Gujarat election, Aiyar had said about PM Narendra Modi, "He (Modi) is neech kism ka aadmi who has no sabhyata (He is a low-class man with no sense of civility). This sparked a huge uproar during the high-decibel election where a lot was at stake for both the BJP and the Congress.
The BJP rebranded the remark as Aiyar's disdain for Modi's humble background and backward caste. Modi famously said at an election rally, "Mani Shankar Aiyar has called me neech and from nichli jaati. Is this not an insult to Gujarat? Is it not an insult to India's great values? But the people of Gujarat will take revenge on December 18."
Seeing the discourse of the election change, a panicked Congress suspended Aiyar from the party in a face-saving exercise. But seven months later, the very Congress finds no fault with him. Its communiqué reads, "Congress President has approved the recommendation of the Central Disciplinary Committee of AICC for revocation of suspension of Shri Mani Shankar Aiyar from the Primary Membership of the Congress party with immediate effect."
BJP was quick to attack the Congress, calling it a "tactical move to contain electoral damage". BJP IT cell head Amit Malviya alleged, "It is not lost on anyone that Congress leaders say obnoxious things about the Prime Minister at the behest of the Gandhis".
Interestingly, this green signal to reinstate Aiyar comes close on the heels of one of its leaders and Punjab Minister Navjot Singh Sidhu's visit to Pakistan where the cricketer-turned-politician hugged Pakistan Army Chief  Qamar Javed Bajwa. Sidhu added insult to injury by sitting next to the supposed President of Pakistan occupied Kashmir (PoK), thus giving legitimacy to Pakistan's claim on a territory that is an integral part of India. 
For now, both Aiyar and Sidhu are part of the Congress family. In spite of their casteist remarks and acts that are clearly against the interest of India.