Diaries, laptops and incriminating journals have been seized as evidence in the raids conducted at the known locations of Maoist ideologues and sympathisers like Varavara Rao, Rona Wilson, Gautam Navlakha, Sudha Bhardwaj, Vernon Gonsalves, Arun Ferreira, Susan Abrahams and others.
New Delhi: Right after Pune police intercepted an internal Maoist communiqué that talked about assassinating Prime Minister Narendra Modi, Pune Police went on a nationwide crackdown on who they believe work as a front for the ultras. Some of the prominent but usual names — Varavara Rao, Gautam Navlakha, Arun Ferreira, Sudha Bharadwaj, etc — were under the scanner for some time. Pune Police have raided their houses in this unprecedented crackdown on what has come to be known as Urban Naxals.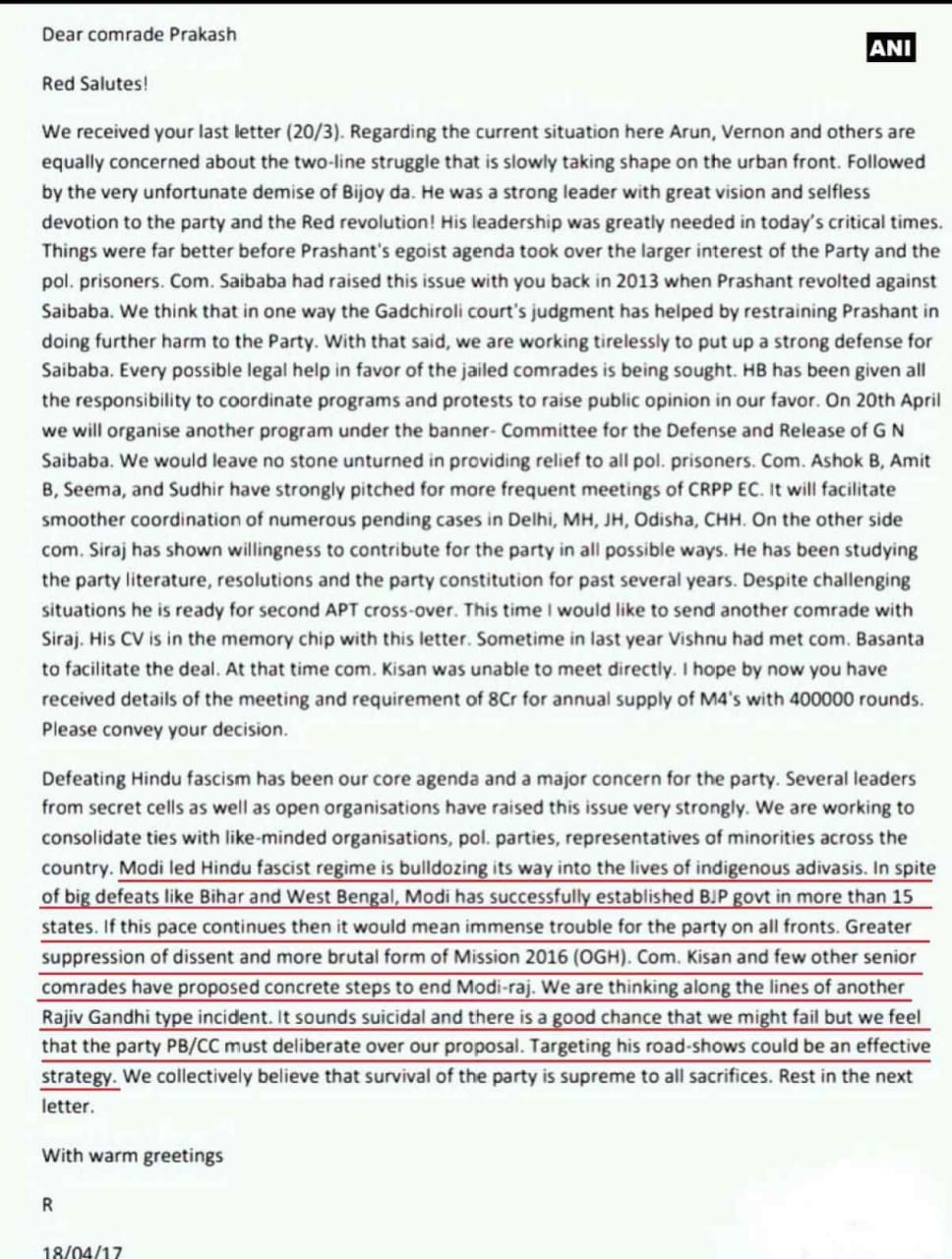 The police raided the residence of Arun Ferreira, Susan Abraham and Vernon Gonsalves in Mumbai simultaneously. Not just that, Navlakha's residence in Greater Kailash IV in south Delhi was raided at 6 AM this morning.
Sources told MyNation that the servant at Navlakha's residence was then taken to another location of the Maoist sympathiser at Nehru Enclave. The search operation at Navlakha's first house continued from 6 AM to 10 AM. Then the raid in his second house began in the presence of his servant who was later interrogated.
Navlakha has been visiting Jawaharlal Nehru University (JNU) in Delhi and Kolkata's Jadavpur University, both left bastions, for years now.
Bharadwaj, a trade unionist and lawyer by profession who has been active in Chhattisgarh, has been on the radar of Pune Police since the incident of violence in Bhima-Koregaon near Pune on December 31 last year. Today she was taken to the Surajkund Police Station in Haryana.
"
Earlier, Rona Wilson was arrested from Delhi's Munirka after raids in June.
But it was Varavara Rao who has been the focus of police attention. His as well as his daughter Anala and journalist Kurmanath's houses were raided. The journalist concerned is believed to be very close to Rao.
Rao was interrogated for hours before he was arrested in Hyderabad. He was taken to the Gandhi Hospital in Secunderabad for a medical check-up before being presented before a magistrate. The police will seek a transit remand for Rao, whom cops attach great importance to.
The alleged Maoist internal communication that talked of an attack on Prime Minister Modi on the lines of the assassination of Rajiv Gandhi mentions Rao stating he 'guided' attacks in the past.
But in a shocking move, the Telangana Praja Front wrote to Telangana Home Minister Naini Narasimha Reddy, asking him to restrain Pune Police from conducting raids at the houses of Rao and his associates. Rao has been an active member of the front.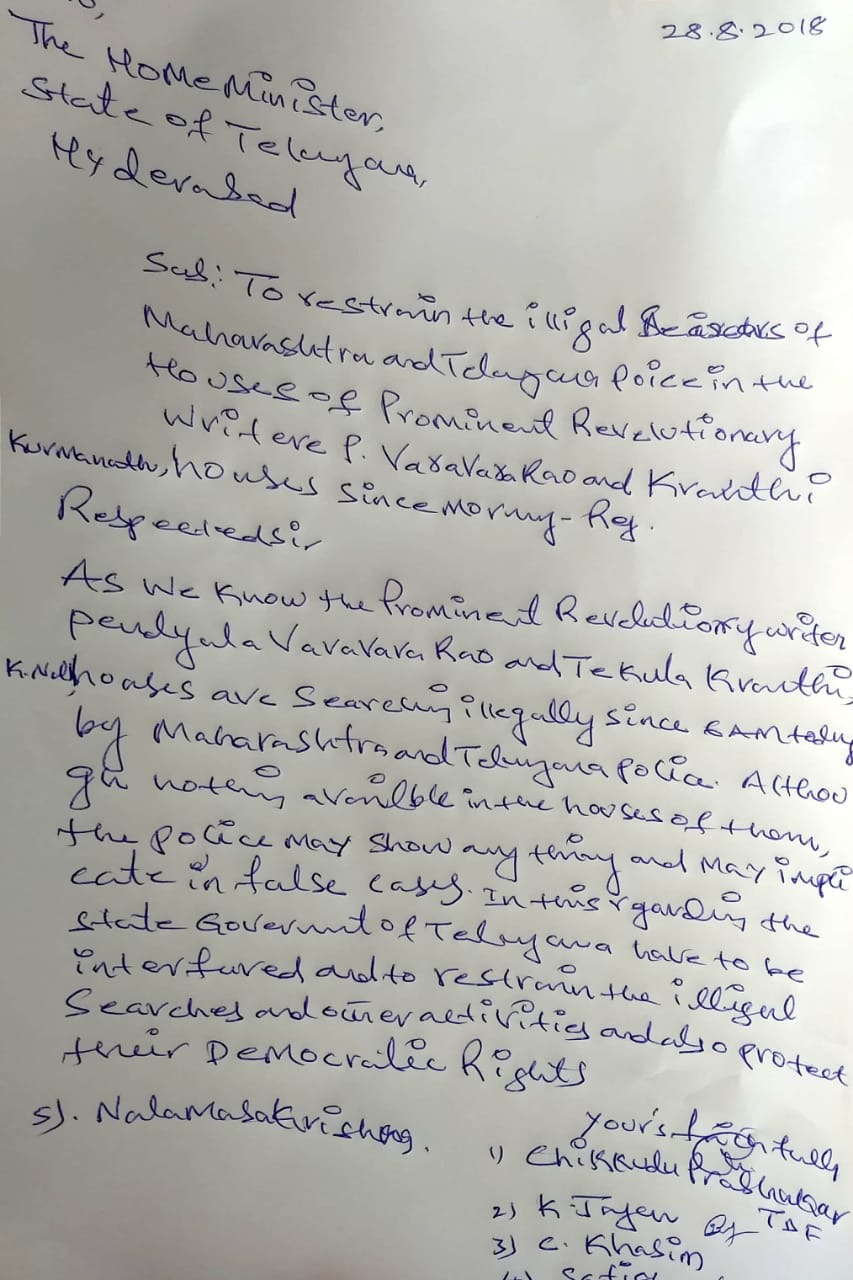 A source in Pune Police told MyNation, "We got crucial leads in our investigation. We acted on them and conducted raids since early morning today. We are still in the process of collecting more evidence."
MyNation has reliably learnt that diaries, laptops and some journals have been seized as evidence in the raids conducted at the known locations of Maoist ideologues and sympathisers across the country.