On Friday, the descendants of the tortured, maimed, brutalised, raped, murdered Hindus of Kashmir silently protested outside the governor's residence in Jammu, wearing black ribbons. In Delhi, the community organised silent protests.
Jammu/Delhi: Twenty-nine years ago on this day, it was a dark night on the streets of Kashmir. Lawyer Tikka Lal Taploo was inside a cosy corner of his house at Habba Kadal in Srinagar, secured from the cold outside. What followed made the night darker and colder. Jammu Kashmir Liberation Front (JKLF) terrorists armed with automatic weapons gunned down the political activist inside his residence.
A shocked community that was still coming to terms with the loss attended Taploo's funeral, which was attacked too — with stones — by the same militants helped by civilians of the majority community of Kashmir. This was what would trigger the exodus of Kashmiri Pandits from the Valley, chased out by a militant Islamic collective.
Taploo was a well-known social activist and a lawyer in his constituency and had developed a personal rapport among all the sections of voters in Habakadal area, which was strong vote base of Kashmir Pandits in Srinagar. "The martyr prefers to die, but they did not give up their religion. Today we are here to salute all those martyrs who had given his or her live for this country," Roots in Kashmir leader Amit Raina told MyNation.
On September 14, the community across India is commemorating the 29th anniversary of the dark chapter from their history. All exiled Kashmiri Pandits across the globe mark this day as Martyrs' Day.
What followed Taploo's assassination was a spate of killings, attacks on properties and even rape as a tool of intimidation. Just days after Taploo's murder, on November 4, Justice Neel Kanth Ganjoo was killed in the most brutal way. He was gunned down by three terrorists at the heart of Srinagar. The upright Ganjoo was the same person who had given death sentence to Maqbool Butt, the man who laid the foundation of this terror organisation.
No prize for guessing what group or ideology killed Justice Ganjoo! But it would be wrong to say he paid with his life for a verdict he had delivered in 1968. Kashmir by then was drenched in hatred, mosque loudspeakers used to spit venom against pandits than for azan. Hundreds and thousands eventually were forced into exile on the night of January 19, 1989.
By then, at least 1,500 Kashmiri Pandits had been killed and 5,000 security personnel martyred. Roots in Kashmir, an association of Pandits, claims at least 50,000 Pandits lost their lives due to "heat, starvation and snake bites".
Col Tej Kumar Tikko's book Kashmir: Its aborigines and Exodus captured the essence of the Martyrs' Day in a way, "Broadcasting vicious jihadi sermons and revolutionary songs, interspersed with blood curdling shouts and shrieks, threatening Kashmiri Pandits with dire consequences, became a routine activity of the Muslims of the Valley — to force the Hindus to flee Kashmir."
The exiled community under the banner of Global Kashmiri Pandit Diaspora (GKPD) observed this day in 23 countries and all major cities of India including Lucknow, Pune, Hyderabad, Jammu, Mumbai, Chandigarh, Bangalore and Jaipur.
The GKPD organised a programme in Delhi and paid tributes to martyrs who sacrificed their lives for the cause of the country since militancy started in the State particularly in Kashmir.
Hundreds of Kashmiri Pandits came together at Shaheed BK Ganjoo Park at Kalibari Marg and offered floral tributes to the brave souls. Bhajans were recited and tributes were paid to the martyrs. 
Speaking at the occasion, Army veteran and Kirti Chakra awardee Maj Gen (Retd) SK Razdan, who was also India's first paraplegic major general, said "Every region, every State in this country has sent their sons and daughters to fight the evil of terrorism in Kashmir." He added he was proud to belong to a community that chose to stand by the ideals of this nation without caring for their own safety and security.
Dr Surinder Kaul, a displaced Kashmiri Pandit now residing in the US, said, "The Kashmiri Pandit Diaspora across the globe has decided to observe this day every year, in the countries Kashmiri Pandits reside."
Rich tributes were paid to martyrs, especially two veteran pandit leaders: Taploo and Prem Nath Bhat.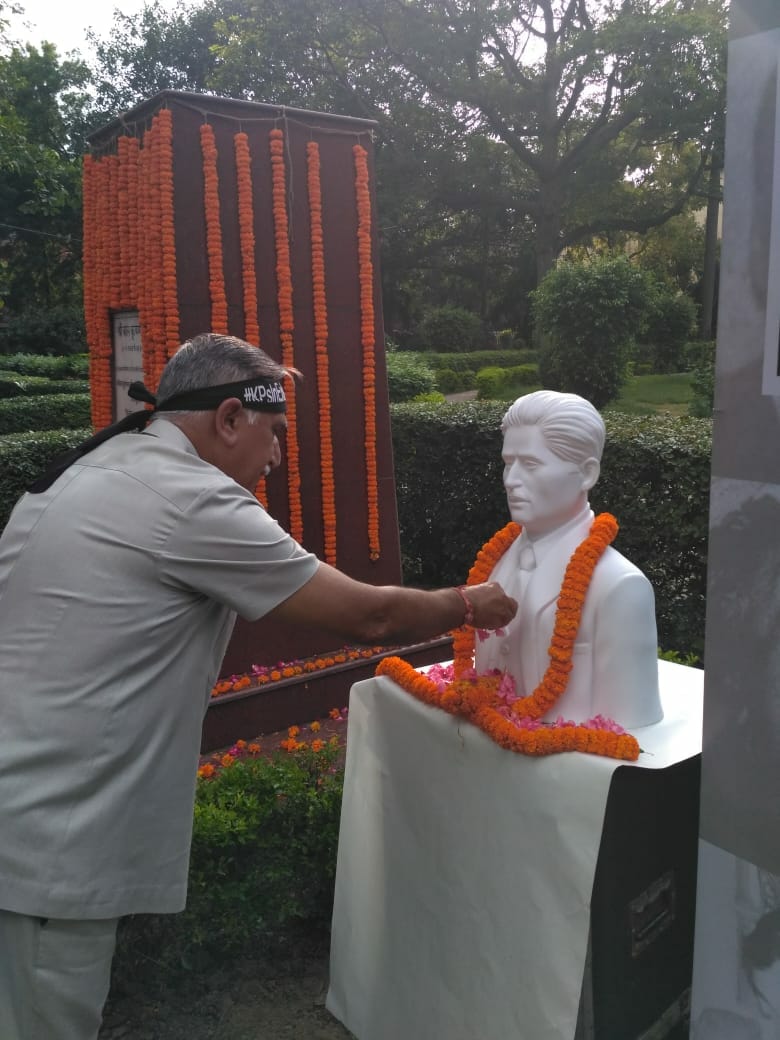 "It is for the first time that we Kashmiro Pandits have observed Balidan Divas (Martyrs' Day). We have been doing it since 1947 when kabailis (Pakistan tribesmen) from Pakistan entered Kashmir and killed many people. We have requested the Government of India on several occasions to investigate the brutal killing, but till date nothing has happened," Ravi Regu, Chairman Return and Rehabilitation Front, told MyMation.
On Friday, Pandits silently protested outside the Governor's residence in Jammu, wearing black ribbons. In Delhi too, silent protests were observed. Away from the spotlight, away from political priorities, the Kashmiri Pandits live to tell a tale, but the authority does not seem to lend an ear to their narration of their saga.
With inputs from Anindya Banerjee
Read Exclusive COVID-19 Coronavirus News updates, at MyNation.
Last Updated Sep 19, 2018, 9:25 AM IST