A key suspect in the racket was picked up by a joint team of Punjab and Jharkhand police. The NCPCR moved on the complaint and asked the Ludhiana administration for the so-called 'black book'
New Delhi: Chasing the trail of 34 missing tribal children from Jharkhand's Chaibasa, the police have stumbled upon a massive conversion and exploitation racket spanning right up to urban Punjab.
To find the missing kids, when a Jharkhand cops arrived at Ludhiana's Parikam Mary Cross Child Home, where the children were supposedly lodged, they discovered a 'black book' of a big conversion racket, said police sources. This diary or ledger contains names and addresses of more than 1,000 tribal kids who had earlier been converted and dispersed all across India, according to the cops.
The Jharkhand police exclusively told MyNation that the racket had been running since 2006.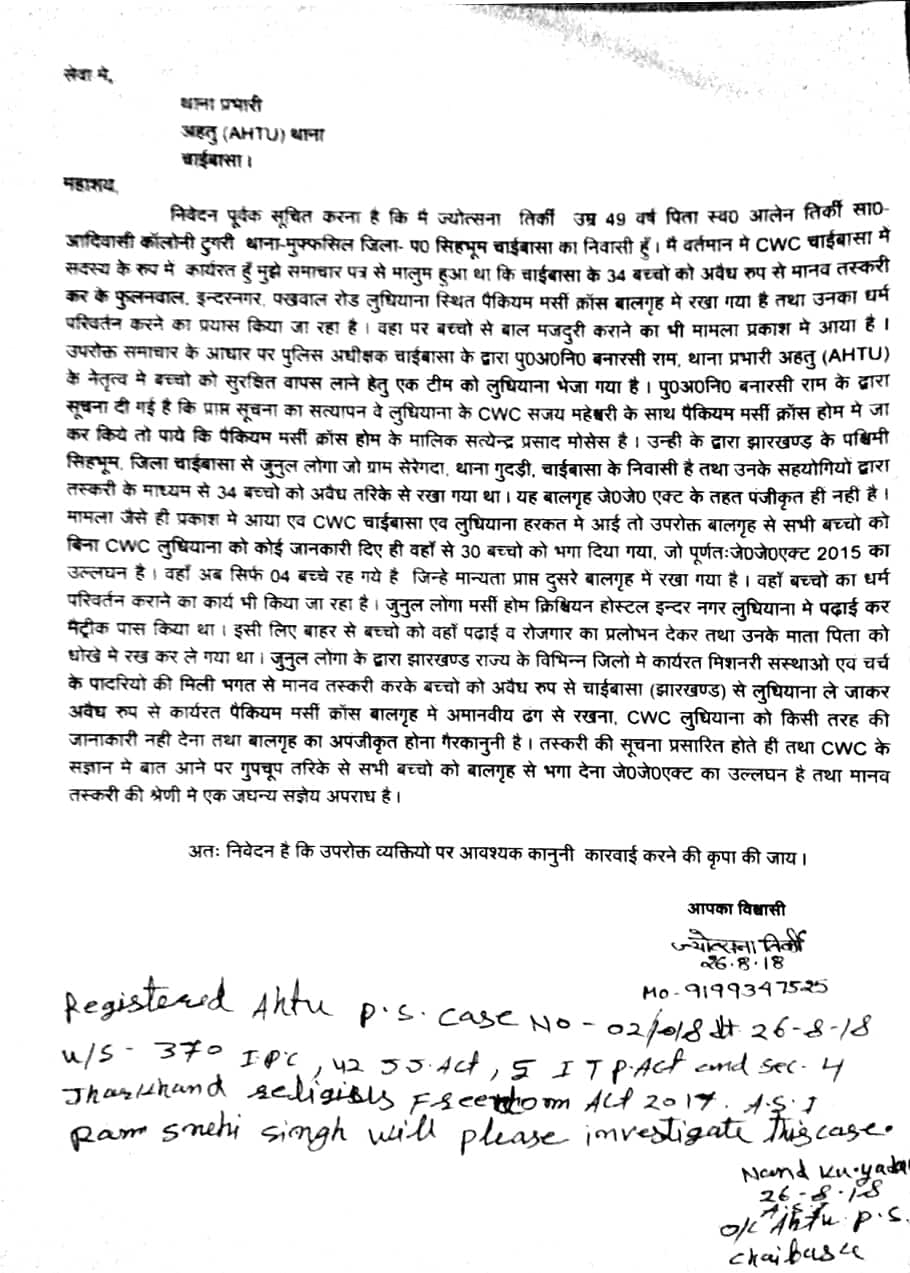 "We received an intelligence report that children had been illegally trafficked from Jharkhand to Ludhiana in the name of imparting education by one Satyendra Moses who runs Parikam Mary Cross Child Home and they are converting these children to Christianity. A team was sent to investigate. The child home authorities said the 34 children had been sent back to their parents. The team is on its way back with the addresses of the concerned kids. We shall crosscheck if they have been indeed returned," said Jharkhand police inspector general (IG) RK Mallik.
He said, "At the child home, the police team came across records from 2006 which showed 300-400 kids had been sent to Ludhiana from Jharkhand apparently for studies. We will have to crosscheck all those names now."
Moses was picked up on Tuesday evening by a joint team of Punjab and Jharkhand police, said a family member when MyNation called on his cell phone. 
Vinay Joshi, chief of human rights organisation Legal Rights Observatory (LRO), claimed that the number of missing was way more than being conceded by the police. "The Punjab police recovered a diary containing names of 1,000 more kids and their addresses from that child home, but local authorities are trying to cover it up." IG Mallick also told MyNation that local administration had not been very helpful in their investigation.
LRO, which is working against such conversions under force or inducement, complained to National Commission for Protection of Child Rights (NCPCR). The child rights body has now taken up the matter seriously and member Priyanka Kanungo has instructed the Ludhiana administration to part with a copy of the sinister diary.
"After receiving the complaint, we talked to the additional district magistrate of Ludhiana and asked her to ensure that the diary is kept safe. We are now writing to the Ludhiana administration demanding a copy of the diary for further investigation," Kanungo told MyNation.
The Jharkhand police team was dispatched to Punjab after an FIR had been lodged by Chaibasa's Child Welfare Committee (CWC) member Jyotsana Tikri regarding the 34 missing kids at the local Anti-Human Trafficking Thana (AHTU) on August 26.
"Thirty-four kids were abducted and illegally trafficked to the Parikam Mary Cross Child Home located in Phullanwala, Indra Nagar, Pakhueal Road, Ludhiana. They are being converted. The matter of pushing the kids into child-labour also has come to light. The police superintendent of Chaibasa has sent a team under AHTU SHO Banarasi Ram to Ludhiana," Tikri wrote in the FIR.
MyNation has also accessed a letter written by superintendent of police, West Singhbhum district (under which Chaibasa falls), to the police commissioner of Ludhiana requesting cooperation in the matter. The letter reveals that the information regarding Moses' illegal human trafficking operations originated from additional director general of police (ADG) of Special Branch, Jharkhand.
The SP quoted the ADG's report and said that Moses had "illegally trafficked children from various villages of this district and detained them in the child home illegally". Tikri's FIR said that Moses was being helped by one Junul Logo, a converted tribal from Chaibasa, who had run operations to capture and transport the children.
"This child home is not registered under the Juvenile Justice (Care and Protection of Children) Act, 2015, which is illegal. The moment the matter came to light, CWCs of Ludhiana and Chaibasa swung into action. But without informing CWC Ludhiana, the home shifted 30 out of 34 kids lodged there. This is a gross violation of the JJ Act-2015," Tikri wrote in the FIR.
According to the FIR, conversion of the kids was underway at the home. "Loga had passed matric after studying at Mercy Home Christian Hostel in Indra Nagar, Ludhiana. Being a local, the parents trusted him and handed over their children," Tikri's FIR added.