Know the Sections of IPC that apply for the provocative acts that former JNU student activist Shehla Rashid committed on the basis of fake news, and how much time she could end up spending in jail
Former Jawaharlal Nehru University (JNU) student Shehla Rashid, who was recently slapped with a case for peddling fake news and spreading fear among the minorities, has been charged with three stringent IPC Sections.
According to the FIR accessed by MyNation, Rashid has been charged with IPC Section 505(2), 504 and 153-B. The maximum punishment under these Sections is three years with fine.
Offence of Shehla Rashid

Filed by a local businessman Devraj, the written complaint to local police follows Rashid's tweet that, put in legalese, induced people to commit an offence against the state and intentionally heaped insult with the intent to provoke breach of the peace.
Rashid will be called to join the investigation. The local police authorities will ask her to provide the source of the 'information' she shared on Twitter.
"I am a local businessman; I deal with plants etc. I saw her tweet and filed a complaint with the local police. I am not associated with any political party," the complainant who filed the case against Shehla said.
"I took screenshots of her tweet, which had no facts, where she tried to dent the image of Dehradun, Uttarakhand," the complainant said in his complaint.
On Saturday evening, a mischievous message was circulated by Rashid on social media that said that about 15-20 Kashmiri girls were "trapped" in a hostel at the Dolphin College in Dehradun with a mob waiting outside. The message was widely shared, but the Uttarakhand Police were quick to clear the air.
In her tweet, Rashid alleged, "15-20 Kashmiri girls trapped in a hostel in Dehradun for hours now, as an angry mob outside demands that they be expelled from the hostels. This is in Dolphin institute. Police is (sic) present but unable to disperse the mob."
Twitter erupted in horror and many of her followers started tagging departments of the law-enforcing machinery, presuming the information to be true, given the specifics that were given. But Uttarakhand Police found the claim to be false and tweeted a detailed statement with the words "Don't Spread Rumours".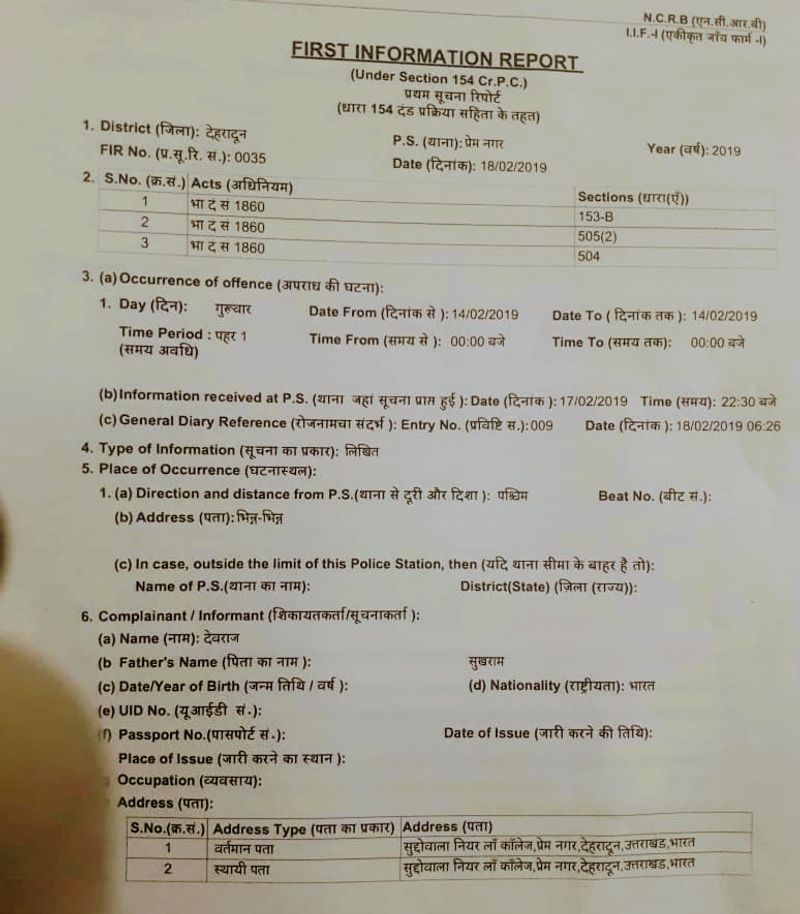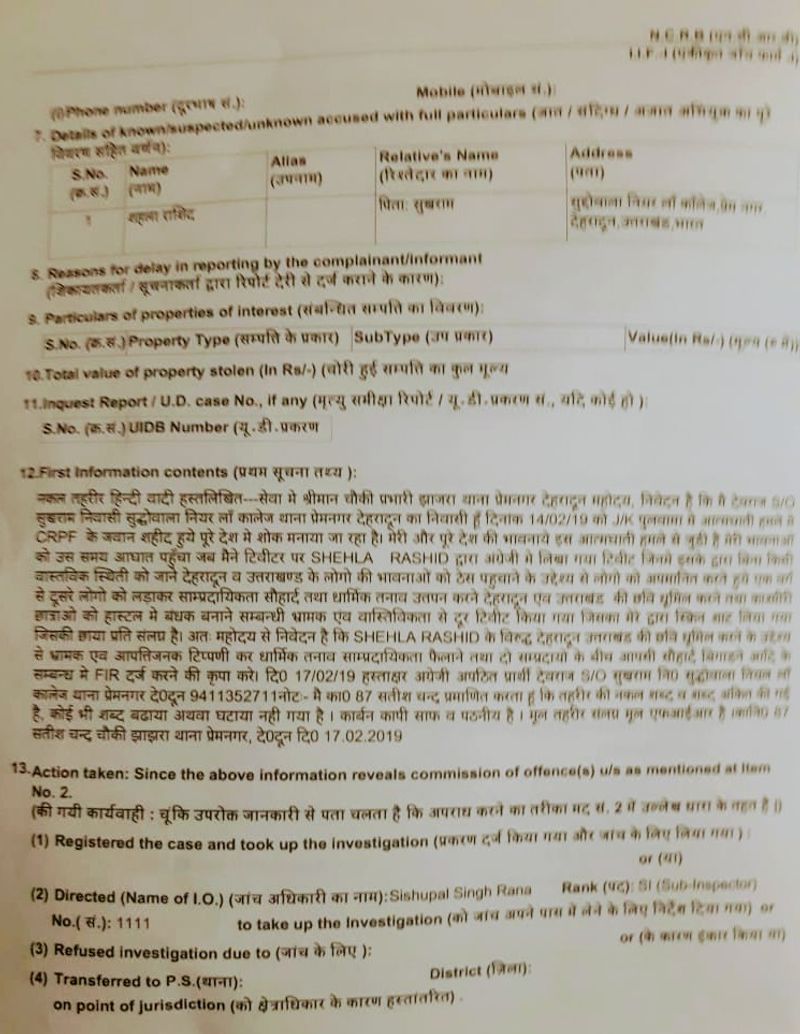 What the IPC Sections say

IPC 153 (B)
Whoever, by words either spoken or written or by signs or by visible representations or otherwise asserts, counsels, advises, propagates or publishes that any class of persons shall, by reason of their being members of any religious, racial, language or regional group or caste or community, be denied or deprived of their rights as citizens of India.
IPC 504
Intentional insult with intent to provoke breach of the peace. — Whoever intentionally insults, and thereby gives provoca­tion to any person, intending or knowing it to be likely that such provocation will cause him to break the public peace, or to commit any other offence, shall be punished with imprisonment of either description for a term which may extend to two years, or with fine, or with both.
IPC 505
Statements creating or promoting enmity, hatred or ill will between classes: Whoever makes, publishes or circulates any statement or report containing rumour or alarming news with intent to create or promote, or which is likely to create or promote, on grounds of religion, race, place of birth, residence, language, caste or community or any other ground whatsoever, feelings of enmity, hatred or ill-will between different religious, racial, language or regional groups or castes or communities, shall be punished with imprisonment which may extend to three years, or with fine, or with both.