Prime Minister Narendra Modi deems infrastructure a key priority sector and his government has spent over Rs 3 trillion on national highways alone. On Good Governance Day, let's have a look at some key projects that are a major boost to the nation's connectivity
New Delhi: India has come a long way in the past 10 years when it comes to infrastructure and construction activity. Apart from providing employment to millions, it also accounts for 10% of the nation's GDP.
Prime Minister Narendra Modi deems infrastructure a key priority sector and his government has spent over Rs 3 trillion on national highways alone.
PM Modi has said that infrastructure was a priority because it did not discriminate against people on the basis of class, caste or gender, and strengthens his commitment to Sabka Saath, Sabka Vikaas.
Also read: Prime Minister Modi's undeniable feat across sectors: He 'connects'
"Highway construction has reached 27 km per day as against the 12 km per day recorded during the Congress regime," he had said during a rally in Uttar Pradesh.
Here's a look at the top connectivity projects in India
Bogibeel Bridge
Connects: Assam and Arunachal Pradesh
Inaugurated: In 2002 by former Prime Minister, Atal Bihari Vajpayee
Envisaged by: Former Prime Minister H.D.Deva Gowda in January 1997
Opening:  December 25, 2018
This is India's longest and Asia's second longest rail-cum-road bridge. The 4.94 km long bridge, which has been a dream for people of Assam and Arunachal Pradesh for the past 21 years is situated over the mighty Brahmaputra river, 17 km downstream of upper Assam's Dibrugarh city.
The Bogibeel bridge will be the lifeline of the northeastern part of India as it is expected to facilitate connectivity between the north and south banks of the Brahmaputra river in the states of Assam and Arunachal Pradesh.
Also read: Bogibeel bridge inaugurated by PM Modi: All you need to know about the engineering marvel
The bridge is expected to reduce the travel time for people traveling between Assam and Arunachal Pradesh and provide better rail-road connectivity to the lesser developed areas of both the states. It will also reduce Delhi to Dibrugarh train-travel time by at least three hours.
The Bogibeel bridge is also expected to enhance the security of the northeastern region by making traveling easier for the armed forces. This bridge will help in providing logistical support to the Indian Army deployed at the India-China border at Arunachal Pradesh.
Agra-Lucknow Expressway

Image courtesy: FE
Connects: Agra and Lucknow
Envisaged and Inaugurated: By then chief minister Akhilesh Yadav on November 2016
Opening: November 21, 2016
It is the longest expressway in India.
This 302 km tolled controlled-access highway or expressway constructed by the Uttar Pradesh Expressways Industrial Development Authority aims to reduce traffic in already congested roads and to reduce pollution and carbon footprint. 
The expressway reduces the distance between the Agra and Lucknow in Uttar Pradesh.
This expressway also aims to relieve NH-91 which is already congested and runs through the heart of cities like Aligarh, Etah and Unnao.
Delhi-Meerut Expressway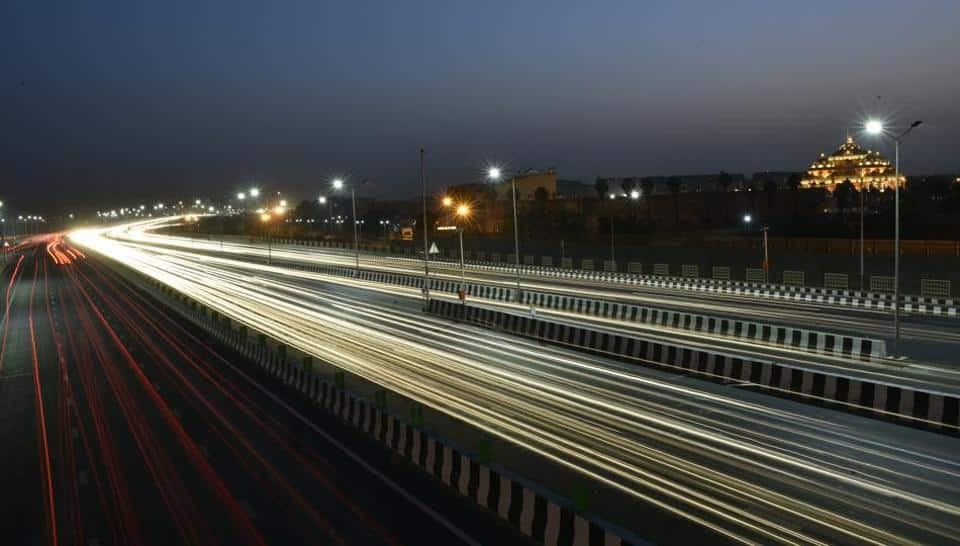 Connects: Delhi and Meerut
Envisaged by: Then Finance Minister P Chidambaram in 2006 budget speech
Inaugurated: First phase by PM Modi 
Opening: May 27
This is India's widest 96-km long controlled-access expressway, connecting Delhi with Meerut via Dasna in Ghaziabad in India.
The 8 lanes old stretch of National Highway 24 (NH-24) up to Uttar Pradesh Gate is widened to 14 lanes (widest expressway in India), the road between UP Gate and Dasna will also be fourteen-laned. 
The next phase of the expressway will be built on a new alignment from Dasna to Meerut - a six-lane stretch joining Meerut bypass. 
The 28 km stretch between Nizamuddin bridge and Dasna is one of the most congested areas in the NCR.
Western Peripheral Expressway
Connects: Kundli to Palwal
Envisaged and Inaugurated by: The 53-km Manesar to Palwal section was unveiled by Nitin Gadkari in April 2016
The 83-km-long Kundli to Manesar section of KMP expressway was inaugurated by Prime Minister Narendra Modi on November 19, 2018
Opening: November 2018
Also known as the Kundli-Manesar-Palwal (KMP) Expressway, this much-awaited expressway provides easy access to heavy vehicles to various industrial towns like Maneser, Sohna, Dharuhera, Bawal and Bhiwadi in Haryana without entering Delhi.
Also read: PM Modi to inaugurate Western Peripheral Expressway: All you need to know
It took 15 years to complete this project. One ambulance, one crane and one police patrol vehicle with a helpline number have been stationed in every 20 km for speedy response in case of accidents or emergencies. 
Bandra-Worli Sea Link
Connects: Bandra to Worli
Envisaged by: Foundation stone laid in 1999 by Bal Thackeray
Inaugurated: UPA chairperson Sonia Gandhi
Opening: June 30, 2009
The Bandra–Worli Sea Link is a cable-stayed bridge with pre-stressed concrete-steel viaducts on either side that links Bandra in the Western Suburbs of Mumbai with Worli in South Mumbai. 
It is a part of the proposed Western Freeway that will link the Western Suburbs to Nariman Point in Mumbai's main business district.
The sea-link reduces travel time between Bandra and Worli during peak hours from 20-30 minutes to 10 minutes.
 
Coming soon
Jammu-Baramulla rail link project
This railway track is being laid to connect Kashmir with Jammu railway station and thence to the rest of the country.
The 345 km railway track begins at Jammu and ends at Baramulla. 
The project has had a long and chequered history, and serious progress was made only after it was declared a national project in 2002. Although its scheduled completion date was 15 August 2007, unforeseen complications have pushed back the date several times. The sections from Jammu to Katra and Banihal to Baramulla have been built and are operational. The track from Katra to Banihal is to be completed by 2020.
Purvanchal Expressway project
The Purvanchal Expressway Scheme is all set to be implemented as the Uttar Pradesh government has approved the proposal regarding the project by various builders. The longest expressway in India will be constructed through Engineering, Procurement and Construction (EPC) model.
Also read: UP government clears Purvanchal Expressway project, to be ready by 2021
It is also called the Lucknow-Azamgarh-Ballia Expressway and is proposed to be an eight-lane, 343 km long. The expressway will connect Lucknow to Ballia and will pass through Barabanki, Sultanpur, Faizabad, Ambedkar Nagar, Azamgarh, Mau and Ghazipur districts and will terminate at Haidaria in Ghazipur.
Last Updated Dec 25, 2018, 3:26 PM IST