These emails, in exclusive possession of MyNation, betray links between Sanjay Bhandari and Robert Vadra, which the latter has so far denied before the investigators. These emails lend credence to the Enforcement Directorate's allegation that Vadra, and not Bhandari, was the actual owner of the property.
New Delhi: While the Enforcement Directorate (ED) grilled Congress president Rahul Gandhi's brother-in-law and Congress general secretary Priyanka Gandhi's husband Robert Vadra for 9 hours, spread across Thursday and Friday, with regard to undeclared properties abroad, MyNation exclusively accessed the emails with which the agency confronted Vadra.
The emails are regarding the renovation of a property in London, namely 12 Bryanstone Square, in which Vadra is in a discussion with Sumit Chadha, a close relative of arms dealer Sanjay Bhandari.
Bhandari is being probed in the same case, apart from being accused of hiding other overseas properties. He is accused of money laundering, too.
The emails betray links between Bhandari and Vadra, which the latter has so far denied before the investigators. These emails lend credence to ED's allegation that Vadra, and not Bhandari, was the actual owner of the property.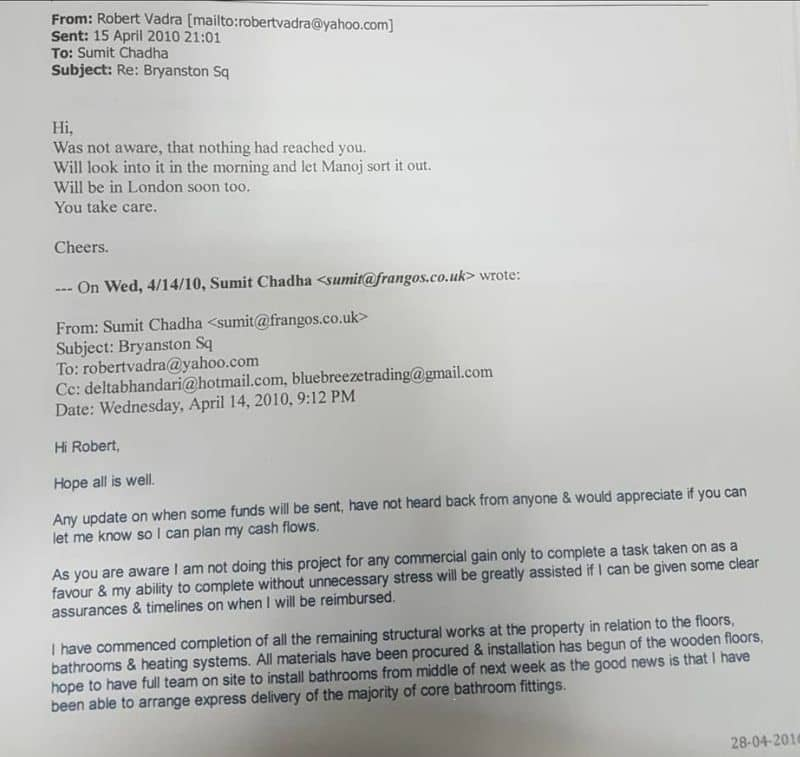 On April 4, 2010, at 9:12 PM, Chadha mailed Vadra from his account 'sumit@frangos.co.uk'. The mail was sent to 'robertvadra@yahoo.com'. The mail was marked also to 'deltabhandari@hotmail.com and 'bluebreezetrading@gmail.com'.
The subject of Chadha's mail to Vadra was 'Bryanstone Sq'.
Chadha wrote to Vadra asking if there was "any update on when some funds will be sent" as Chadha has "not heard back from anyone & would appreciate" if Vadra could let him know so that he could plan his "cash flow".
"As you are aware, I am not doing this project for any commercial gain, only to complete a task taken on as a favour & my ability to complete without unnecessary stress will be greatly assisted if I can be given some clear assurances & timelines on which I will be reimbursed," Chadha wrote to Vadra.
Further, Chadha wrote in the mail: "I have commenced completion of all the remaining structural works at the property in relation to the floors, bathrooms & heating system. All materials have been procured & installation has begun of the wooden floors, hope to have (a) full team on site to install bathrooms from (the) middle of next week as the good news is that I have been able to arrange express delivery of the majority of core bathroom fittings."
Vadra replied to Chadha's email on April 15, 2010. The subject of his mail back to Chadha was 'Re: Bryanstone Sq'. Vadra said: "Was not aware that nothing had reached you. Will look into it in the morning and let Manoj sort it out. Will be in London soon too. You take care. Cheers."
The Manoj here is most probably Manoj Arora, the then executive assistant to Vadra. Manoj is being questioned by the ED already.
Meanwhile, in its charge sheet, the ED had claimed that Bhandari had purchased the said property in London in 2009 for £ 1.9 million (British pound-sterling) and sold in June 2010 for the same amount, despite incurring additional expenses of approximately £ 65,900 on the renovation of this property.
The ED has concluded that Bhandari was not the actual owner of the property, but it was beneficially owned by Robert Vadra, who was incurring expenditure on the renovation of this property. The email strongly supports this claim by the ED.
The investigators have confirmed that Vadra has denied links with Bhandari. Vadra has denied having illegal properties abroad, including those in London, too.
Meanwhile, the ED claimed that Vadra directly or indirectly owns at least nine properties in London, which include villas and luxury flats. These properties were purchased between 2005 and 2010.
The ED is probing whether these properties were purchased from the alleged kickbacks received from a petroleum deal.
An investigation into Sanjay Bhandari was launched in 2016, as he had not disclosed his foreign assets in the shape of foreign bank accounts and foreign immovable assets and thus evaded tax.
The income-tax authorities had raided Bhandari's premises and recovered digital evidence pertaining to 12 Bryanstone Square in London. Vadra, according to the ED, was also executing renovation work of this property through Sumit Chadha as well as arranging funds for it.
The ED has claimed further that the payment of £ 1.9 million for the property was made from account number 1021497657901 of Santech International FZC UAE with Emirates NBD Al-Qusais Branch UAE. There was also a credit to the tune of £ 1879000 on June 30, 2010, in the abovementioned bank account apparently from proceeds of the sale of the same property to Sky Lite Investment FZE, UAE. The abovementioned account belongs to Santech International FZC, a company controlled by Sanjay Bhandari, the ED believes.