Rosemary Patrizi, the lawyer of Christian Michel who is in India, spoke to Arnab Goswami of Republic TV, virtually admitting that a letter that Michel wrote mentioning a certain Mrs Gandhi as the 'driving force' behind the UPA government's VVIP chopper deal with AgustaWestland was then Congress president Sonia Gandhi
New Delhi: AgustaWestland VVIP chopper scam accused Christian Michel's lawyer Rosemary Patrizi says his client could well have referred to then Congress president and UPA chairperson Sonia Gandhi as the "driving force" that sealed the UPA government's deal with the tainted helicopter seller. Of course, the lawyer is not sure what post Sonia Gandhi held in the UPA dispensation.
Republic TV on Saturday got hold of Patrizi who is in India to defend what she calls her client's "human rights". In a conversation with the said television channel's editor-in-chief Arnab Goswami that followed, the lawyer tried to dismiss the finding of the CBI that Christian Michel's father Wolfgang Michel was a friend of Indira Gandhi by the then prime minister's own admission in parliament in 1982-83. Patrizi attributed the charge to a bad relationship the father-son duo in the Michel family shares.
"I have already told you Christian Michel had a very bad relationship with his father. They don't get along together maybe because of (a) different way of thinking, (some) difference of views. You cannot say that Michel's father was friends with them, so Michel was also a friend. So this is not a point. His father was a different man. Michel is innocent, and the court of Milan found no evidence against him. So I will fight till the end of the world for him," Christian Michel's lawyer said.
The letter in question is the one dated March 15, 2008, where Christian Michel had written to Peter Hulet, the then head of India region sales and liaison for AgustaWestland. It read:
"Dear Peter, since Mrs Gandhi is the driving force behind the VIP, she will no longer fly with MI8. Mrs Gandhi and her closest advisers are the aim of the High Commissioner, senior adviser Prime Minister Manmohan Singh obviously the main figure, then there's Ahmed Patel Secretary."
When Goswami referred to the letter of Michel Jr, Patrizia said, "This is a (sic) normal information. I could say these myself. She would not fly anymore, she would not fly in any of these helicopters (Mi8). So that's why they did a tender. They wanted a safe helicopter. I know that they wanted VVIP helicopter. I don't know who was the Prime Minister at that time. Maybe it was Mrs Gandhi, I don't know," before stating that Mrs Gandhi could well be Sonia Gandhi.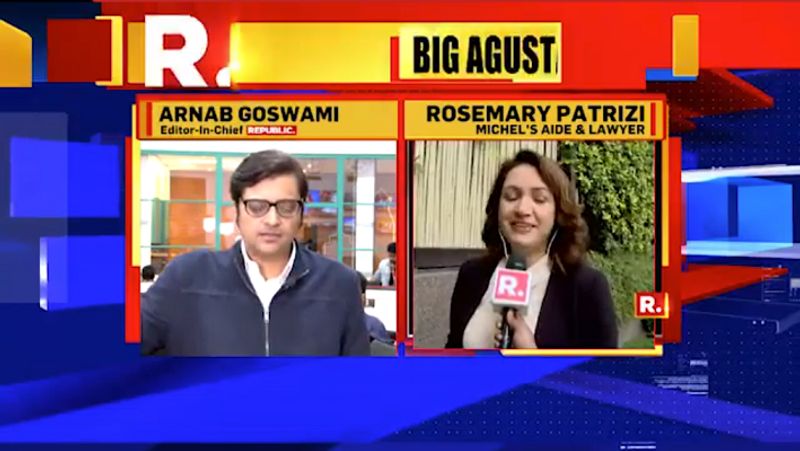 Barely a week after AgustaWestland middleman Michel was extradited to India from Dubai, his lawyer Patrizi appeared disturbed by the way the CBI was proceeding with the case of an alleged scam in the procurement of VVIP helicopters. She refused to accept that Michel was not cooperating with the investigating agency. "No, it is not true. He is co-operating. The police, CBI and agencies are not doing their work properly. Today we will convey to the judge that we are not happy about the interrogation happening in the CBI headquarters. There are many ways to get the truth. But there are ways that are not allowed. He is getting a bad time. They are pushing him very hard. That is why I am here to talk about human rights," she said on Republic TV.