According to the data compiled by DoPT, there has been an almost 20% dip in conviction in corruption cases since Alok Verma took over as the CBI chief.

New Delhi: The impact that the fight between CBI chief Alok Verma and his deputy Rakesh Asthana has had on the nation's premier investigation agency and on the fight against corruption in general can be seen from the fact that there has been a major dip in the conviction rate in graft cases. 
According to the data compiled by department of personnel and training (DoPT) and accessed by MyNation, there has been an almost 20% dip in conviction in corruption cases since Verma took over.
Owing to the ongoing tussle, cases of Prevention of Corruption Act which led to convictions have seen a nosedive this year. In 2018, till November, 342 cases have seen conviction. But in 2017, 413 cases led to conviction.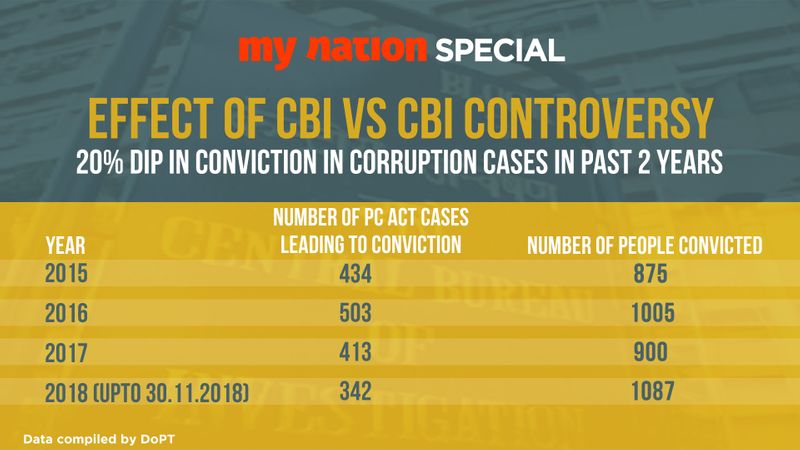 What's worse, the situation is deteriorating consistently and if the current year's convictions in cases related to the PC Act is compared with convictions in 2016, there is an almost 45% dip. In 2016, 503 cases led to conviction.
The fate of the high profile AgustaWestland, Vijay Mallya and Nirav Modi-Mehul Choksi bank fraud and ICICI-Videocon deal cases also hang in the balance and the CBI is struggling to maintain its strike rate.
Also read: Supreme Court upholds Rakesh Asthana's appointment as special CBI director, dismisses curative petition
According to the data, the CBI, which registers almost 650 cases every year, had a conviction rate of almost 70% in 2014, but it has fallen to 65% now, which it is struggling to maintain. 
The CBI is working badly despite the fact that the Central Vigilance Commission (CVC) conducts a monthly meeting with the director of the CBI to review the progress of investigation of cases.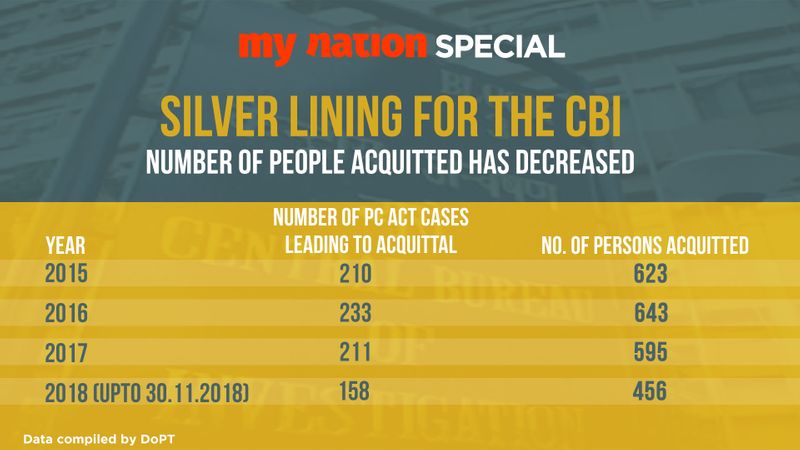 "CBI has laid down procedures in the CBI crime manual to analyse the cases that have ended in acquittal. All such judgments are scrutinised and examined by CBI with reference to the justification of acquittal, whether any material is available for filing an appeal against the acquittal or discharge or whether a reference needs to be made to the attorney general or his nominee to ascertain if the acquittal was due to flawed investigation or prosecution and to fix responsibility etc," minister of state for personnel, Jitendra Singh had said. 
Also read — Alok Verma: Probe against Rakesh Asthana required to maintain people's faith in CBI
The only good thing for the CBI is that the number of people acquitted has decreased. The reason for the rise in the number of people convicted despite a dip in cases of conviction per se is that each case involved several accused, who were convicted in the end.