CBI joint director Nageshwar Rao will take interim charge of the investigation agency, a government order stated
New Delhi: On-leave CBI Director Alok Verma has moved Supreme Court challenging the government order to remove him as CBI Director. Sources said Verma's petition was accepted by the apex court and will be heard on October 26. 
Gopal Sankaranarayanan, counsel appearing for Verma, told the court that the central government in the morning asked Verma and Special Director Rakesh Asthana to go on leave compromising the investigation into many sensitive cases.
In a major twist to the CBI infighting over bribery allegations, CBI director Verma and special director Rakesh Asthana have been asked to go on leave till the matter is resolved. 

CBI joint director Nageshwar Rao will take interim charge of the investigation agency, a government order stated.
Sources said CBI DIG Tarun Gauba, SP Satish Dagar and Joint Director V Murugesan will probe charges against CBI Special Director Rakesh Asthana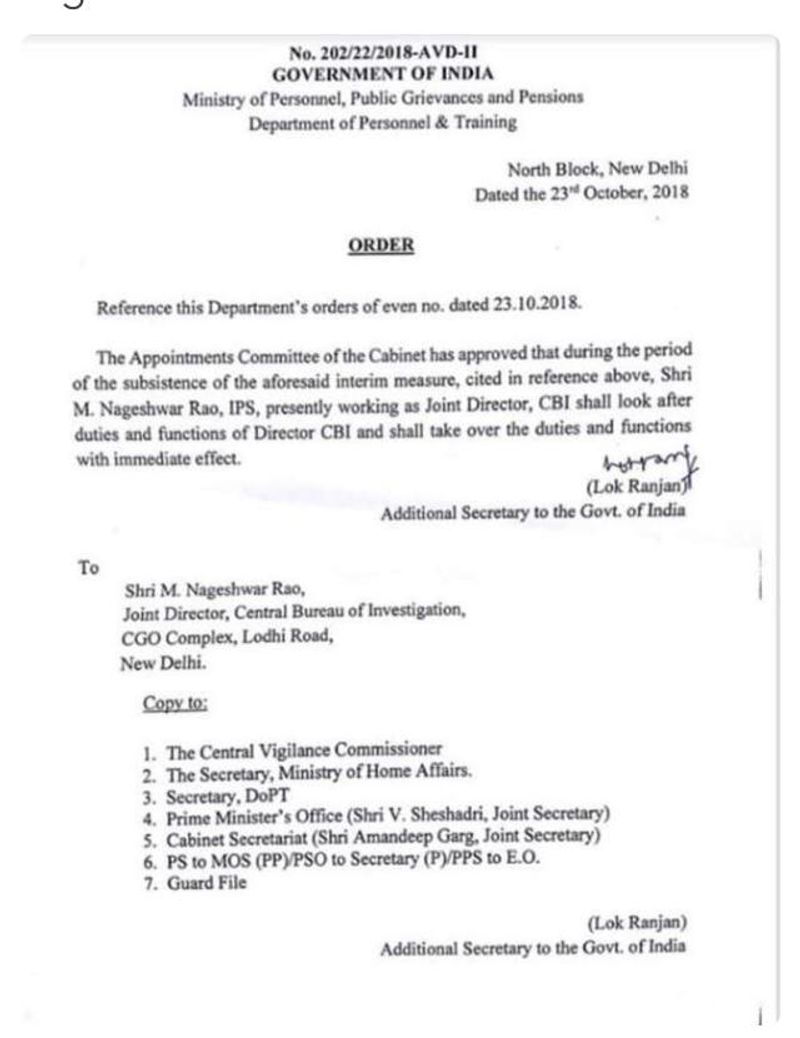 Also read: 7 facts about M Nageshwar Rao, the new interim CBI director

AK Bassi, the investigative officer Rakesh Asthana bribery case, and an aide of Alok Verma has been transferred to Port Blair in 'public interest'.
Additional SP SS Gum has also been transferred and posted as CBI, ACB Jabalpur.
The order by the Department of Personnel and Training said Rao shall "look after the duties and functions of Director CBI and shall take over the duties and functions with immediate effect." Rao, who is from Warangal district in Telangana, is from the 1986 batch of Orissa cadre.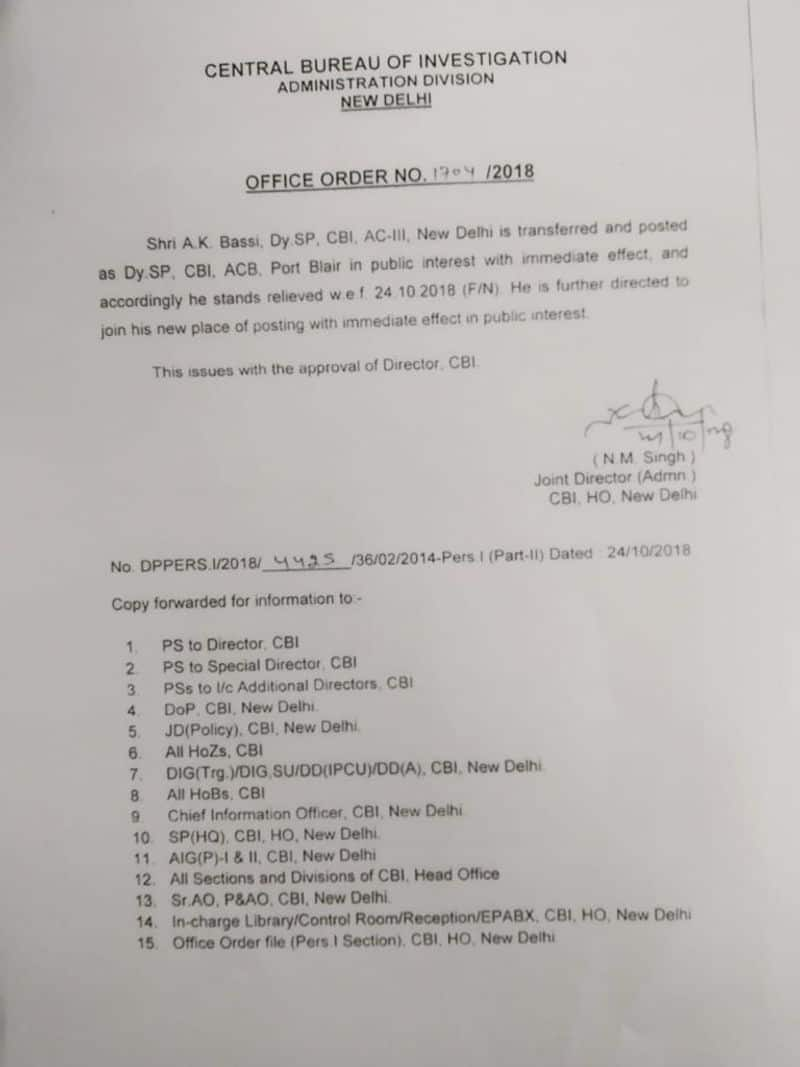 Also read: CBI infighting intensifies: Chief Alok Verma moves to suspend deputy, says he 'is source of demoralisation' for others
On Tuesday, Verma had removed Asthana of all cases he was overseeing and recommended that he be transferred out of the agency, hours after the Delhi high court refused to halt an investigation against the latter.
Besides, a few other CBI officers were also relieved of their charges. Arun Sharma, who was the joint director of policy and anti-corruption within the CBI, and Manish Sinha, a deputy inspector general-level officer, have been sent on leave.
The Delhi High Court on Tuesday directed the CBI to maintain status quo on the criminal proceedings initiated against Asthana, who has challenged the FIR lodged against him on bribery allegations.
The case 
The case started after a Hyderabad-based real estate agent Sathish Sana recorded a statement and his role was being investigated by a team led by Asthana in a bribery case allegedly involving meat exporter Moin Qureshi.
It was alleged that Sana had paid Rs 50 lakh as bribe to Qureshi, which was shown as "an investment" in his company, to get relief in a bribery case.
Also read: Why is the CBI fighting the CBI? MyNation explains
A Special Investigation Team led by Asthana was looking into the matter as they thought Sana was lying. A lookout notice was also issued against him by the investigation which prevented him from leaving the country.
The team tabled a proposal to arrest him on October 20, 2018, but it was cleared and was sent for the opinion of Directorate of Prosecution.
Asthana in his complaint to the Cabinet Secretary on August 24 had alleged that CBI Director Alok Verma had received a bribe of Rs 2 crore from Sana to help him get relief from repeated questioning.
Also read: CBI versus CBI: National security advisor Ajit Doval steps in to examine facts

He had also alleged that Verma had called him over the phone in February to not call Sana for questioning.
In a surprising and unprecedented move on October 15, the CBI booked Asthana and investigation officer of the case on the charges of receiving a bribe from Sana through middlemen Manoj Prasad and Somesh Prasad.
(With PTI inputs)
Read Exclusive COVID-19 Coronavirus News updates, at MyNation.
Last Updated Oct 24, 2018, 12:46 PM IST