The petitioner referred to CBI DIG Manish Sinha's own petition in the Supreme Court, which showed that NSA Doval's phone had been on surveillance
New Delhi: The CBI-versus-CBI controversy took a new turn on Tuesday when the Delhi high court issued notice to the Centre as well as CBI, responding to a writ petition moved against former chief of the investigating agency Alok Verma, which accused him of having illegally tapped the phones of such high ranking officials as National Security Advisor (NSA) Ajit Doval in his quest to get even with his arch enemy and special director Rakesh Asthana.
The petition demanded that a special investigation team (SIT) be constituted to probe Verna's alleged excesses, misusing his powers to tap phones and risk national security in the process.
The court, said Amit Tiwary, one of the lawyers representing the petitioner and Supreme Court advocate Sarthak Chaturvedi, issued a notice to the lawyer of the CBI as well as the Centre asking why an SIT should not be constituted to probe the matter. 
The petitioner made submissions made by CBI DIG Manish Sinha, who was looking into the FIR filed against Asthana on charges of corruption, the basis of his argument. Sinha had been transferred to Nagpur and had moved the apex court.
The petitioner referred to Sinha's own petition in the Supreme Court, which showed that NSA Doval's phone had been on surveillance. 
"On 17.10.2018, the Director CBI briefed Sh. Ajit Doval, NSA and informed him that Sh. Rakesh Asthana's name is cited in the FIR. Subsequently, on the same night, it was informed by the Special Unit to Sh. Manish Sinha that NSA has informed Sh. Rakesh Asthana about registration of FIR. It was informed that Sh. Rakesh Asthana reportedly made a request to NSA that he should not be arrested. How did Special Unit learn this? Did they illegally intercept calls of NSA and Sh. Rakesh Asthana?" the petition asked. 
The unit involved in phone tapping and technical surveillance in the CBI is known as the Special Unit (SU) and it is headed by a DIG rank official. At the relevant time, the said unit, according to the petition, was headed by Rakesh Rathi, IPS, DIG, SU. Rathi reported to AK Sharma, head of the AC zone and policy division and eventually to Verma, director, CBI. Another official namely Manish Sinha IPS, was also DIG and was head of the branch of AC-III, New Delhi who also reported to Sharma, AC zone.
MyNation is in the possession of a copy of the petition. It's first few pages: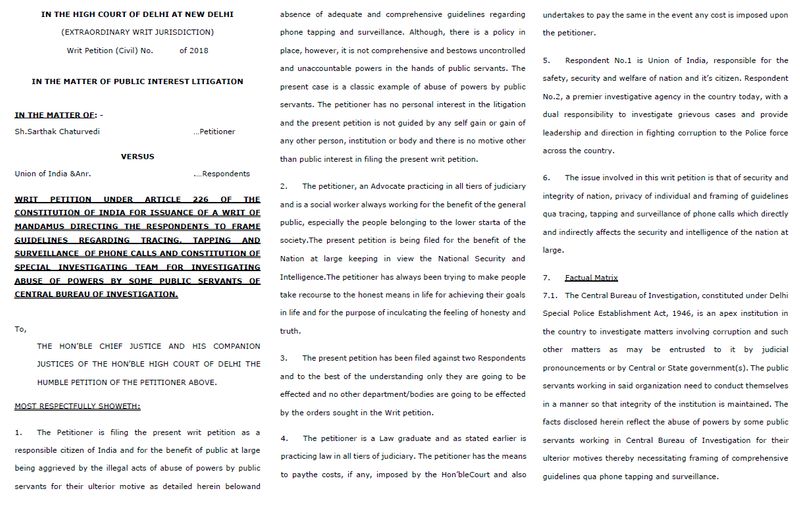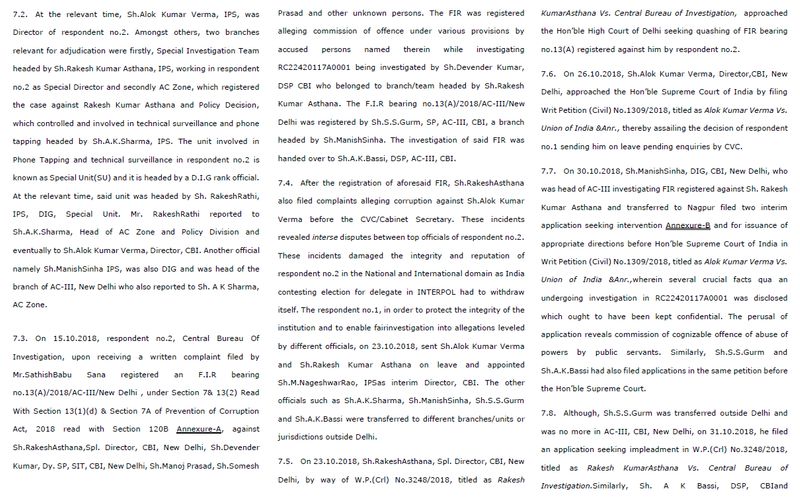 Read Exclusive COVID-19 Coronavirus News updates, at MyNation.
Last Updated Jan 15, 2019, 7:49 PM IST