Former Prime Minister Atal Bihari Vajpayee was admitted in Delhi's AIIMS hospital for the past nine weeks. On Wednesday, he was put on life support after his condition deteriorated
Former Prime Minister Atal Bihari Vajpayee died on Thursday after battling prolonged illness. The 93-year-old statesman-politician breathed his last at the All India Institute of Medical Sciences in Delhi. He had been admitted to the hospital on June 11 when he complained of urinary infection.
Here's the official press release: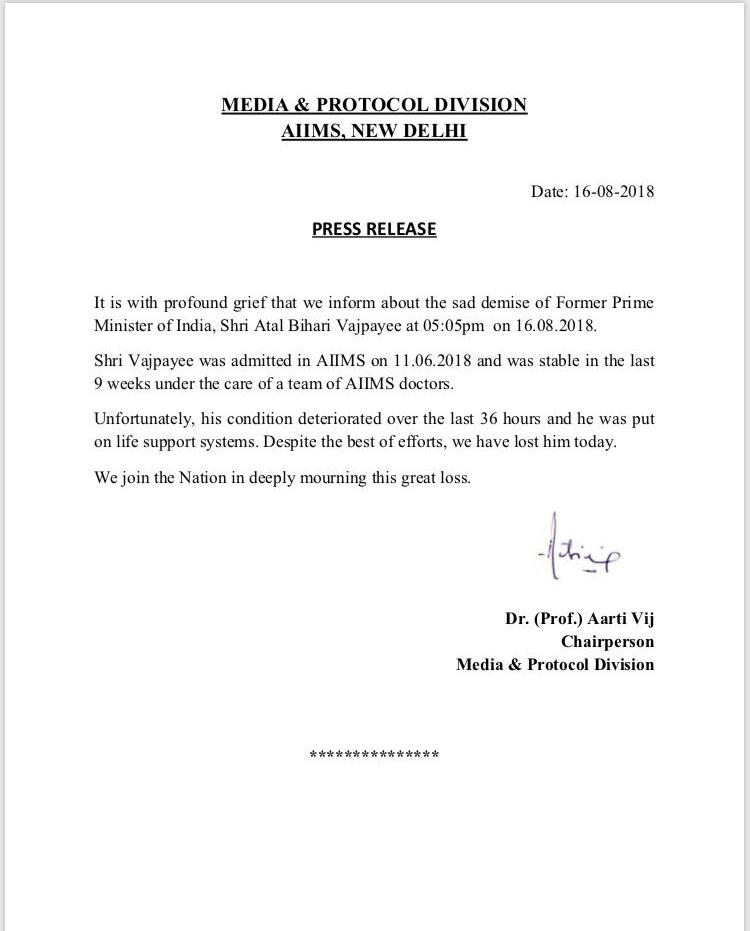 His conditions deteriorated drastically over the past 24 hours -- even as the nation was celebrating its 72nd Independence Day. The hospital issued a statement on Wednesday stating that he was on life support. The BJP stalwart was suffering from kidney tract infection and chest congestion. His urine output was on the lower side. His lungs have been functioning sub-optimally, too.
Prime Minister Narendra Modi reached the hospital yesterday evening where he had face to face talk with the doctors who were treating Vajpayee. Modi visited the hospital again today. The information on Vajpayee was officially released after the Prime Minister's visit.
Textiles minister Smriti Irani, Union Minister Ashwini Kumar Choubey, Union minister Suresh Prabhu and several other ministers rushed to the hospital on Wednesday.
Dr Harsh Vardhan spent long hours at the hospital last night, inquiring with the doctors whether Vajpayee could be revived.
Also Read—Live: Atal Bihari Vajpayee health update, related news from all over the country, world
Vajpayee was elected as the Prime Minister of India thrice between 1996 (for 13 days), 1998-1999 (the government failed the motion of trust by the vote of 1 MP) and 1999-2004.
Vajpayee dared to test the nuclear device that had been at a demonstrative stage since 1974 when Indira Gandhi had tested the first prototype in Pokhran. After stunning the world with the test on May 11 1998, Vajpayee did it again two days later. In all, five devices were tested at Pokhran II.
The international committee led by the US reacted with economic sanctions. The tenure of Vajpayee also saw two droughts and yet that duration is remembered as one of the most glorious chapters of the Indian economy, thanks to a wide range of reforms that Vajpayee carried out at a rate faster than PV Narasimha Rao.
Vajpayee was among the rare politicians who represented the country abroad even when he was in the opposition. 
During his last days, he became diabetic and had only one functional kidney. He also suffered a stroke in 2009 and developed dementia.