While it is unlikely the Centre will take the final decision before the Supreme Court decides the fate of Article 35A, the nationwide sentiment following the Pulwama terror attack may pressure the Narendra Modi government to do something drastic on Monday after the apex court resumes work and takes a stand on the regime considered discriminatory across the country outside the Kashmir valley
New Delhi: Jammu and Kashmir witnessed a long evening of speculations and apprehensions with unverified reports trickling in about Article 35A ahead of the crucial hearing in Supreme Court on Monday. Speculation is rife that the Union government may let go of the contentious article 35A, through an ordinance if it fails to get a favourable verdict from the apex court.
What lent credence to the speculation was a sudden but quiet arrest of separatist leader and JKLF chief Yasin Malik, who will be lodged at the Srinagar central jail. Mirwaiz Umar Farooq and Syed Ali Shah Geelani have been placed under house arrest too.
MyNation has reliably learnt that the ministry of home affairs (MHA) in an urgent fax message ordered 100 companies of paramilitary forces to rushed to the Valley over and above the number of forces stationed in the strife-torn state already. The fax was sent to the Jammu and Kashmir chief secretary, the state home secretary and the director general of Jammu and Kashmir Police.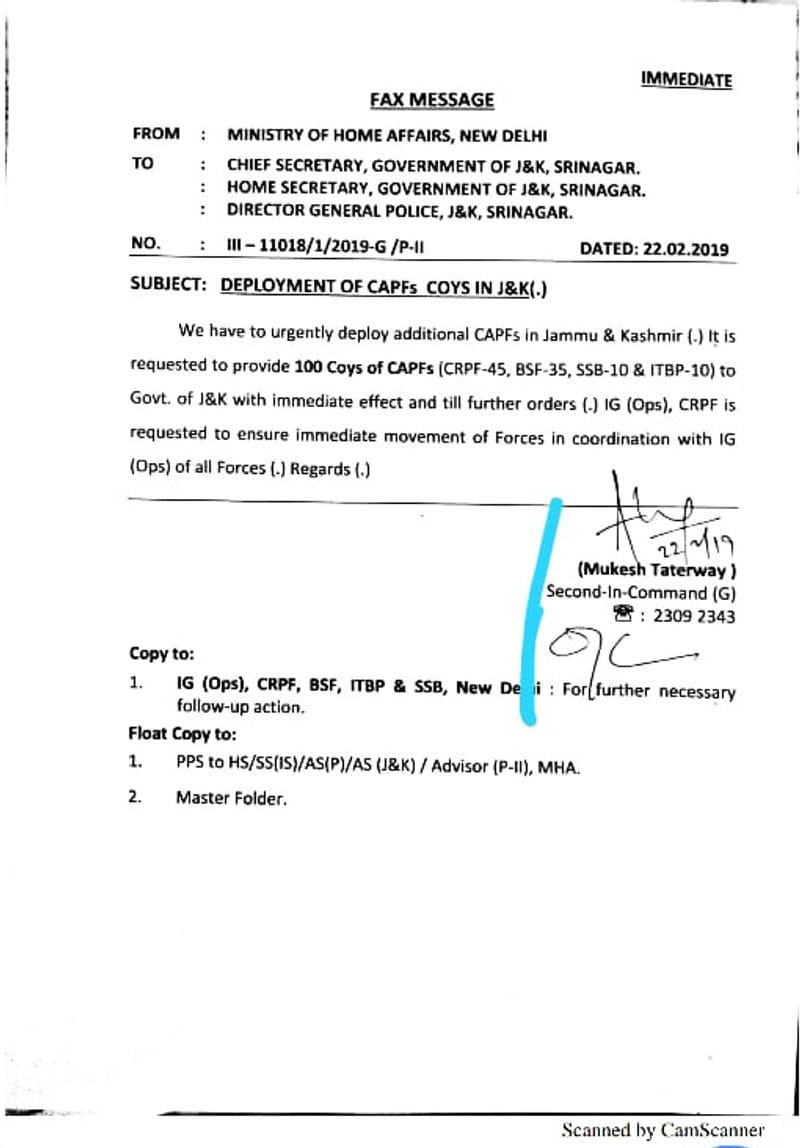 The fax is titled "Deployment of CAPFs coys in J&K". Among the 100 companies, 45 will be from the Central Reserve Police Force (CRPF), 35 from the Border Security Force (BSF), whereas just 10 are from the Sashastra Seema Bal (SSB) and Indo-Tibetan Boder Police (ITBP) each. 
The fax reads: "CRPF is requested to ensure immediate movement of forces in coordination with IG (Ops) of all forces". 
The message has "immediate" mentioned on the top, underscoring the urgency of the action. 
Sources say more separatist leaders maybe picked up and flown out of the state to avoid a law-and-order situation.  
Though there has so far not been any official confirmation of the speculations from the government, Kashmir is on the edge. Eyewitnesses say they have seen choppers hovering over Srinagar. 
The Supreme Court is seized of the matter pertaining to the constitutional validity of Article 35A. It was added to the Indian Constitution by a presidential order in 1954. 
This controversial provision in the Constitution empowers the state's legislature to frame laws that cannot be challenged on the ground of violation of the right to equality of citizens based in other states, It cannot be challenged on the basis of any other right under the Constitution.
With the general election of 2019 just a few months away, speculations have gained a momentum. With a sudden rush of forces to the state, developments this Monday are to watch out for.
Read Exclusive COVID-19 Coronavirus News updates, at MyNation.
Last Updated Feb 23, 2019, 2:28 PM IST