Lawyer activist Prashant Bhusan may be the most infamous of the lot, but there are others who constantly sabotage Indian interest. Here is a list of a few.
New Delhi: India is seething in anger as at least 40 of our brave hearts were martyred in one of the most barbaric attacks of all time on security forces. A Scorpio, laden with RDX and ammonium nitrate. rammed into a truck carrying the CRPF jawans. The car was driven by a psychopath who sought 'heaven' in mass murder. Banner terror outfit Jaish-e-Mohammad claimed responsibility for the incident even as the international community expressed outrage. The United States said India has the right to defend itself. 
But there are people in India who are either justifying, reasoning, teasing India or, worse, celebrating the mass murder online. We show you some of the faces that serve as apologists of terrorists at this hour of crisis.
1. Papri Banerjee
   Place: Guwahati, Assam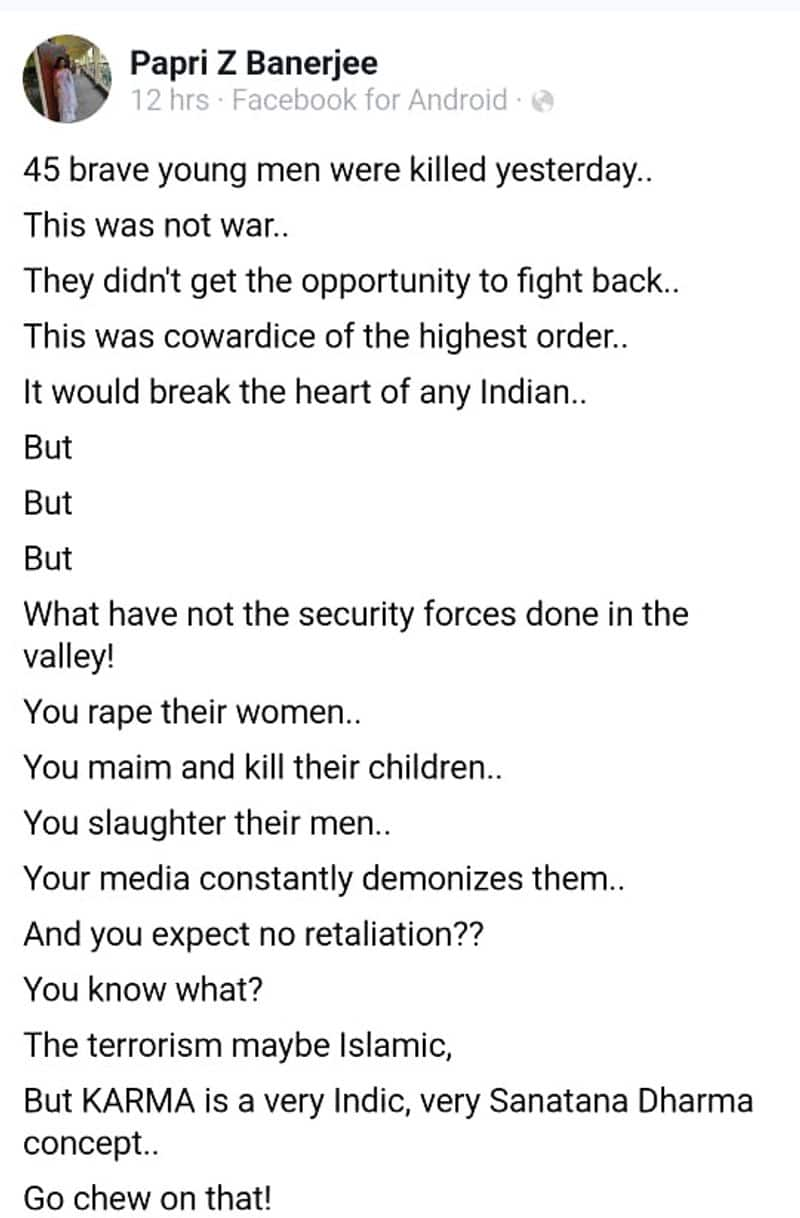 This young Bengali living in Assam who likes to describe herself as 'in your face liberal, old school feminist' questioned the forces on the alleged crimes at a time when at least 40 CRPF personnel were killed in cold blood. Her post reads, "What have not the security forces done in the valley! You rape their women.. you maim and kill their children. You slaughter their men.. Your media constantly demonizes them..And you expect no retaliation??"
Not only most of the allegations are untrue but they also seek to draw a counter-narrative at a time when the nation is in a state of mourning and outrage. Though Papri called the attack on forces 'cowardice', her elaborate allegations questions her real intent.
2. Ashwini Mishra aka A-list
   Place: Mumbai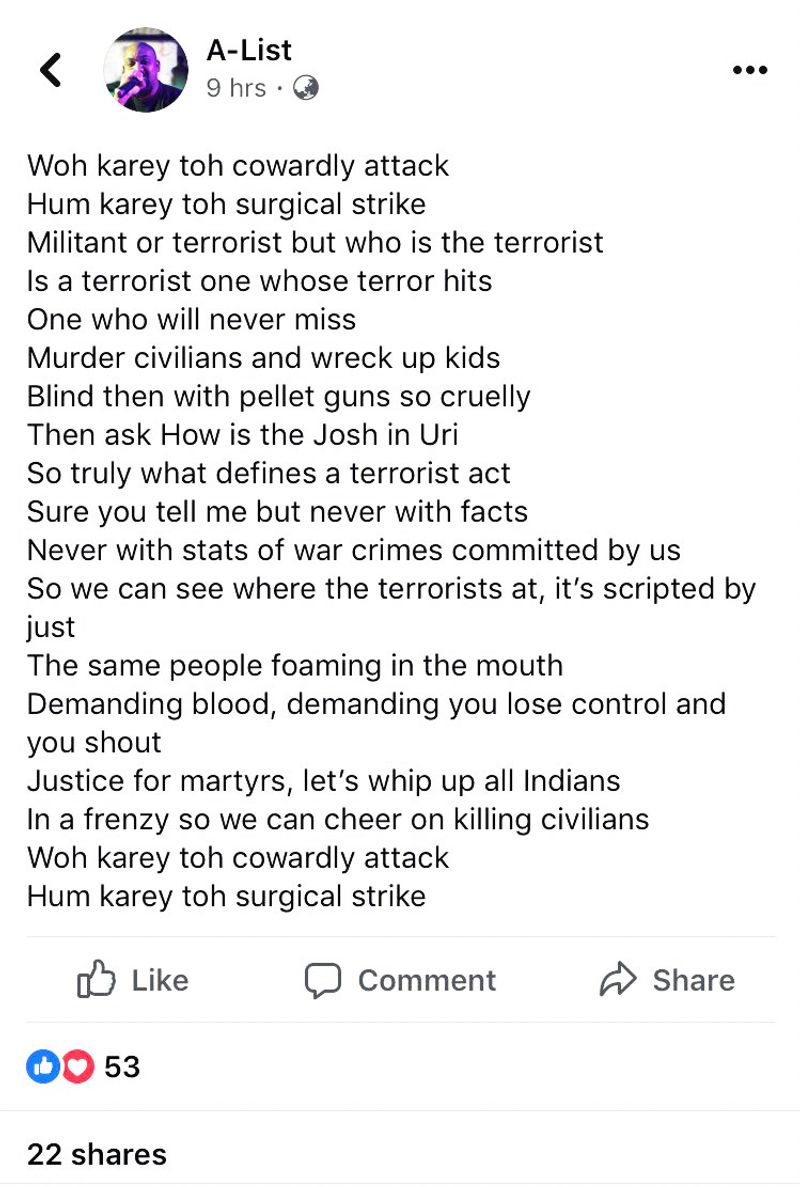 Mishra claims to be a rap artist who goes by the name A-list. His bio reads, "He is a political artist and believes in rap-tivism, activist through hip hop. He raps  on issues of socio-political importance in the vain hope it can make a difference or create awareness." But with that same 'vain hope', he equated an attack on CRPF jawans and surgical strike.
Shocked? Don't be. There's more from him. "Militant or terrorist but who is the terrorist. Is a terrorist one whose terror hits.  one who never miss, murder civilians and wreck up kids. Blind then with pellet guns so cruelly. Then ask How is the Josh in Uri." The pellet reference is to the paramilitary forces in Kashmir who needs to resort to this to a mechanism to contain violence. However, according to Mishra, the forces should be labelled 'terrorist' for using this non-invasive method of crowd management. He ended by saying, "Wo karey toh cowardly attack, Hum karey toh surgical strike"

3. Irshad Ahmad Khan
   Place: Mumbai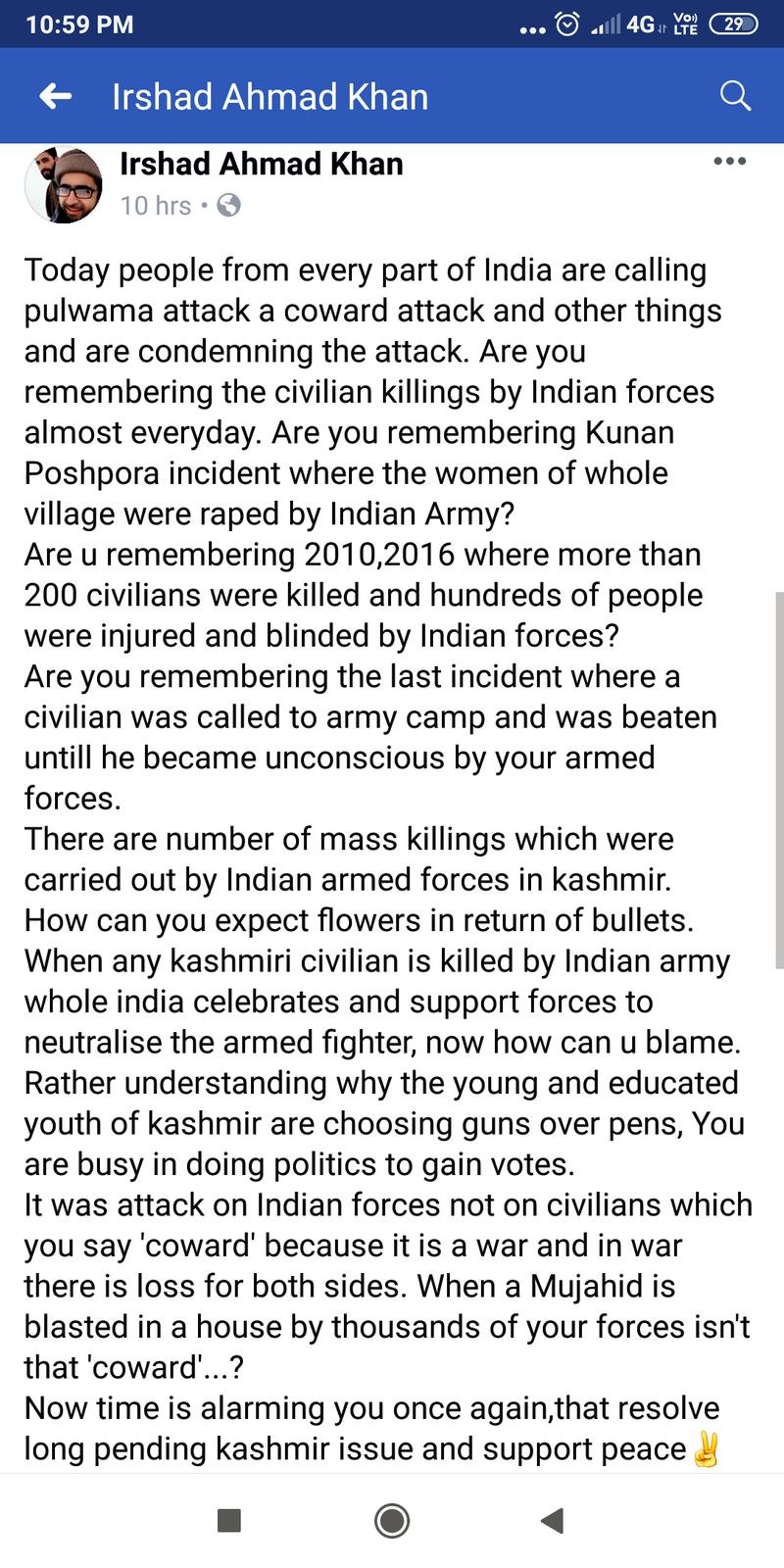 Khan claims to be a B Tech engineer who studied from reputed institutes like Bharati Vidyapeeth College. But when it comes to expressing himself on social media, that education doesn't come in handy for him. In a long Facebook post, Irshad argued, if the security forces could use guns (which they do as last means to deal with terror) why can't the ones like Adil Ahmad and many like him. Adil was used as a suicide bomber by Jaish. But Irshad has his own sick reasoning, "There are a number of mass killings which were carried out by Indian armed forces in Kashmir. How can you expect flowers in return of bullets?" 
Khan did not stop at this. The sick display of his mindset goes on, "When any Kashmiri civilian is killed by Indian army whole India celebrates and support forces to neutralise the armed fighter, now how can you blame (them)?"
4. Mayur Tikoo
   Place: New Delhi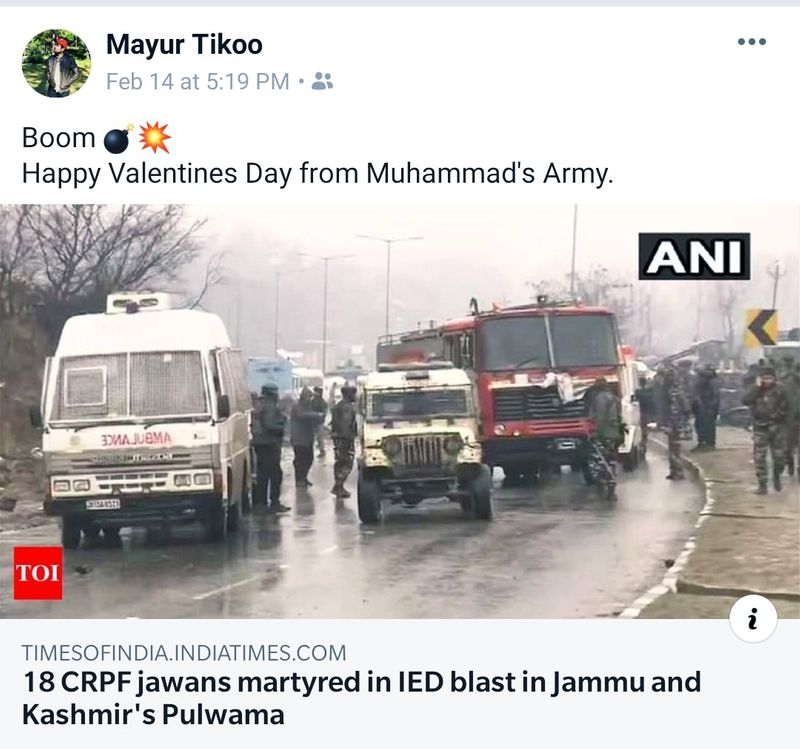 This student from The Cavalier claims to work with Accenture, a multinational company. But his mindset is exactly the opposite. Tikoo posted a news article of the horrific attack with a heading "Boom" and emoticon of a bomb and a blast normally used in a celebratory mood. So far, the headline could be construed as distasteful and mean. But he added, "Happy Valentines Day from Muhammad's army". The attack took place on February 14, a day known for the exchange of romantic feelings. Tikoo not only rubbed it in but also demeaned the faith of crores in India who practice Islam but are as patriotic as any one of us.
5. Riyaz Ahmad Wani
   Place: Srinagar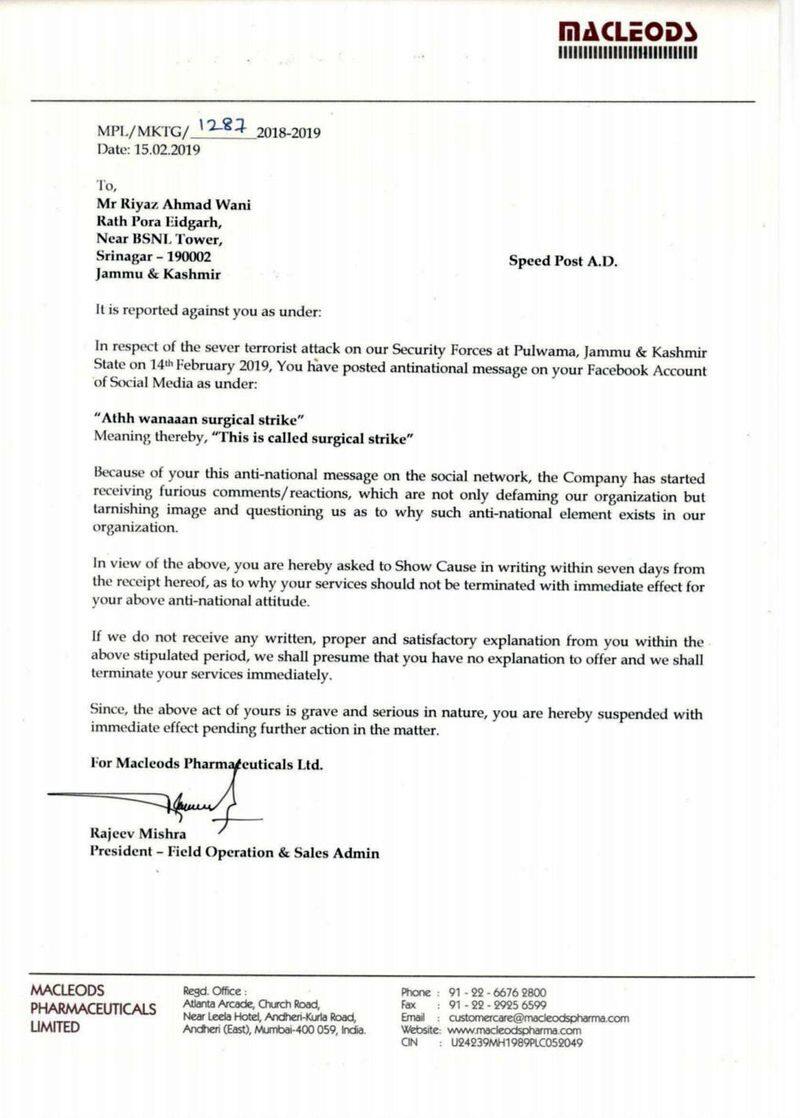 He is a medical representative at Macleods Pharmaceuticals Ltd.based out of Mumbai's Andheri. In fact, his Facebook display picture states 'Proud to be Macleodian'. In short, an Indian company is his sources of bread and butter and he loves to flaunt that. But when it comes to take a stand for India, during one of its dark hours, he ditches the country. On a social media post, he wrote, "Athh wanaaan surgical strike". This sentence written in Kashmiri translates to "This is called surgical strike", in an obvious reference to the mass killing of more than 40 para military personnel by a suicide bomber from a terror organisation.
However, unlike the previous posts that evaded public gaze, this one caught the eye. His employer, after being trolled through the day, issued him a stern show-cause notice on why he should not be sacked and, pending that, answer why he should not be suspended. The show cause notice reads, "If we do not receive any written, proper and satisfactory explanation from you within  the above  stipulated period, we shall presume that you have no explanation offer and we shall terminate your services immediately."
6.Basim Hilal
  Place: Beerwah, J&K/ Aligarh, UP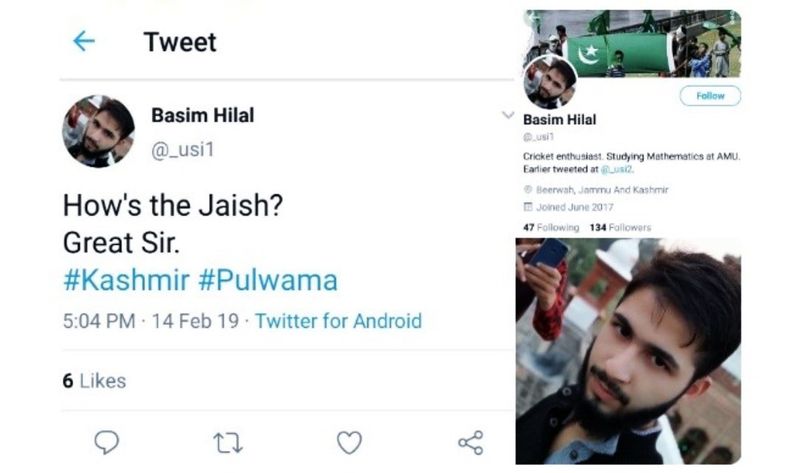 This Kashmir resident is also a student of the much controversial Aligarh Muslim University. Riyaz draws his salary from an organisation from India, Hilal got his education from a government-funded institution. Notwithstanding that, on February 14, soon after the news of the attack broke out, an exuberant Hilal tweeted, "Hows the Jaish? Great Sir?" with hashtag Pulwama. It was mocking the line from the movie Uri that states, "How's the Josh" made even more popular ever since Prime Minister Narendra Modi, defence minister Sitharaman and an ailing Goa CM Parrikar when they uttered this line.
Outrage followed as was in the case of Riyaz. The AMU has suspended him for 14 days. 
7. Navjot Singh Sidhu
What's more, Pakistan PM Imran Khan's buddy and the fierce peacenik Navjot Singh Sidhu, even in face of the violent onslaught on India by Pakistan, defended the warring neighbour. Earlier, after maintaining a stoic silence, Sidhu had stooped to another low when he said, "Nations cannot be held responsible for the dastardly acts of terrorists. The terrorists do not have deen, mazhab (sect and religion). There are good, the bad and the ugly. Every institution has them. Every nation has them. The ugly need to be punished. But individuals cannot be blamed for the dastardly act."
8. Prashant Bhushan
Then, of course, how can one miss the incorrigible saboteur, the activist-lawyer Prashant Bhushan. 
"Pulwama bomber Adil Ahmad Dar became terrorist after he was beaten by troops. It's imp to understand why so many young men in Kashmir are becoming militants & willing to die. Even US forces couldn't hold Afghanistan & Iraq after large-scale suicide attacks," he tweeted.
Bhushan, thus, suggested that India was perhaps on the verge of losing Kashmir.
Adding Congress spokesperson Divya Spandana to the list would open the floodgates of politicians in the opposition who cannot differentiate between opposing the government of the day and the nation.
Apart from these host of people, a deputy news editor of a Delhi based news station NDTV mimicked Hilal who said, "Where a grissly 44 has been proven to be greater than the mythical 56" with the same defamatory hashtag 'Hows the Jaish'. Nidhi's mention of 56 was a reference to the electoral rhetorics of BJP that claimed PM Modi had a 'chhappan inch ka seena' (chest of 56 inches, a popular idiom in Gujarat) during 2014 election campaign. Sethi has been suspended for a couple of weeks by NDTV pending disciplinary proceedings.
India continues to mourn its brave security personnel. A father who lost his son in the dastardly attack said he was proud that his son was martyred. In the aftermath of the incident, the server of Bharat ke Veer website, dedicated to raising funds for our martyrs, crashed due to the huge internet traffic of donors it received. But then, there are faces seen standing against India. Brazen and unapologetic.
Read Exclusive COVID-19 Coronavirus News updates, at MyNation.
Last Updated Feb 16, 2019, 6:32 PM IST