Many Twitter users, whose identities behind their anonymous handles Alt News exposed, complained of abuse and even death threats by jihadists but Twitter sides with Pratik Sinha, owner of the pro-opposition website
New Delhi: Having a different political opinion can lead to suspension of your social media account and even death threats. In the latest example, several Twitter users, whose identities behind their anonymous handles were exposed by Pratik Sinha of Alt News, complained of abuse and even death threats by jihadists. If this was not enough, Twitter, instead of taking corrective measures, suspended their accounts!
Sinha, on Friday, stirred up a controversy when he disclosed the identities of some right-wing supporters who had been maintaining anonymity on social media.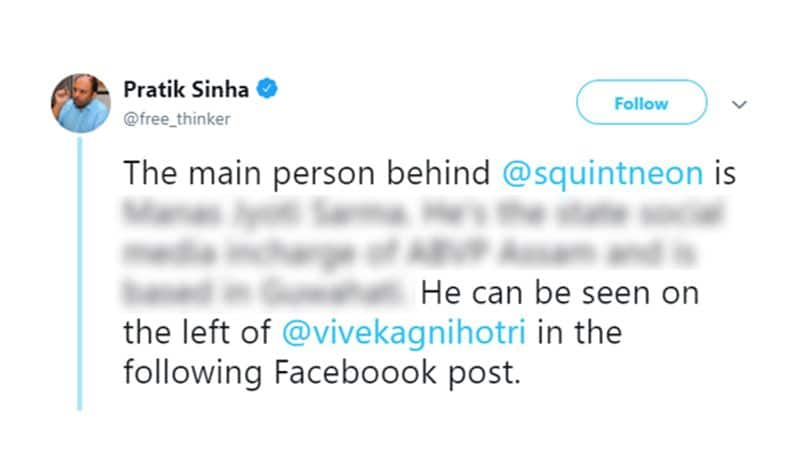 These users immediately flagged the issue that they were being targeted by the online Islamic radicals who are not only abusing them but have warned them of dire consequences.
Anonymous user @SquintNeon believes his opinion and elaborate thread on Twitter exposing Islamists has provoked such a move by AltNews' Pratik Sinha. He has also asserted that he has been expressing his opinions and his ideology in a non-abusive manner and this unwarranted doxing by Pratik Sinha (@free_thinker) and his accomplice Mohammed Zubair(@Zoo_bear) who have unleashed a legion of Islamists on his TL, effectively putting him and his family in peril.
In a post, anonymous Twitter user @squintneon wrote, "…information passed to secret radical groups. entire Islamist group starts threatening to harm you & you know what "Muslims don't lie"
Social media users blamed Twitter of being biased. They raised the objection that instead of taking action against Sinha who has leaked @squintneon's personal details he was further victimised by suspending his account.
Calling Sinha's leaking personal details as 'unethical', social media users raise their voice against invading privacy and demanded to restore suspended social media account.
Now @TwitterIndia suspended@squintneon account. Why dont they suspend all Right wing account at one time ? #RestoreSquintNeon

— Tajinder Pal Singh Bagga (@TajinderBagga) January 26, 2019
This is Ridiculous !!! This Man @free_thinker is sharing personal information of anybody.I am getting Threats and abuses daily.He can share my details too.Seems @TwitterIndia is not safe for girls or anybody anymore .Please Take some action or we girls have to leave this App. pic.twitter.com/3YP73VWz0G

— Pooja Singh 🇮🇳 (@pooja303singh) January 25, 2019
BJP lawmakers questioned Twitter's stand on the issue , too. East Delhi, MP, Maheish Girri questioned if Twitter was playing from Sinha's side.
Hello @TwitterIndia, Why has @squintneon been suspended? Just yesterday Congress trolls targeted one of their alleged admins & today the handle is suspended. Are you too playing from their side? @misskaul @PayalKamat

— Maheish Girri (@MaheishGirri) January 26, 2019
Social media users also questioned why Twitter was blocking or suspending accounts of influencers those who are in support of BJP or right wing ideology.
Dear @AmitShah ji
BJP supporters on Twitter are getting targeted and platform @TwitterIndia is suspending pro bjp accounts. Kind request to formally take this up with liberals at their HQ.

Now @squintneon suspended.

— Ashu (@muglikar_) January 26, 2019
Hey @TwitterIndia Stop your left Bias & restore @squintneon#RestoreSquintNeon

— Arpit Vira આર્પીટ વીરા🇮🇳 (@ArpitRohitVira) January 26, 2019
I think better to suspend license of @TwitterIndia to operate in India until elections. Such a racist & biased platform @ShefVaidya @PMOIndia #RestoreSquintNeon https://t.co/gyersHrf5Q

— Shiva शिवा ஷிவா (@ShivaB15) January 26, 2019
Read Exclusive COVID-19 Coronavirus News updates, at MyNation.
Last Updated Jan 27, 2019, 12:28 AM IST