Mrityunjay Kumar, information adviser to Yogi Adityanath said the permission has been denied because Mamata Banerjee is scared of the popularity of Uttar Pradesh chief minister

Kolkata/New Delhi: After BJP president Amit Shah, Uttar Pradesh chief minister Yogi Adityanath has been denied the permission to land in Bengal by the Mamata Banerjee administration, the BJP alleged on Sunday.
 In a statement, Uttar Pradesh chief minister's office said that the permission for the February 3 rally was denied without citing reasons for the denial.
 The TMC government has denied permission to Adityanath's chopper to land. Information adviser to Adityanath Mrityunjay Kumar said, "Due to the popularity of Uttar Pradesh chief minister, Mamata Banerjee did not give the permission." 
BJP will haunt you more @MamataOfficial, so my free advise to you is to stay calm. If you try to stop one public meeting of @myogiadityanath ji, he will address 10 more rallies. Be ready.
#MamataFearsBJP

— Sayantan Basu (@basusayan) February 3, 2019
State administration should start putting @AITCofficial party symbol. Shamelessly denied permission to @myogiadityanath 's chopper landing in Balurghat. #MamataFearsBJP

— Samik Bhattacharya (@Samikbjp) February 3, 2019
 The firebrand Hindutva leader was scheduled to address two rallies — in Raiganj and Balurghat.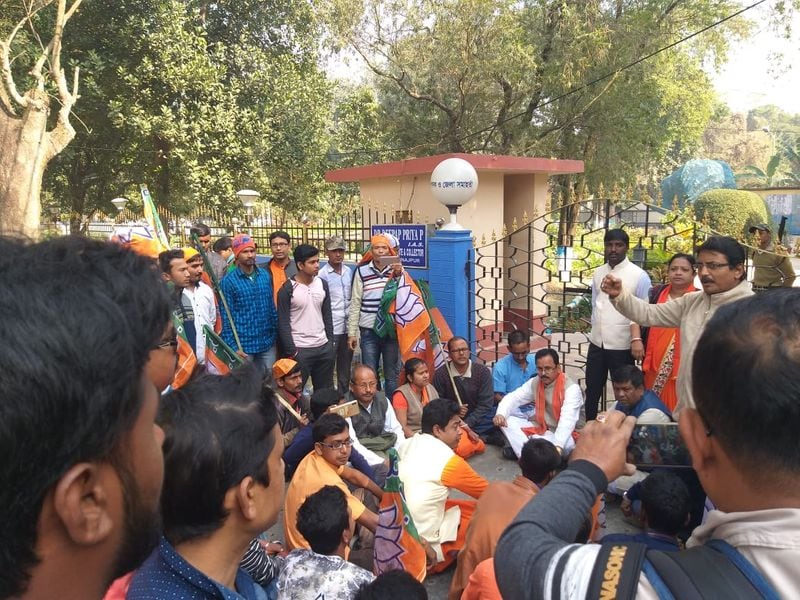 The Malda episode
This is not the first time Banerjee has prevented choppers of BJP leaders from landing. On January 21, she had denied landing permission to Amit Shah's chopper at Malda, citing the 'reason' that the ground was being upgraded. It happened just a day before the BJP president was scheduled to hold a rally in the state. 
The additional district magistrate, in a letter to the BJP, said, "Upgradation (sic) work at Malda airport going on. Sand and material lying around. Airport not suitable for safe landing of the helicopter. Permission not possible."
The BJP general secretary responded by saying, "Malda Airport is used by the West Bengal government to land their helicopter every Wednesday. You are saying that Malda airport is not suitable for safe landing, then why you are allowing the helicopter of the Bengal government?"
A media inquiry had established that the additional district magistrate's claim was not true.
Prime Minister Narendra Modi addressed two rallies in Bengal on February 2 — one in Thakurganj and the other in Durgapur.