Iyer-Mitra had tweeted on the 'discovery' of Odisha and Lord Jagannath being a "Bengali god" a year ago. But no action was taken then
New Delhi: Delhi-based defence analyst Abhijit Iyer-Mitra, who was at the centre of controversy in Odisha over his allegedly derogatory tweets on the Jagannath and Konark temples, was arrested on Tuesday by the Bhubaneswar police after hours of questioning.
Backgrounder
Iyer-Mitra had tweeted on the 'discovery' of Odisha and Lord Jagannath being a "Bengali god" a year ago. But no action was taken then.
On Tuesday, Iyer-Mitra had appeared before a house committee of the Odisha Assembly and apologised for his remarks against the MLAs.
In the mentioned video, Iyer-Mitra had made certain comments on the sculptures on Konark temple — apparently in jest — which had hurt the religious sentiments of many.
A committee was set up last month by Odisha Assembly speaker Pradeep Amat and a questioning session was organised. 
Whisked away 
Leader of opposition Narasingha Mishra, who headed the committee, said that Iyer-Mitra had accepted all the charges against him, but he would have to submit an affidavit and may have to re-appear again before November 2. 
In the video posted on Twitter, the journalist said the temple was a "humple" (a slang for sex). "Here people are seen having sex. You see all these statues where the women, men and the animals are having sex. Can this temple be an auspicious place? Never."
But soon after, in a subsequent tweet, he clarified that it was meant to be a joke. "Jokes aside this temple is just mind-blowing. The sculptures are exquisite & it has a great sense of symmetry & gravitas."
But after appearing before the panel, he was taken away by the police to an undisclosed location. Later, the police said he was arrested in relation with another FIR where he is accused of making allegedly anti-Konark and anti-Odisha statements. 
Is it about rosogolla?
However, some police officers said that he was arrested for his statement, where he had rejected Odisha's claim that rosogolla had originated in their state and not in Bengal.
Both the states have been embroiled in a long-standing battle to claim the origin of the sweet. 
Recently, Bengal won the case and now it has a geographical identification (GI) tag of rosogolla.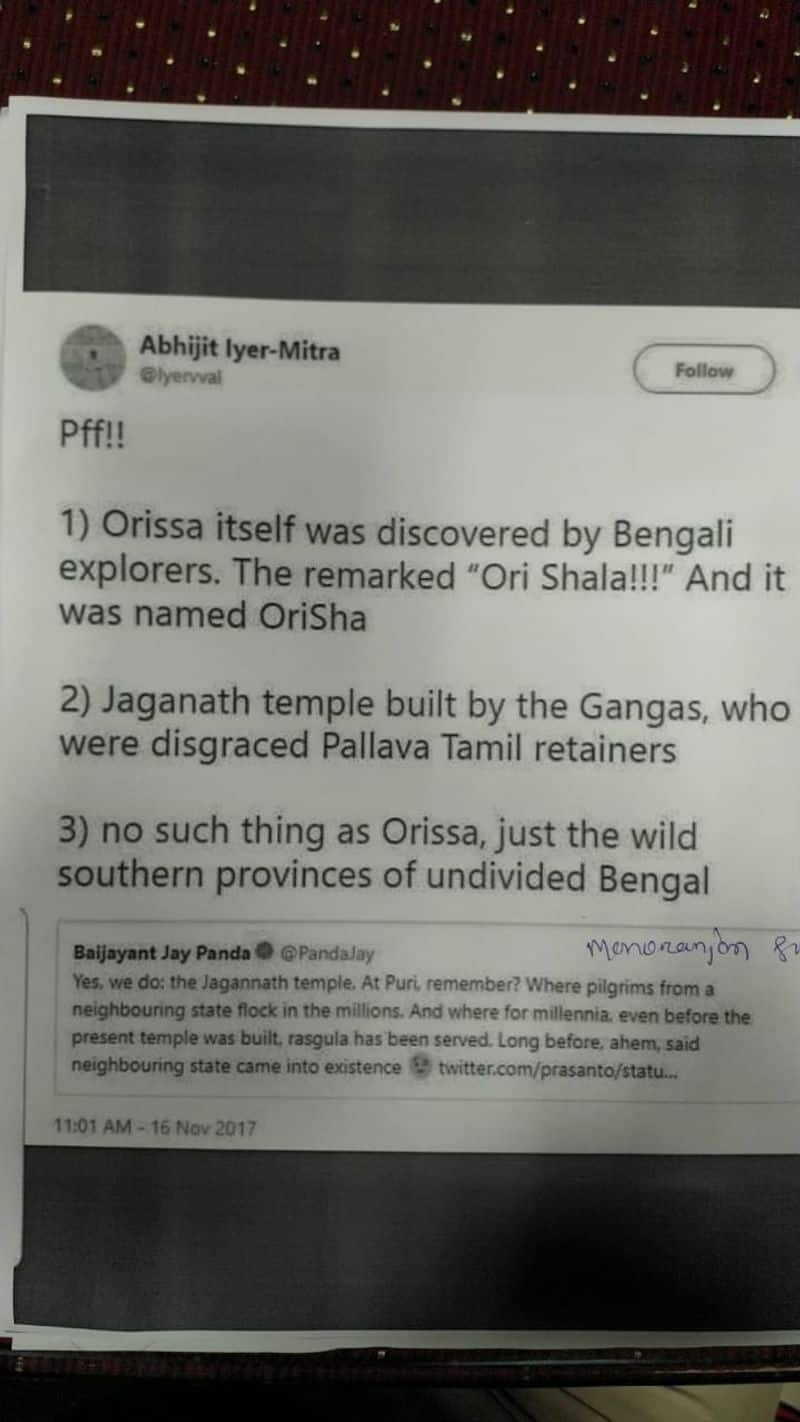 No, it was about Lord Jagannath
In another purported tweet, Iyer-Mitra had said: "Orissa itself was discovered by Bengali explorers. The(y) remarked "Ori Shala!!!" And it was named Orissa". 
Meanwhile, in another tweet, the defence analyst said, "Lord Jagannath was a deity of Kolkata."
Sources said the commentator has been booked under Sections of the Indian Penal Code, including 294, 295A, 153A, 500, 506 and Section 67 of the Information Technology Act. 
What's now?
Iyer-Mitra's bail petition was moved in the court and then turned down. His lawyer Nikhil Mehra said: "Police have not sought custody. He is cooperating fully with the investigations. We want o highlight that the tweets are almost a year old. How come they are reacting now? You don't feel offended a year later. If you feel angry, you feel it immediately."
Politics of it
Many believe that Iyer-Mitra is being targeted for his proximity to former Biju Janata Dal MP Baijayant Panda, who has been facing the heat for railing against chief minister Naveen Patnaik and his bureaucrats. 
Recently, Iyer-Mitra flew over eco-sensitive Chilka Lake with Panda, drawing the ire of the BJD leadership. Political analysts feel it's possible that he may have been caught in the political crossfire.
We're slipping into a zone where #freedom is in danger. It's outrageous that Abhijit Iyer-Mitra @Iyervval has been arrested by #Odisha Police on risible charges and denied bail. Please read and circulate my protest and appeal. Fight for your, his and everybody's liberty. #Indiapic.twitter.com/gbuHebzI8g

— Kanchan Gupta (@KanchanGupta) October 24, 2018
I don't even.

So now, separate from his Konark clip - for which he has three FIRs slapped against him - the Odisha Police have ARRESTED @Iyervval for his year-old tweet claiming in jest that Roshogolla originated in Bengal.

This CANNOT be happening. https://t.co/ENquAhU4cj

— Anand Ranganathan (@ARanganathan72) October 23, 2018
So @Iyervval heads to judicial custody for 14 days for a satirical video. This is how it is, it's just so easy to lock some one up for 45 days for a FB post and another for a video - not to mention the months of incarceration Kamlesh Tiwari underwent.

— Advaita Kala / अद्वैता काला (@AdvaitaKala) October 23, 2018
Abhijit Iyer Mitra's "objectionable" tweets are a year old when Baijayant Babu was in BJD. Nobody raised the issue then. Now when he is not in the party, taking such action against Mitra seems nothing but a political vendetta: #Odisha BJP VP Samir Mohanty on #AbhijitIyerRowpic.twitter.com/QldmKjRbK6

— OTV (@otvnews) October 24, 2018
Read Exclusive COVID-19 Coronavirus News updates, at MyNation.
Last Updated Oct 24, 2018, 5:31 PM IST