Haryana women's commission takes cognisance of sexual harassment complaint against close Rahul Gandhi aide and son of Congress leader Margaret Alva. Alva's neighbour had filed an FIR against him accusing him of having passed coloured comments and stalking. This scandal follows harassment charges against Divya Spandana and her aide in Congress social media cell Chirag Patnaik, and sacking of NSUI chief Fairoz Khan.
New Delhi: Following MyNation's big breaking story on Monday that Nikhil Alva, the 'gatekeeper' of Congress chief Rahul Gandhi's Twitter handle and son of senior Congress leader and former Rajasthan governor Margaret Alva, was booked for stalking and sending vulgar mails to a neighbour in his tony Gurugram residential society, the Haryana State Women's Commission on Tuesday took cognisance of the matter. 
Speaking exclusively to MyNation, vice-chairperson of the women's rights body, Preeti Bhardwaj said the organisation had swung into action over the complaint filed by the aggrieved woman. 
"We shall be writing to the Gurguram police on Wednesday to ask for the action taken report in the matter," Bhardwaj told MyNation.
MyNation exclusively interviewed the complainant, too, in which she accused the Gurugram police of dragging its feet in taking action against Alva. "I had filed my FIR with the DLF Phase-3 police station on December 4. But till date, nothing has happened against Alva. I had tendered all the evidence, which is, by the way, clinching, to the police. I had also recorded my statement in front of a magistrate under Section 164," the complainant said.
She further added that she had not just approached the DCP East district of Gurugram, but also moved the office of the police commissioner of the city, but to no avail. 
"I wrote to the commissioner and the DCP that Alva was threatening me after I had lodged the FIR. Alva threatened me on December 9 with dire consequences," she added.
Her letter to the police commissioner on December 12, accessed by MyNation, reads thus: "I met the SHO of DLF phase 3 on 10.12.2018 and narrated him the entire incident, but he did not take any action even after repeated request".
As the complainant lives alone with her two kids, one of whom is a special child, as her husband is in the merchant navy and thus out in high seas on duty, she also expressed to the commissioner of police her apprehensions regarding her well-being. 
"Nikhil Alva is politically well connected and influential man and the police are not taking any action because of this very fact. I fear for my life as I am staying alone with my kids," she wrote to the police commissioner.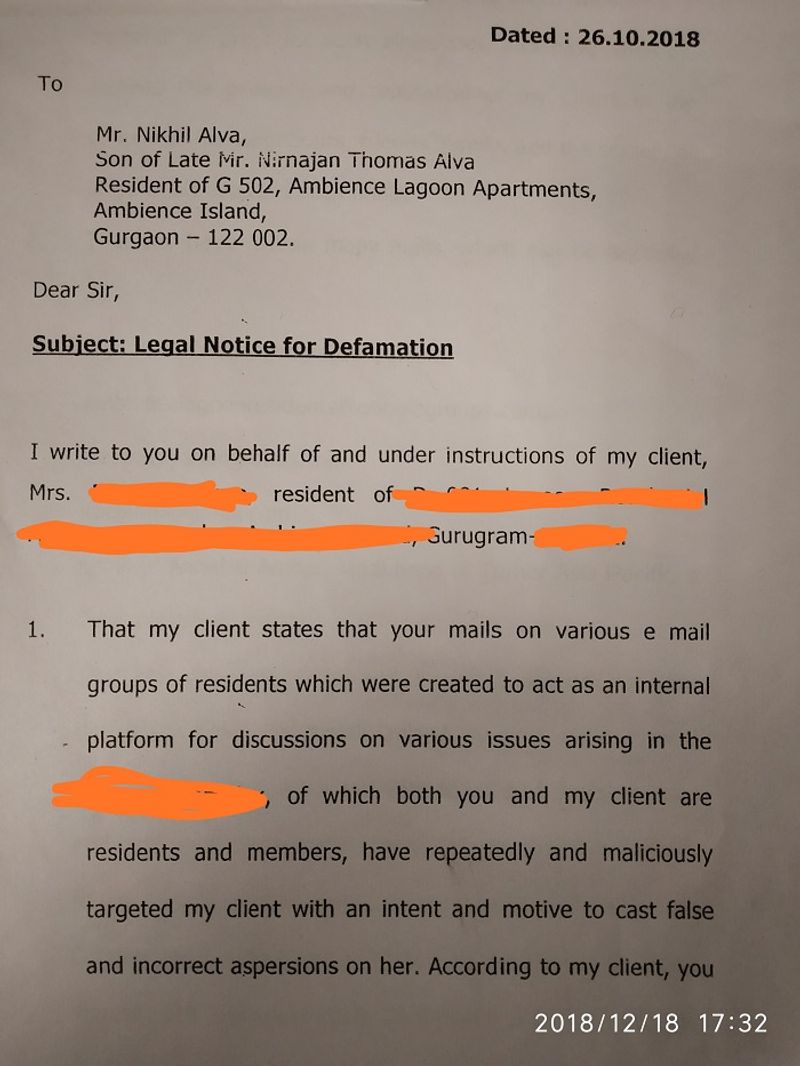 Meanwhile, the complainant rubbished Alva's attempts to pass off the angry email exchanges between the two as being rooted in RWA politics of the society. 
"Alva had complained to the Registrar of Societies in Gurugram alleging financial irregularities in the RWA. First of all, I am not in the Board of Management of the RWA so it has nothing to do with that. Moreover, his complaint was on November 30, but I had already sent him a legal notice over his cheap behaviour on October 26 through my lawyer," she said.
MyNation story that made the difference
Another massive sexual harassment scandal has hit the Congress. 
This time Nikhil Alva, the 'gatekeeper' of Congress chief Rahul Gandhi's Twitter handle and son of senior Congress leader and former Rajasthan governor Margaret Alva, has been charged with stalking and sending vulgar mails. The complainant is neighbour in an upscale residential society in Gurugram.
Also read: NSUI head Fairoz Khan, facing sexual harassment charges, steps down
MyNation has accessed the police FIR lodged on December 4. The victim has alleged that Alva often sent her vulgar and sexually coloured remarks through e-mails posted publicly on residents' online groups.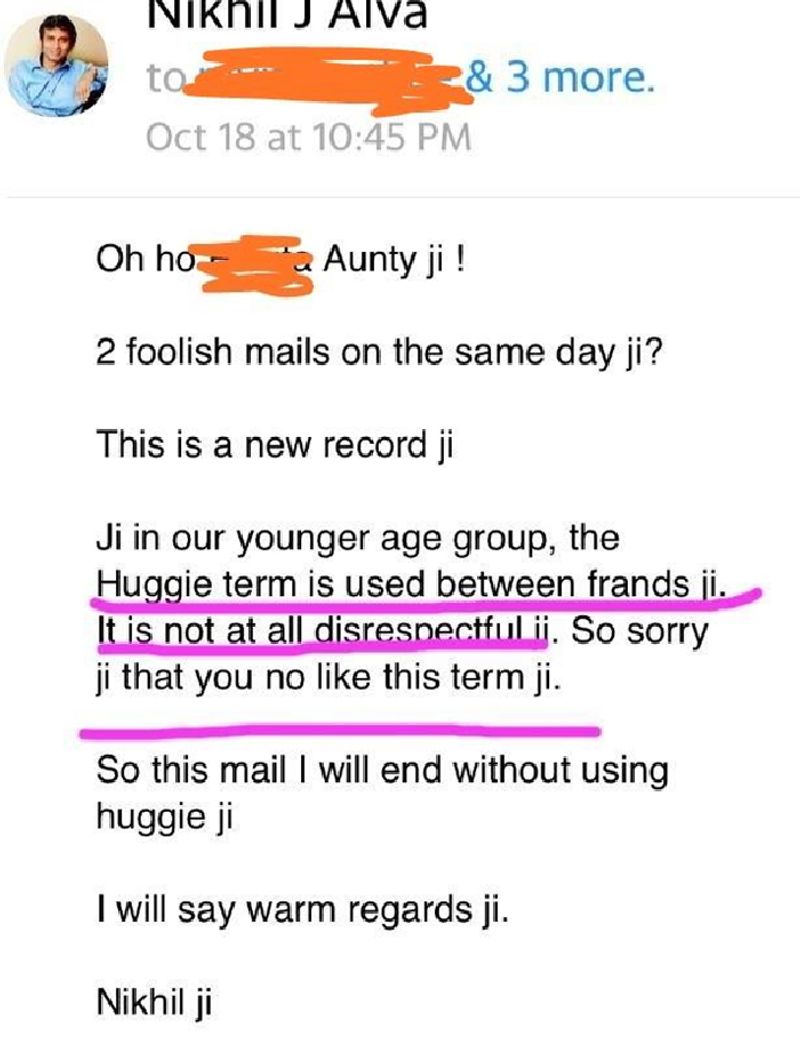 MyNation had in July broken the story of a young woman accusing Congress social media head Divya Spandana of professional harassment and her aide Chirag Patnaik of sexual abuse. An FIR was filed naming Panaik, who was arrested and is currently out on bail.
Also read: Exclusive: Victim of sexual harassment in Congress under pressure?
MyNation was also first to break the news of a serious sexual harassment accusation against then NSUI chief Fairoz Khan in October, which led to his sacking from the post.
Ex-minister's son junks charge
Responding to a query by MyNation, Alva rubbished the allegation.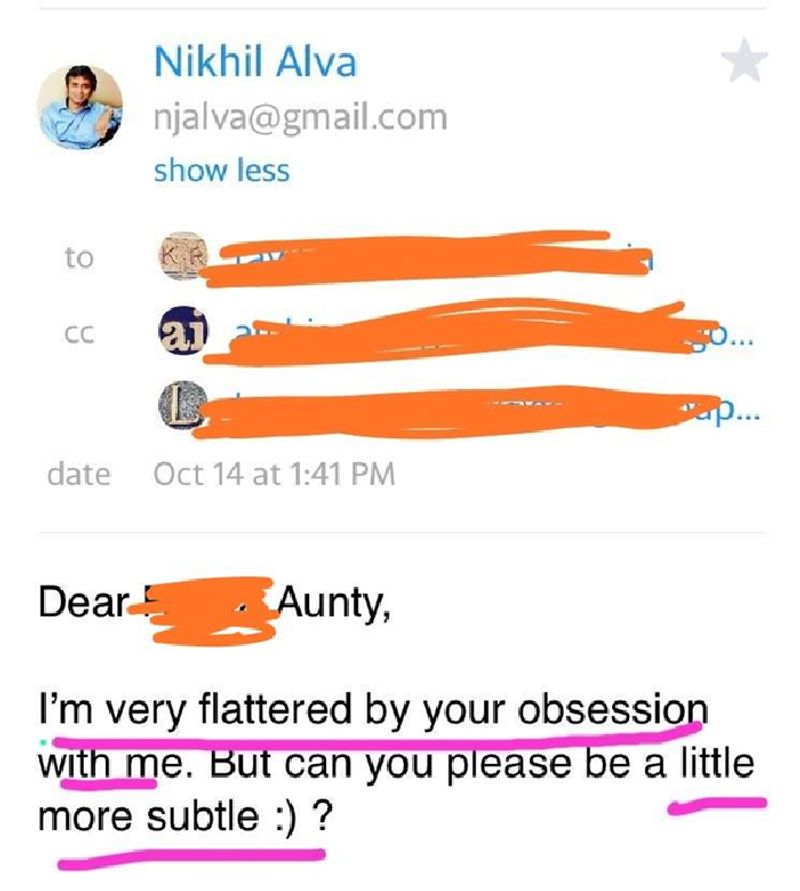 "The genesis of this is a residents welfare association (RWA) dispute. The lady in question and I have been at opposite ends of RWA politics for over a decade. Our exchanges are acrimonious, sometimes rude, but often quite funny," he said. "But they have always been on a public group with 345 other members including my wife and her husband."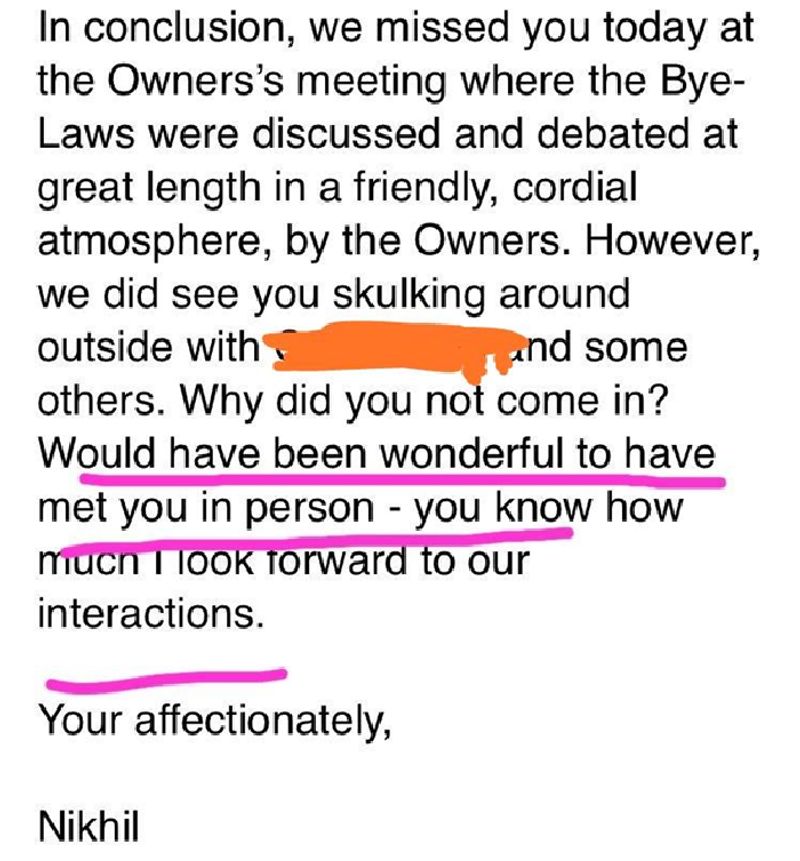 Alva said her complaint was based on his emails on that group, and the "false complaint" was lodged two days after he filed a complaint against the woman with the district registrar about financial irregularities in the RWA.
In her police FIR, the 47-year-old complainant said, "Nikhil Alva has been wilfully, deliberately, intentionally and maliciously posting emails on various groups with unwelcome sexual overtones using highly inappropriate and grossly offensive language despite a clear indication of disinterest from my side and advice to stop using loose expressions, obnoxious language in the emails."
Alva acted alfa male?
MyNation also accessed the emails Alva sent to the victim. She had accused Alva of having sent derogatory emails on at least 14 occasions.
Alleging that Alva deliberately "tried to systematically assassinate" her character, the victim said he "abused" her with such expressions as "voyeur, fake, disgraceful, con, liar, manipulative, shrewd, obsessed, incredibly sick, twisted brain and psychotic lady."
Alva is also accused of having threatened to defame the victim by publishing her emails in a book "Aunty ji ki silly aur hasin emails".
In his email exchanges with the victim, Alva can be seen calling the victim "Huggies-ji", and that he was "very flattered by your obsession with me", asking her to be a "little subtle".
The victim tried telling Alva that the language that he was using was not acceptable, and yet he appears to have persisted with his terminology for the victim.
Alva has been charged with Section 354 of the Indian Penal Code (IPC) that pertains to stalking. He has also been slapped with IPC's Section 509 which refers to "word, gesture or act intended to insult the modesty of a woman".
The section reads: "Whoever, intending to insult the modesty of any woman, utters any word, makes any sound or gesture, or exhibits any object, intending that such word or sound shall be heard, or that such gesture or object shall be seen, by such woman, or intrudes upon the privacy of such woman, shall be punished with simple imprisonment for a term which may extend to one year, or with fine, or with both."