Gucci, a top designerwear brand, has rubbed people the wrong way by listing dirty sneakers for sale at a price of $790 to $890. Here's what netizens have to say
New Delhi: If you are thinking of throwing away your old, torn sneakers, hold on. Turns out they may just be the latest 'in-thing', or at least Gucci thinks so. One of the leading fashion designerwear brand, Gucci, has courted controversy once again by posting legit dirty sneakers and passing them off as couture. 
Using words such as 'old school' and 'vintage' to describe the sneakers, Gucci has also attached a heavy price tag of $790 to $890 to the shoes. Yes, that would be about INR 56,200-Rs 63,300. So, would you consider getting duped all in the name of fashion? Then you can check out their Screener leather sneaker on the brand's official website.
Take a dekko: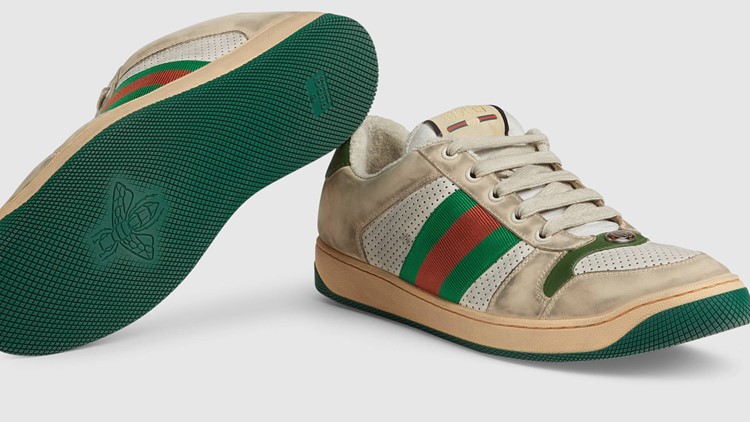 The sneakers are a part of their Cruise 2019 collection and is available in three colours. The website describes 'Influenced by classic trainers from the '70s, the Screener sneakers—named for the defensive sports move—feature the Web stripe on the side and vintage Gucci logo, treated for an allover distressed effect.' 
Obviously, the netizens were not amused and responded the way they know best - with savage memes. 
Obviously aimed at a particular intelligence level

— Jim T (@JimT9) February 13, 2019
I'm sure these fashion designers do ridiculously styled things for publicity. Anyone stupid enough to buy them needs to seek out a good Psychologist.

— Lorraine (@lorraney) February 13, 2019
This isn't fashion it's a insult and I don't mind spending money on designer clobber but I wouldn't pay for a pair of ugly dirty trainers just because there Gucci but I'm sure there's people out there with more money then sense that would

— Mark Romain (@romain_mark) February 13, 2019
That looks like the trainer I lost in the river Thames 37 years ago #jeremyvineon5

— John.andrews (@Andrews29John) February 13, 2019
However, some did actually consider buying them. Are they being sarcastic? Guess, we will never know. 
What do you make of these "dirty" trainers Gucci are selling for a mere £615? Bargain, right?! 🤔 #jeremyvine pic.twitter.com/ONqNUxgl7T

— Jeremy Vine On 5 (@JeremyVineOn5) February 13, 2019
I want some Gucci sneakers but I also wanna eat for the next couple of months

— Carlos (@OlDirtyCarlos_) February 22, 2019