From depicting Gods eating meat to encouraging extra-marital affairs, do you remember these advertisements that caused a furore?
New Delhi: As netizens debate whether the Hindustan Unilever's latest commercial for Surf Excel detergent is offensive or not, this is not the first time brands have attacked the religious and cultural sentiments of people. 
The detergent's advertisement sought to send out a message on inclusivity that seems to have backfired. The video shows a young girl who braves the water balloons and colours thrown by her neighbours on Holi till their stock is finished so that her Muslim friend can offer Namaz and join in the Holi merry-making.
However, the ad has irked certain factions and they are demanding a boycott of the brand with hashtags such as #boycottSurfexcel and  #BoycottHindustanUnilever trending on social media. 
So, check out all the advertisements that have recently caused a stir and laughed all the way to the bank. After all, any publicity is good publicity, right? 
Hindustan Lever's Brooke Bond Red Label Tea (2019)
Prior to the detergent ad, the company also courted controversy with the Brooke Bond Red Label Tea advertisement for showing the recently concluded Kumbh Mela in a bad light. The video shows a man attempting to abandon his old father in the Kumbh Mela and then, sharing a cup of tea after having a change of heart. Kumbh Mela is an event where Hindus take a dip in the holy river to cleanse their sins, so, many took offense to the portrayal of the religious mela as a place to abandon parents. 
Kalyan Jewellers for hurting bank unions(2018)
A constant fixture in any lists about cringe-worthy ads, Kalyan Jewellers are no strangers to courting controversy with questionable ads with racist imagery or sexist taglines. Their recent commercial featuring Amitabh Bachchan and his daughter, Shweta Bachchan Nanda was no different. The video shows the actor as an honest elderly man seeking to return erroneously credited pension that he has received twice. The man and his daughter are shown as being callously treated by the bank officials and this portrayal faced backlash from a bank unions threatening to sue the brand for "casting aspersion and hurting the sentiments of millions of personnel."    
Meat and Livestock Australia's (MLA) Lamb Advertisement (2017)
The advertisement by Meat and Livestock Australia's (MLA) seeking to encourage lamb meat consumption, incurred the wrath of many communities for defaming their deities, especially by the Hindus. The video shows religious deities such as Jesus, Buddha, Thor and Zeus of many cultures sitting and having luncheon, passing meat around, including Lord Ganesha. From quips such as 'Should we address the elephant in the room?' to showing Ganesha eating lamb meat, the ad was a major thorn for many Indians. 
Zomato hoardings (2017)
In a desperate bid to attract eyeballs, the then-art director in Zomato resorted to using expletives as an abbreviation to advertise various food. Hindi expletives such as MC and BC were blown up on hoardings to imply food names such as Mac-n-Cheese and Butter Chicken.
The brand was forced to pull down the hoardings and issue a public apology. 
Shame on you @ZomatoIN ! Absolutely shameful what you've attempted to do. Your investors should be sickened by your behaviour! @smritiirani : this is outrageous. @ascionline pic.twitter.com/pSChhHSrxo

— SUHEL SETH (@suhelseth) November 30, 2017
Jack & Jones Sexist Ad (2016)
Ironically, it was not Ranveer Singh's explicit Durex Denim condoms commercial but his role in a clothing company's advertisement that ruffled feathers. Jack & Jones released an advertisement showing the actor holding a woman over his shoulder and claiming "Don't hold back. Take your work home." to advertise their workwear. 
Naturally, the self-respecting men and women in India objected to the cringe-worthy sexism and many celebrities tweeted against the commercial. The brand issued a public apology.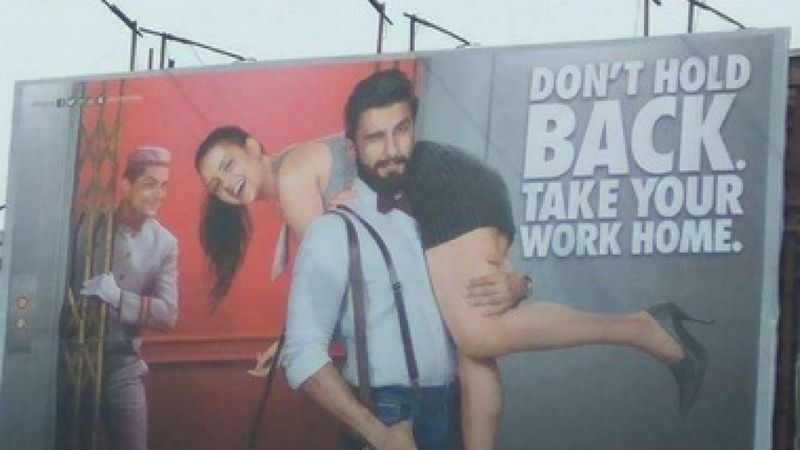 Read Exclusive COVID-19 Coronavirus News updates, at MyNation.
Last Updated Mar 10, 2019, 2:57 PM IST