Star attraction of Kumbh Mela 2019: Meet Tipu- The Tirth Yatra dog
Jan 28, 2019, 2:44 PM IST
Prayagraj: She eats falahar, has taken two holy dips in the Ganges and has a strict 'Disciples Only' policy for the tent, Tipu-the dog is quite the chela in making. After all, the guruji of this group of sadhus from Gujrat calls her his favourite cheli aka female disciple. 
Dogs or Shvan have a highly respected place in Hindu mythology. From being protectors of the gates of heaven and hell to serving as the vehicle or vahan of Hindu deity, Kalabhairava- the destroyer of enemies, these four-legged furballs are much more than just expert ball-catchers. 
In fact, the Rig Veda tells the tale of a female canine, Sarama, who helped Lord Indra retrieve his divine cows stolen by the demons. She is considered as the mother of all dogs and sometimes, even wild animals.
So, which is why the first time we spotted Tipu seems a little surreal. Sitting alone, behind a religious pyre with garlands adorned images of deities, Tipu was guarding the tent of her Guruji. As we proceeded to click her photograph, she growled softly to warn us to stay away. We complied.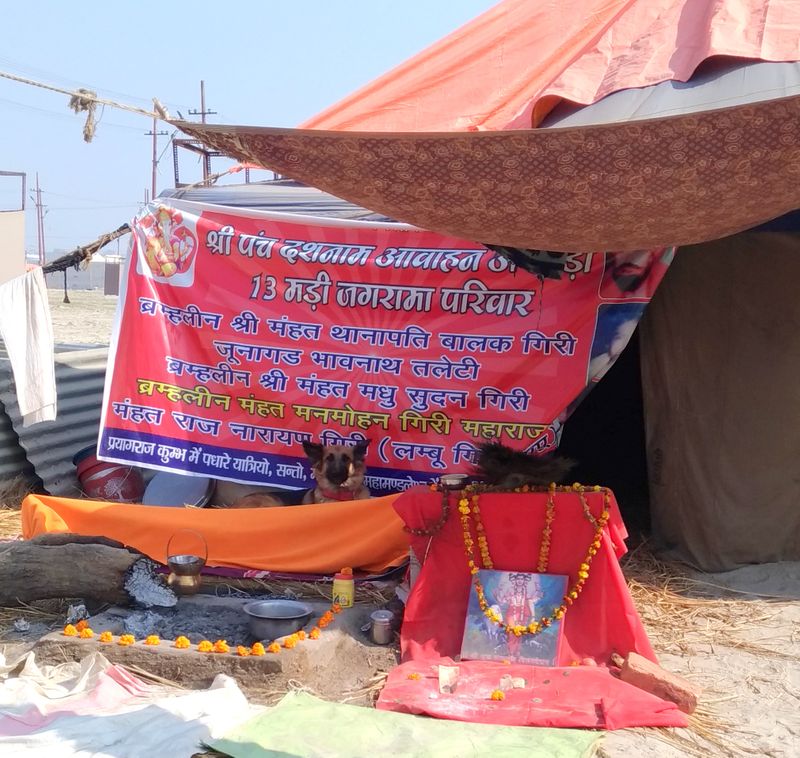 Two days later, we finally managed to track her down and persuaded her clique to sit down for an interview. They agreed…on the condition that we bring garlands of flowers for Tipu or she would not face the camera. 
In the smokey, marijuana fumed atmosphere of her Guruji's tent, Tipu was her most affable best as her fellow-disciples discussed her packed religious itinerary and heaped praises. Watch our video to know more.