In a first for one of the largest contemporary art biennales in the world, the Kochi-Muziris Biennale (KMB) has landed major support from a private sector bank

Every second year, some of the most acclaimed artists, curators and culture connoisseurs from all over the world converge in Kerala for the Kochi-Muziris Biennale (KMB), a showcase of the strongest voices and flavours in art today. Spread over the beautiful city through its many forts, quaint cafes, public spaces and beaches, KMB has been growing steadily as an independent festival, but this year marks a big development.   
Leading private sector lender South Indian Bank has offered Rs 1 crore for the fourth edition of country's premier art event, which kicks off in December 2018. SIB was one of the patrons of the third edition of the biennale in 2016, and this year it is providing its support as a part of its Corporate Social Responsibility (CSR) outreach. The MOU was inked in Thrissur by SIB's MD & CEO Mr. V.G. Mathew, and KBF President, Mr. Bose Krishnamachari.
"South Indian Bank's partnership with Kochi Biennale Foundation sends a much needed message by securing Kerala's cultural heritage through this tie-up," says KBF co-founder and Secretary, Mr Riyas Komu. "Kochi-Muziris Biennale is the most important cultural event in the state and participating in it is a matter of privilege for the Bank," says Mathew.
The list of artists for this year features prominent names like Marlene Dumas (Netherlands), Valie Export (Austria), Jitish Kallat (India), Guerrilla Girls (USA), Nilima Sheikh (India), Araya Rasdjarmrearnsook (Thailand) and Song Dong (China).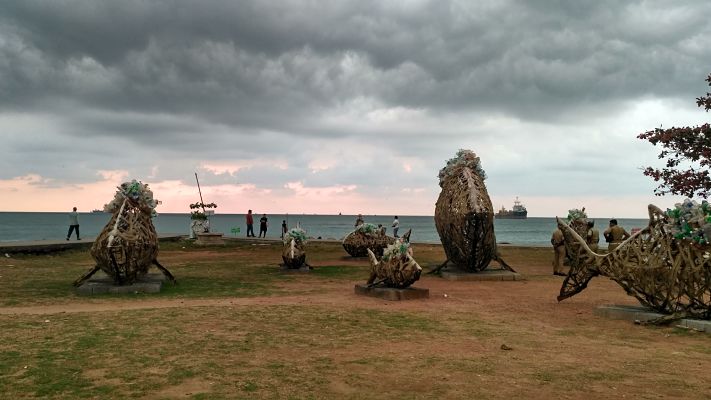 Source: Arun Joseph
Curated by eminent artist Anita Dube, the fourth edition of the 'People's Biennale' begins on December 12, 2018.  Dube, who visited a total of 29 countries as part of her research, emphasised the importance of inclusion and collaboration in her curatorial approach, with a wide range of Indian and international artists.
Artists from India and of Indian origin include Annu Palakunnathu Matthew, B.V. Suresh, Madhvi Parekh, Sunil Gupta & Charan Singh, Vipin Dhanurdharan, Prabhakar Pachpute, Rina Banerjee, Shubigi Rao and Shilpa Gupta. KMB 2018, which will have a span of 108 days from December 12, 2018 to March 29, 2019, will be supported by an ancillary programme of talks, workshops, film screenings and music across a range of venues in Kochi. "In both the exhibition and the carefully designed interactive spaces, I hope the incredible range of exhibiting artists and visitors will become active participants and co-producers of the Biennale as a knowledge laboratory," says Dube.