See India through a brand new pair of eyes as you walk through the history, geography, linguistic, scientific and artistic contributions to rediscover your country.
New Delhi: The three-day long cultural fest Arth kicks off today. Loosely translated, Arth means meaning and that's what the festival is all about. From gently nudging you into deep introspection with panel discussions on feminism, faith and more to DIY workshops showing Indian artisans at work, you may never have seen India this way before. 
The three-day festival, touted to be India's first multi-regional fest, will be held here at the lawns of the Indira Gandhi National Centre for the Arts (IGNCA). The programme is divided into three categories- Samvaad for thought-provoking discussions, Samaavesh informs you about the amazing cultural history of the country and Kala Kaushal that entails live performances and craft workshops. 
There is also a Taare Zameen Par: Kids Section consisting of discourses on Indic philosophies for children. Now, doesn't that sound like an incredible festival to discover your incredible Indian-ness?
DELHI, WE ARE HERE!!
Here's your guide to the Dabur Red Paste presents Arth - A Culture Fest starting today and on till the 10th of February at IGNCA, Delhi
If you haven't yet, register now on https://t.co/y9Nn0BaEg0 for free entry.@DDC_India @vikramsampath @ZeeNews @ZEE5India pic.twitter.com/MFyztLxCid

— Arth - A Culture Fest (@arth_live) February 8, 2019
As their website states, "As you walk through India's history, her geography, her linguistic, scientific and artistic contributions, your individual interpretation will be your discovery, your meaning, your ARTH! Arth isn't merely a festival, but a culture quest that will keep alive the meaning of our culture. This festival will focus on literature, culture, society, music, traditions, history and art." 
Participants include prominent names like Union Minister Smriti Irani, senior leader Subramanian Swamy, actor Raveena Tandon, classical dancer and Rajya Sabha MP Sonal Mansingh, economist Bibek Debroy, authors Ashwin Sanghi and Amish Tripathi. 
So, if you are ready to be united by diversity, click here to get started.  
The Day 1 of the fest begins today and ends on February 10. Check out the detailed event plan below.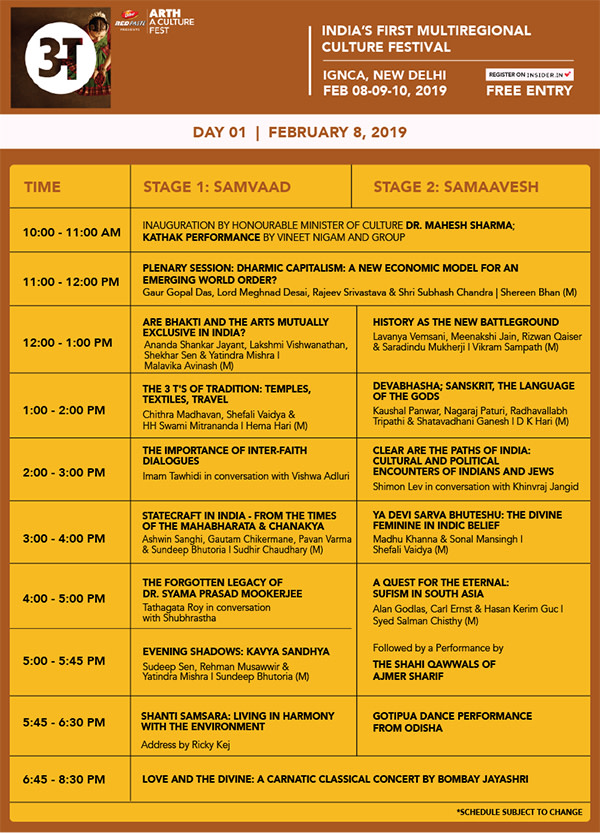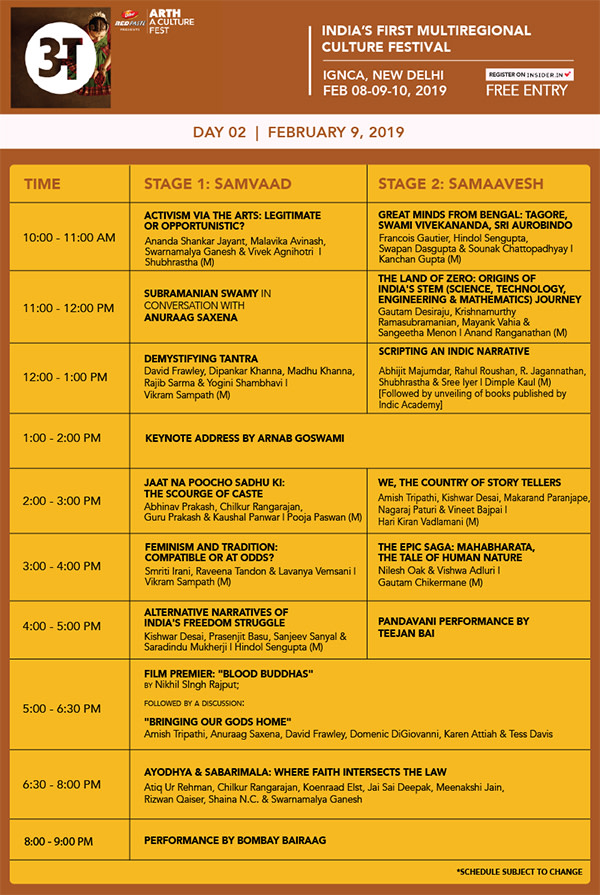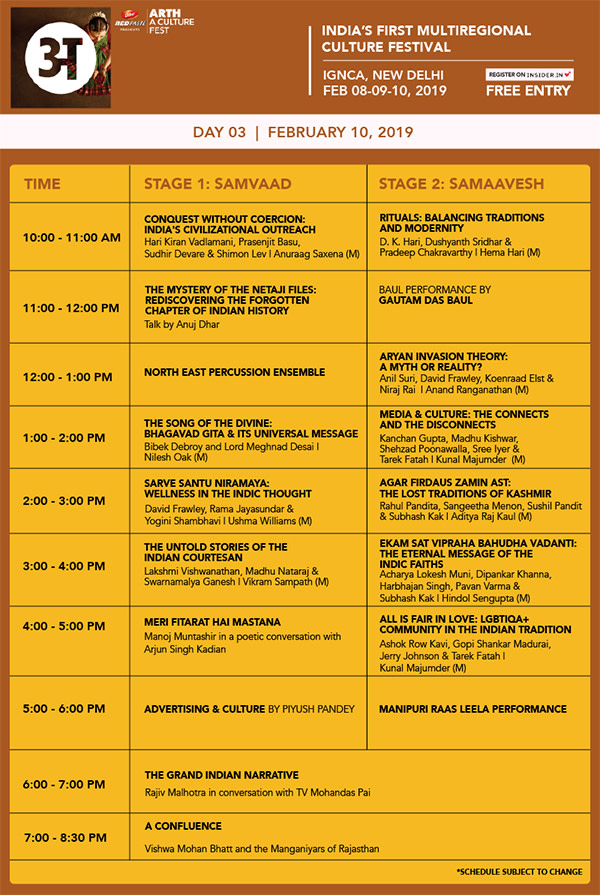 (Schedule courtesy: Insider.in)