Dharmasthala temple chief Dr Veerendra Heggade has issued a notice and requested devotees to postpone their visit to Dharmasthala temple as the region is facing acute shortage of water
Mangaluru: Dharmasthala Temple has issued a notice to devotees, requesting them to postpone their visit as the region is facing acute shortage of water.
The notice states:
"With the passing of days, the shortage of water has become severe throughout the country. People are suffering due to lack of water in Dakshina Kannada. As reported in the media, the district administration is supplying water on ration basis two or three days in a week. Even Dharmasthala is facing shortage of water as water levels in Nethravathi river have reduced considerably.

A huge quantity of water is needed for the use of devotees visiting Dharmasthala temple. Thus, we request devotees to postpone their visits by a few days and cooperate with us."
The notice has been issued by Dr Veerendra Heggade, the chief of Dharmasthala temple.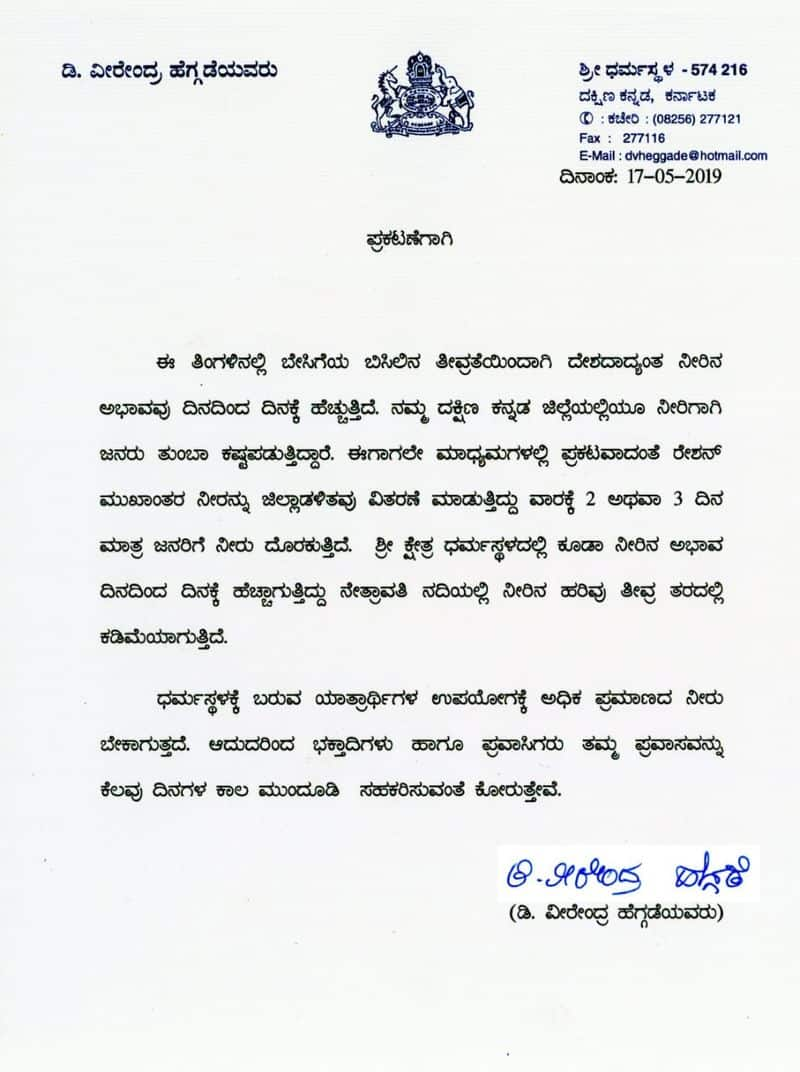 Thousands of people visit Dharmasthala Manjunatheshwara temple from all over the country, every day. The temple also provides annadaan (free meals for devotees) daily and in order to provide this service, the temple needs to have large stock of water.
However, with the delayed pre-monsoon rains, the region of Dakshina Kannada district (where Dharmasthala is situated) and neighbouring Udupi district face acute shortage of water.
Dharmasthala is located on the banks of river Nethravathi, which is the main source of drinking water of the Dakshina Kannada district. Currently, however, the amount of water has been deemed insufficient to meet the requirements of the region.
Farmers dependent on Suvarna River too have incurred a loss as their crops have withered due to lack of water supply.
Last Updated May 17, 2019, 8:15 PM IST