Twitter blocked Amul page for an advertisement on 'Exit the Dragon' with reference to Modi's Atmanirbhar Bharat, but was restored later
Bengaluru: This morning, Twitter blocked the account of dairy giant Amul.  
As it was blocked, users informed Amul about it. The harsh action was reported to be a consequence of Amul girl's "Exit the Dragon" advertisement.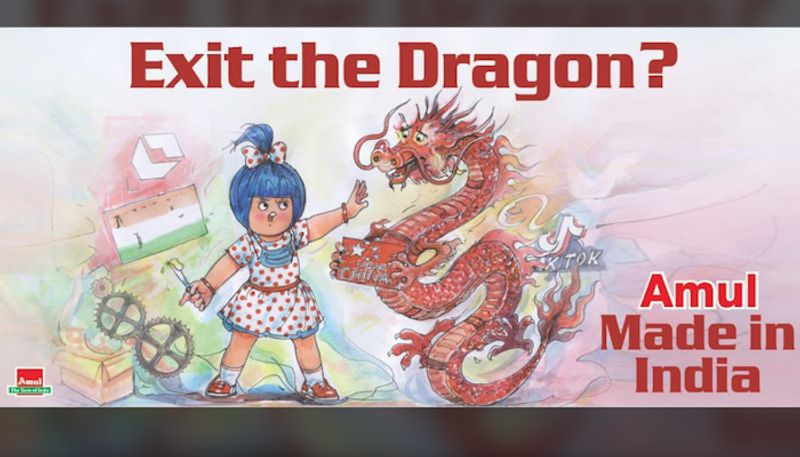 Once the giant was informed of the issue, as reported by Republic TV, RS Sodhi, managing director of Amul said, "On Saturday, some of our users told us that the Twitter page isn't working. We attempted all procedures and later the page was restored. We have written to Twitter but have not received any reply as of now. We do not know why was this done. Amul Butter girl comments on all trending issue, it is like news. She tells you the mood of the nation. She does not even promote the Amul products, she comments on issues around the world and she has been doing it for so many years, we don't know why would someone file a complaint against her."
A note on the advertisement: 
Though Twitter did block Amul advertisement, it undid it in sometime. 
The social media company had taken umbrage over the advertisement in which the girl refers to Bruce Lee's "Enter the Dragon" and changes it to "Exit the Dragon". 
The girl is seen pointing at the Made in India products with her one hand and with the other she stops the Dragon, which is a symbol for China. Chinese company like TikTok is seen behind the Dragon. 
The advertisement also points out at the stress that needs to be laid on Make In India products, on the basis of PM Narendra Modi's Atmanirbhar Bharat. 
Amul is known for making such creative advertisements on topical issues, driving home critical messages with aplomb and impact.