Avinshu had posted on Facebook stating though he looked like a boy, he felt, walked and talked like a girl. "This is not acceptable in India and that is why I am committing suicide," he had posted.

Chennai:  19-year-old Avinshu Patel was found dead at a beach in Chennai, shortly after posting an emotional letter on his Facebook page. Neelankarai Police have registered a case of drowning and are conducting a probe.
Called Avi by his friends, Avinshu, who hailed from Mumbai, worked at a salon in Chennai.
In his final post on Facebook, he wrote, "Please do not hold anyone or any company I was with responsible for my death. I am just a man whom you see as a transgender. Everyone knows that I am boy. But the way I walk, feel and talk is like a girl. People in India do not like it. This is why I am committing suicide."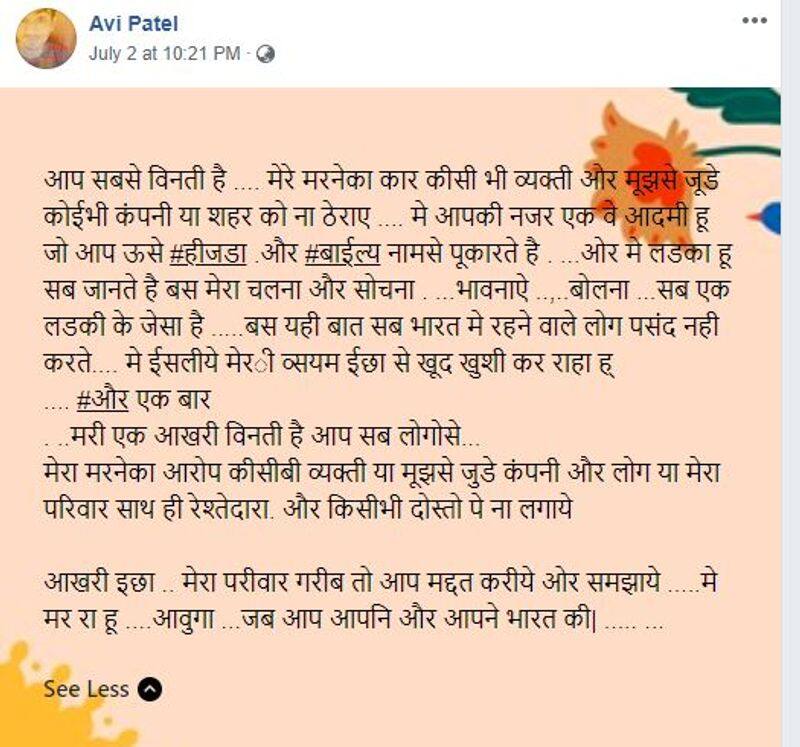 He also wrote, "Please do not blame my family. We are poor. Help them."
The post was written on July 2, around 10pm.  According to reports, his phone was switched off shortly after he sent the Facebook post. His body was found at the beach near his residence by locals the next day.
The issue came to light when the staff of the salon where he worked phoned him but did not get any reply. The police then informed the salon that Avinshu's body was found by the beach. The salon employees informed his family in Mumbai and made arrangements for their arrival to Chennai.
According to police, Avinshu reportedly did not face any problems in the workplace.
Last Updated Jul 9, 2019, 4:16 PM IST