Mehbooba Mufti suggested, if Article 35A were to be abrogated, Kashmir would break away from India and possibly join Pakistan; Tajinder Pal Singh Bagga, therefore, wants the charge of sedition to be pressed against the former Jammu and Kashmir chief minister
Delhi BJP spokesperson Tajinder Pal Singh Bagga has filed a police complaint against former Jammu and Kashmir chief minister Mehbooba Mufti. Bagga has demanded that an FIR be lodged against Mufti for suggesting Kashmir may choose to break away from India if Article 35A is withdrawn.
Bagga has demanded that Mufti be booked under various Sections of the Indian Penal Code (IPC) including Section 124A, which pertains to sedition.
The complaint asks for an FIR to be lodged under IPC Sections 153 (wantonly provoking with the intent to cause riot), 153A (promoting enmity between different groups on grounds of religion, race, place of birth, residence, language), 504 (intentional insult with intent to provoke a breach of peace) and 505 (statements akin to public mischief).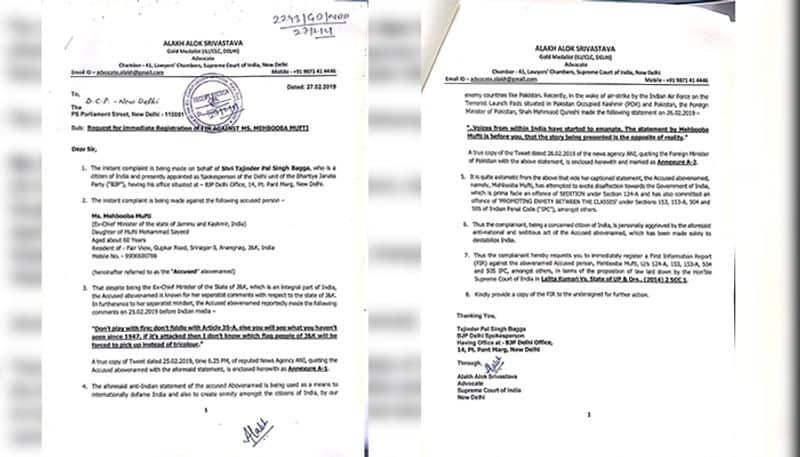 Mufti had earlier said, "If there is an attack (on Article 35A), then I do not know which flag, other than the tricolour, would the people of Kashmir bear in hand. And if they do so, then do not tell us that we had not warned you (Centre). Do not push the people of J&K to the wall."
In other words, Mufti suggested, if article 35A were to be abrogated, Kashmir would break away from India and, worse, choose to go with any country of their wish (a veiled reference to Pakistan). She said this ahead of the crucial hearing on Article 35A in the Supreme Court, where the constitutionality of the article is being challenged.
I am Filling a sedition Complaint against Ms Mehbooba Mufti today Parliament street Station at 2 PM for her Anti National comments. pic.twitter.com/u2Uv1TWjx9

— Tajinder Pal Singh Bagga (@TajinderBagga) February 27, 2019
Bagga's advocate Alakh Alok Srivastava attached the screenshot of a tweet of news agency ANI, which quoted Mufti as saying the above.
Bagga's complaint reads: "The aforesaid anti-Indian statement of the accused above named is being used as a means to internationally defame India and also to create enmity amongst the citizens of India, by our enemy countries like Pakistan."
Mufti did not stop at that. She, in fact, went on to warn, "It is my humble submission to the powers in our country, do not play with fire. Its consequences would be grave and something which you have not witnessed since 1947."
Last Updated Feb 27, 2019, 4:51 PM IST