Here is the story of two Akshardham temples. One is situated in National Capital Delhi and it is the world's largest comprehensive Hindu temple while the other one, situated in London is the largest Hindu temple outside the country
New Delhi: In the long history of man's endeavour to grasp the fundamental truth of being, the sages and profound thinkers of early India have helped in solving the problems of the origin, the nature and the destiny of man and the universe. Since then temple has acted as the entrance of self-realization and God.
It was a befitting culmination of about five centuries of perseverance, reverence and penance of crores of devotees when Prime Minister Narendra Modi laid foundation stone of much-cherished Shri Ram temple in Ayodhya on August 5 at an auspicious time between 12.30 and 12.40 p.m. It was a reverential moment for the devout who had been waiting for a long time to see a grand temple of Lord Ram at his birth place of Ayodhya.
Here is the story of two Akshardham temples. One is situated in National Capital Delhi and it is the world's largest comprehensive Hindu temple while the other one, situated in London is the largest Hindu temple outside the country.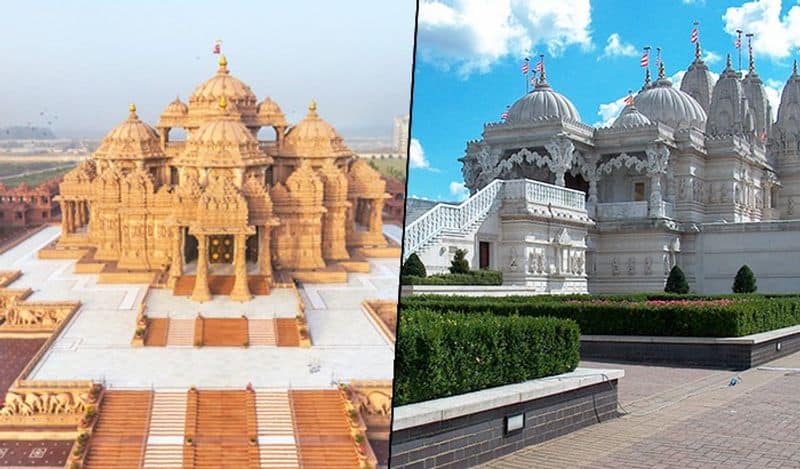 Delhi's delight 
Swaminarayan Akshardham is not just a temple, but a place of education, entertainment and enlightenment. It showcases the essence of India's ageless art, borderless culture and timeless values. The grand, ancient-style, ornately hand-carved stone temple has been built without structural steel within five years by 11,000 artisans and volunteers. This complex is flooded with shrines, sculptures, parks, lakes and rides. All these come together to create the most powerful experience of Indian culture ever to exist.
It measures 370 ft long, 316 ft wide and 141 ft high, covering an area of 86,342 sq ft. It is covered top to bottom with carved details of flora, fauna, dancers, musicians and deities. Designed in accordance with ancient Vedic text known as the Sthapatya Shastra, it features a blend of architectural styles from across India. It is constructed entirely from Rajasthani pink sandstone and Italian Carrara marble, and has no support from steel or concrete. The monument also consists of 234 beautifully carved pillars, nine domes, and 20,000 murtis and statues of sadhus, devotees and acharyas. The monument also features the Gajendra Pith at its base, a plinth paying tribute to the elephant for its importance in Hindu culture and India's history. It contains 148 scale sized elephants in total and weighs a total of 3000 tons.
To construct a stable foundation, 15-foot of rocks and sand were entwined with wire mesh and topped by five feet of concrete. Five million fired bricks raised the foundation another 21.5-foot. These bricks were then topped by three more feet of concrete to form the main support under the monument. On 2 July 2001, the first sculpted stone was laid and His Holiness Pramukh Swami Maharaj consecrated the temple on 6 November 2005.
Within the monument, under the central dome, lies a murti or statue of Swaminarayan which is 11-foot high. The murti is surrounded by similar statues of the gurus of the sect. Each murti is made of paanch daatu or five metals in accordance to Hindu tradition. Also within the central monument lie the murtis of other Hindu deities, including Sita Ram, Radha Krishna, Shiv Parvati and Laxmi Narayan.
London's pride 
The great Pyramid of Giza took 100,000 workers 20 years to assemble its 2.3 million stones, but the Swaminarayan Hindu Temple can stand shoulder to shoulder with it. Inside, the mandir is a space of almost blinding whiteness and purity. Every vertical surface is carved with stories from the scriptures (veda) and lacy motifs. A forest of pillars fills the floor and above them soars the central dome, stepping up in wedding-cake tiers towards the two-and-a-half tonne keystone which drips downwards like a glorious stone chandelier. Soft lighting brings out the milkiness of the marble and the whole interior exalts in the intimate devotion that has gone into carving each tiny filigree. It is a labour of love and a work of art.
In the centre is the figure of Bhagwan Swaminarayan flanked by Aksharbrahma Gunatitanand Swami, the ideal devotee, and Aksharmukta Gopalanand Swami. Shri Harikrishna Maharaj stands in a shrine to the left, his face painted gold. The story of the mandir goes back to the early '70s, when London's Asian population was on the cusp of a boom. Consecrating London's first temple at 77 Elmore Street, Islington, in 1970,Yogiji Maharaj, then head of the world BAPS (Bochasanwasi Akshar Purushottam Swaminarayan Sanstha, a major organisation in the Swarminarayan branch of Hinduism) prophesied that 'this mandir will be too small to accommodate the devotees one day'. Two years later, thousands of Asians fled to London from Uganda and the new leader, His Holiness Pramukh Swami Maharaj, expressed his wish to see a marble temple built in the capital. The devotees took up the challenge and, after several false starts and planning battles, finally fulfilled his vision in 1995.
Built on an old car lot just off the North Circular, the temple complex falls into two distinct parts - the marble and limestone mandir, based on ancient Shilpashastra architecture, and the conventionally built prayer hall and community centre. Though the latter was contracted out to a building company, the mandir itself was constructed by members of the community. Eighth-generation architect CB Sompura, based in Ahmedabad, was approached to draw up the plans.
1,200 tonnes of Carrara marble from Tuscany, 920 tonnes of Ambaji marble from Gujarat and 3,000 tonnes of Bulgarian Vratza limestone were shipped to the Indian port of Kundla where it was taken to workshops across Gujarat and Rajasthan, carved, then shipped to England. In all, 26,300 pieces of ornately carved stone were assembled in a 3D jigsaw puzzle, without using any conventional structural materials such as steel or lead, thought to interfere with the force fields of the meditative mind. London has 45,000 Hindus living in Harrow, 40,000 in Brent, and many more in Hounslow, Ealing and Finchley. The temple is the epicentre of this community. Mind, body, spirit are all catered for here. 
 
Read Exclusive COVID-19 Coronavirus News updates, at MyNation.
Last Updated Aug 10, 2020, 1:24 PM IST