Sanjay Hegde, the mediator appointed by the Supreme Court to convince Shaheen Bagh protesters is a man who has anti-CAA views. This was even pointed out by Solicitor General Tushar Mehta. Sanjay Hegde was once caught peddling fake news.
Bengaluru: On the second hearing of the Shaheen Bagh protest case by the Supreme Court, a bench of two, Justices SK Kaul and KM Joseph, appointed 3 lawyers as mediators to have a word with the protesters and convince them to  shift to an alternate site.  
They are Sanjay Hegde, Sadhna Ramachandran and former chief information commissioner Wajahat Habibullah. 
Of the three, Sanjay Hegde, which the court picked, is a known Modi critic and is known to have anti-CAA views.  
In fact, Solicitor General Tushar Mehta even pointed out that Sanjay Hedge is against the Citizenship Amendment Act (CAA) and that it was also the case with the Shaheen Bagh protestors.
Sanjay Hegde is also known to be spreading lies and fake news all the time and his account too has been suspended, for which he had threatened to take Twitter to court. 
Once such fake news pertained to NIA judge Ravindra Reddy joining BJP. It was he who acquitted RSS leader – Swamy Aseemanand in Mecca Majid bomb blast.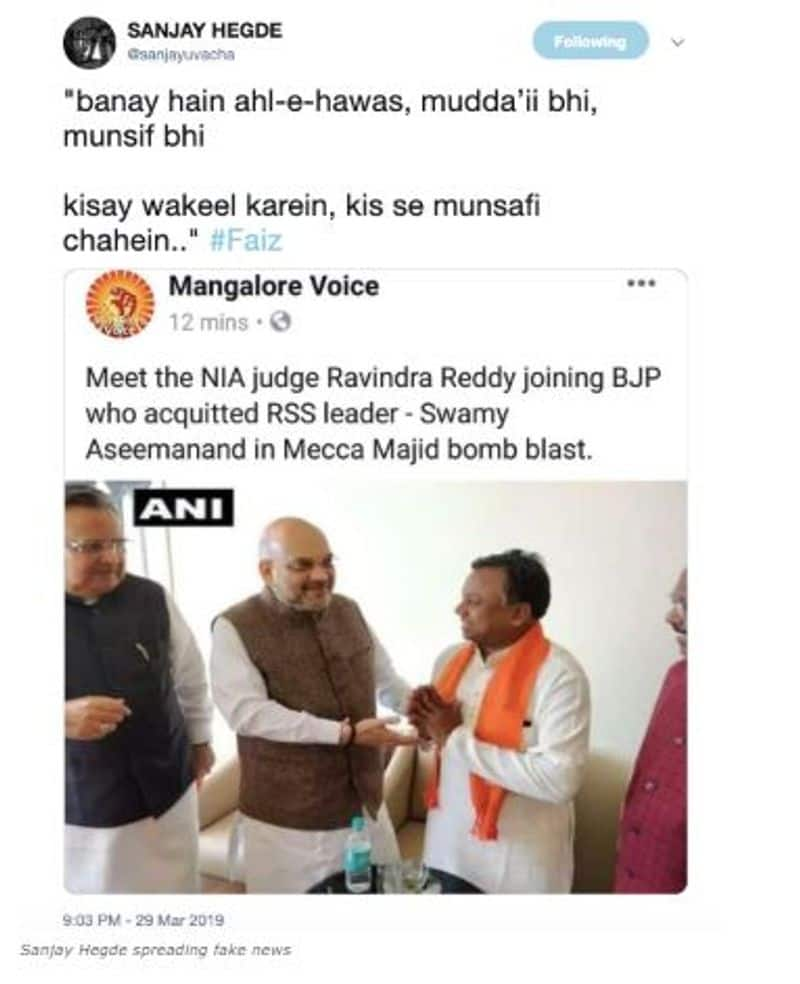 There were several theories making the rounds that the judge was being rewarded for his acquittal verdict. But they were found untrue. 
We were able to compile two tweets from a differnet twitter handle of Sanjay Hegde. In one of them, Sanjay had put out a poll in order to root out the Modi government. 
Who is with me against the oppressive policies of the Modi government? Without identifying with me, without giving me the tag of fake or real, who is with me to root out the Modi government?

To expose the Modi govt, give us your opinion on where we should create our new account.

— Sanjay Hegde (@sanjayuvacha1) February 6, 2020
In another tweet, he expressed that 'he was freedom, he is freedom and he would be freedom'. 
मै आज़ाद था, आज़ाद हूं, आज़ाद रहूंगा।

"They can kill me but they can't kill my ideas nd thoughts, they can crush my body but they will not be able to crush my spirit".
#शाहीनबाग_को_आपकी_जरूरत_है #शाहीनबाग_को_आपकी_जरूरत_है pic.twitter.com/lHBLbFqqT8

— Sanjay Hegde (@sanjayuvacha1) February 2, 2020
The Shaheen Bagh protests have been going on for two months now. The protesters have this view that the CAA is being used to oppress a particular section of the society. 
But as PM Modi and Union home minister Amit Shah have reiterated, CAA doesn't even apply to Indian citizens. 
All it does is grant citizenship to the persecuted minorities of Pakistan, Afghanistan and Bangladesh. The law is expected to benefit 32000 such people. 
 
Read Exclusive COVID-19 Coronavirus News updates, at MyNation.
Last Updated Feb 18, 2020, 5:03 PM IST