Former Karnataka chief minister Siddaramaiah took a jibe at the voters for choosing to vote for the BJP and not the Congress. He compared the BJP to the East India Company (EIC), which he said had a tactic of dividing the society to garner votes.
Bengaluru: It's been more than a month since BJP romped home to victory in the Lok Sabha polls 2019. While BJP has gotten down to business, the Congress is still cribbing over its ignominious defeat!

While chief minister HD Kumaraswamy keeps lamenting people's decision to vote for PM Modi, his predecessor Siddaramaiah too is not left far behind. Taking a jibe at the voters for their decision to vote for the BJP, he compared the BJP to the East India Company and its divisiveness.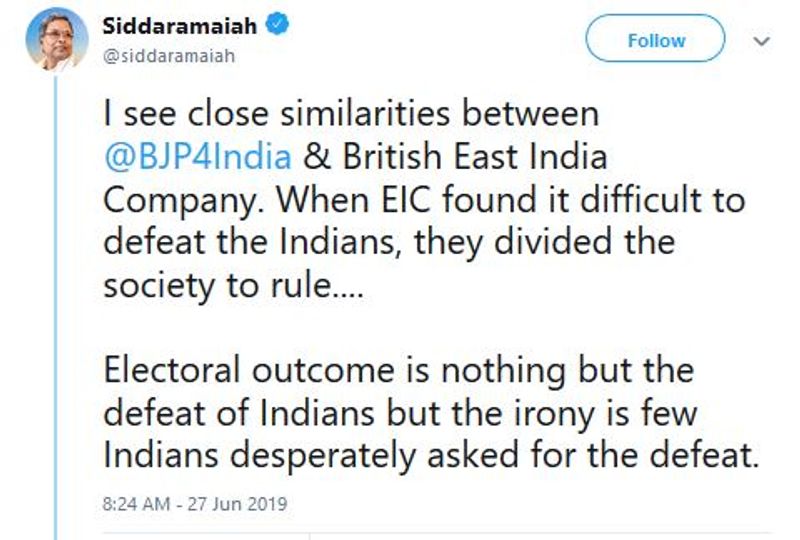 The leader also took potshots at the electorate for not recognising the efforts of the Congress.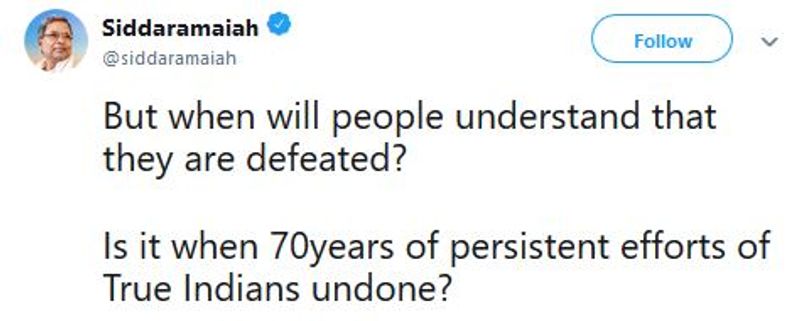 And he openly defended his claims, saying it was not wrong to seek credit for what was delivered.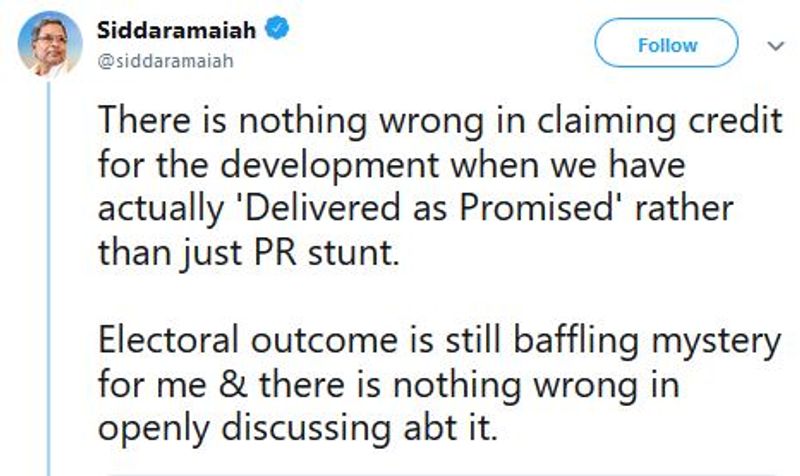 And as expected, the BJP is not happy with such statements by the Congress leader.
Chandrashekhar, a BJP spokesperson, said, "Because Congress has lost power and reduced to a regional party across India, it is resorting to such tactics. They don't have people-oriented policies. They themselves were doing vote-bank politics and populism at the cost of the nation. So the people voted for the BJP for national integration and unity. They voted BJP for development. BJP believes in sabka saath, sabka vikas, sabka vishwas."
It is pertinent to note here that though Siddaramaiah accuses BJP of divisiveness, it was his government that recommended a separate religion status for the Lingayats in the year leading up to the Karnataka Assembly polls 2018.
The spokesperson added: "It was Siddaramaiah, who sent a request to the Centre, according a special status to the Lingayats. BJP has never fragmented the society based on such lines."
For the BJP, Karnataka was one of the states that gave them rich dividends. The BJP went on to win 25 seats in the Lok Sabha polls, with Sumalatha, the independent candidate whom it backed, also winning in Mandya.
It is again germane to note that the coalition government in Karnataka is a divided lot, with leaders from both the Congress and the JD(S) openly fighting it out, said BJP sources.