An old tweet, put out by Rhea Chakraborty in relation to narcotics haunts her as she is arrested

Bengaluru: When in the year 2009, the now accused in the death of actor Sushant Singh Rhea Chakraborty put out a tweet, in relation to narcotic trafficking, little did she know that she  herself would be in the firing line a decade later! 
She had written: "Just stepped out of a weird scary engrossing story of an Indian girl, who served 4 ½ years jail sentence for narcotic trafficking."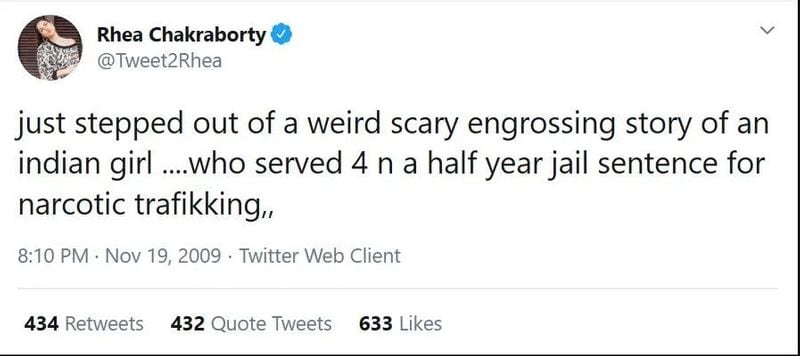 Now as she is in the custody of the Narcotics Control Bureau, she would be equating herself with the character she had written about a decade ago! 
Earlier today, the Narcotics Control Bureau arrested the accused Rhea Chakraborty after 19 hours of grilling. This was her third day of grilling, on the trot. 
She was produced for medical checkup at 4 pm. She has tested negative for COVID-19. 
Republic TV added that, on day three of her interrogation by the Narcotics Control Bureau, Rhea Chakraborty admitted that she was consuming not just marijuana, but also hard drugs, as per sources. The actor had earlier admitted 'procuring drugs' Along with her brother Showik, who has been arrested by NCB. This is another major disclosure made by her, apart from reportedly taking the names of Bollywood stars who were also consuming drugs.
Quoting sources, Republic TV also said that Rhea Chakraborty in her interrogation revealed that whenever she called Sushant's house help Dipesh Sawant and asked for drugs, it was not for her but for Sushant Singh Rajput and his friends. She also reiterated her claim that she has never consumed drugs. However, according to sources, she said at best she had smoke cigarettes. Rhea also revealed that through his brother Showik, she had met the alleged drug peddler Basit Parihar, who is currently in NCB's custody, on five occasions and that he used to visit their house.