The moment millions of Indians waited for and dreamt of, finally came to reality with PM Narendra Modi laying foundation stone at the Ram Janmabhoomi site where the temple will be constructed
Ayodhya: Prime Minister Narendra Modi laid the 40-kg silver brick at the Ram Janmabhoomi site to mark the beginning of the construction of the proposed three-storey Ram Mandir where devotees believe that Lord Ram was born.  
The silver brick was laid at an auspicious moment 12:44:08 pm after PM Modi performed Bhoomi Pujan.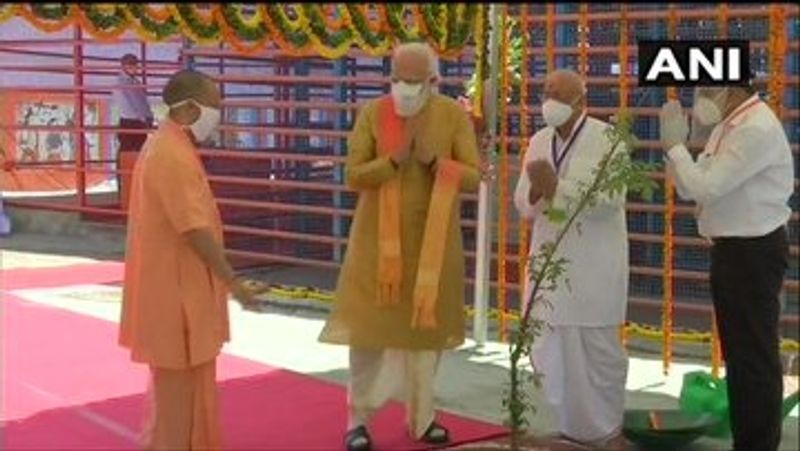 PM Narendra Modi, RSS chief Bhagwat, UP CM Yogi Adityanath and Governor Anandiben Patel at sat for the Bhoomi Pujan rituals.
There are 2,75,000 stones with 'Jai Shri Ram' carved on them that have been brought for the Bhoomi Pujan ceremony. Nine of these stones were used for the rituals of Bhoomi Pujan or the ground-breaking ceremony of Ram Mandir in Ayodhya.
"Nine bricks are kept here, these were sent by devotees of Lord Ram from around the world in 1989. There are 2 lakh 75 thousand such bricks out of which 100 bricks with 'Jai Shri Ram' engraving have been taken," said the priest presiding over Bhoomi Pujan.
Soil and theertha from 1,500 holy places were sent to Ayodhya for the construction of Ram Temple.  
Ayodhya has become a fortress with extreme security measures and all entry points to the temple town have been blocked. Not only Ayodhya, security has been tightened across several states and cities in India in view of the Bhoomi Pujan ceremony amid the ongoing lockdown.
One of the frontline leaders of the Ram Janmabhoomi agitation, Lal Krishna Advani, who will be attending the event via video conferencing, said the day is a historic and an emotional day for him and for all Indians.
 
Last Updated Aug 5, 2020, 1:00 PM IST