Rajasthan chief minister Ashok Gehlot has blamed Union ministers Piyush Goyal and Dharmendra Pradhan of being 'secretly' involved in destabilising his government
Bengaluru: Unable to keep his house in order, Rajasthan chief minister Ashok Gehlot has blamed the BJP for the Rajasthan political impasse. 
He had even termed his former deputy Sachin Pilot as "worthless" and "useless" and added that speaking good English is not a certification of good administration. 
He had even trained his guns at Union minister Gajendra Singh Shekhawat for de-stabilising the government. 
Not just that, he had even pointed fingers at Governor Kalraj Mishra, accusing him of playing to the tunes of the Centre.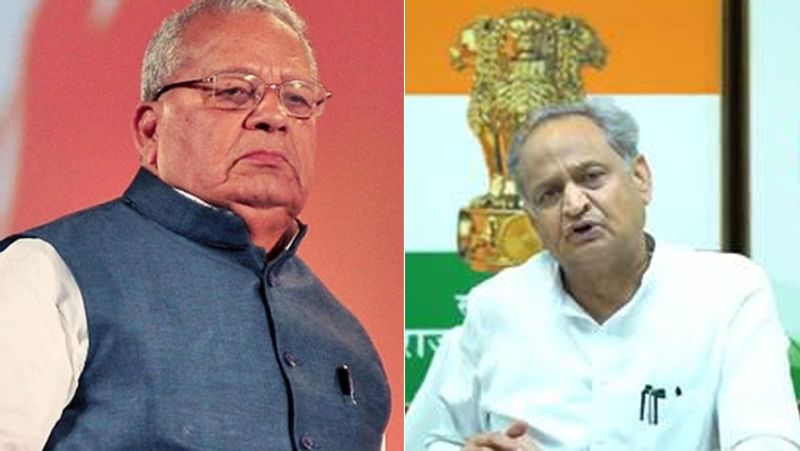 Now, in the latest list of his accusations, he has pointed fingers at Union ministers Piyush Goyal and Dharmendra Pradhan of being 'secretly' involved in the entire episode. 
However, it is interesting to note that he had not given out any details on their participation. 
CM Gehlot said, "The Prime Minister should step in and stop the tamasha (drama). Shekhawat's involvement in the conspiracy is now known. He should resign on moral grounds. Many others like Pradhan and Goyal are secretly involved. We know this but we aren't bothered. All we care for is democracy."
Sachin Pilot and his coterie of 18 MLAs are in an open rebellion against Ashok Gehlot. 
It all began when the Special Operations Group sent a notice to the deputy CM to appear for investigations in a case related to destabilising his own Congress government during the Rajya Sabha elections in June.
Speaker CP Joshi had even issued a disqualification notice against Sachin Pilot and others. But the Rajasthan high court has ordered a status quo on the issue. 
As a punitive measure, the Congress has sacked Sachin Pilot as the deputy CM of Rajasthan and PCC chief
The decision to sack him was taken by the Congress after he openly rebelled against CM Ashok Gehlot. The Congress tried to pacify him but all their efforts went futile. 
Sources say that Pilot met Gandhis and poured out his woes, even asking for the CM's post. But the Gandhis, as per sources, did not countenance his request and asked him to wait further. But a hurt and humiliated Pilot was in no mood to accept their proposal.
 
Last Updated Aug 2, 2020, 12:46 PM IST